The attendance epidemic: RMU basketball struggles to draw consistent crowds
The Robert Morris Colonials men's basketball program has had very few problems on the court over the past few years.
Their only issue is in the stands.
On average, 1,196 people attend each home game, but the Charles L. Sewall Center can accommodate over 3,400 fans, an attendance level only hit once, due to a once in a lifetime chance to host the Kentucky Wildcats in the first round of the NIT last year.
Just over 35% of the arena is full any given night.
"You know, we don't see the kind of crowd that we want to see, but I mean, as long as we keep winning, I'm pretty sure they come outside their dorms and come watch us play," junior guard Lucky Jones said.
To give a comparison within the school, the football program had an average attendance of 1,737 last year at Joe Walton Stadium, which holds 3,000 spectators. This means that almost 58% of the stadium is filled on Saturdays.
The Northeast Conference's average attendance was 1,419 last year, with Long Island University- Brooklyn leading the NEC in attendance with an average of 2,519 supporters.
Robert Morris ranked eighth out of 12 teams.
To rub it in more, RMU wouldn't even crack the top 30 in Division II average attendance, but it would be inside the top six in fan turnout for Division III.
"At the end of the day, we really don't play for the crowd, we play for us because we know how much time we put into it," Jones said. "We would love to see some fans in the stands, but all we can do is hope for it and we just got to go out there and continue to play."
Maybe Pittsburgh just isn't a basketball town, but if that's the case, why is the University of Pittsburgh able to draw an average of 10,227 per game at the Peterson Events Center and how does Duquesne brings in 3,400 to the A.J. Palumbo Center which holds 4,406?
"There are students who live on campus, but there are many students who go home for the weekend or go home after their classes," said Dr. Artemisia Apostolopoulou, a professor of Sport Management at Robert Morris University.
But, in defense of RMU, Pitt has 28,649 students at their main campus and Duquesne has 10,045 enrolled.
Marty Galosi, the Senior Associate Athletic Director, said that the team saw an increase of eight to ten percent in both single game and season ticket pre sales from last season so far.
This year, Robert Morris is offering more promotions to try to get people to come back to games.
"If nothing else, they are an enhancement to folks who are coming, I think it brings more value to their ticket," Galosi said. "Trends take time to catch up. The first year a lot of people are saying 'that's nice,' the second year's like, 'when are you holding mini basketball night?'"
"The promotions have to be relevant to the students, having the band, the cheerleaders, and the dance team, like a free throw shooting contest or a half-court shot is not necessarily something that will bring students from their dorms to the game," Apostolopoulou said.
Outside of Duquesne. Robert Morris has few big rivals that are easy to travel to for students. The closest league foe is Saint Francis University of Pennsylvania, which is over a two hour away from campus.
Even when history is argued, the Colonials can point to their six NCAA Tournament appearances, tied with LIU-Brooklyn for the most appearances from the NEC. Along with Mount Saint Mary's, Robert Morris can also claim an opening round win in the tournament back in 1982, the only instances of success in the tournament from the Northeast Conference.
With games at Kentucky, Oklahoma State, and Alabama, and having Toledo come to Moon Township, Robert Morris is becoming an attractive non-conference opponent.
"Let's face it, the basketball team deserves the credit for people coming, not the stuff we're giving away," Galosi said.
About the Writer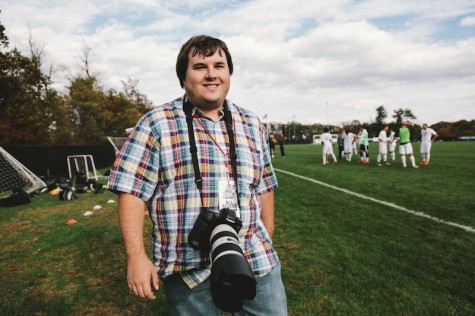 Kyle Gorcey, Freelance Sports Photographer
Kyle is a senior Communications major with a concentration in journalism at Robert Morris University who is a writer and sports photographer for The Sentry. The...