The Cup stays in Pittsburgh
Lord Stanley's Cup is staying in Pittsburgh for another year as it repeated its grand entrance to the City on Wednesday morning. The NHL Champion Pittsburgh Penguins were celebrated by a massive crowd that brought the town to a standstill for the second year in a row. After their 4-2 series win against the Western Conference Champion Nashville Predators, the franchise became the first in the league to celebrate back-to-back championships in almost 20 years.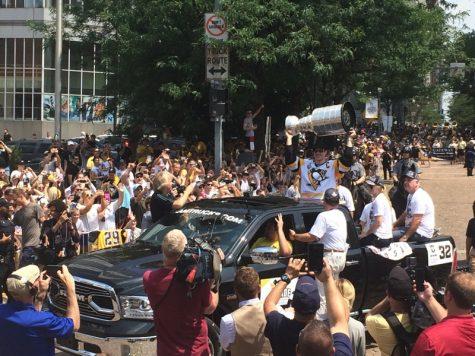 Fans began lining the parade route at 11 PM Tuesday night with people perched from parking garages along the Boulevard of the Allies before 6 AM to catch a prime view of the team. Officials expected an even larger crowd for this year with expectations that the attendance could reach 500 thousand.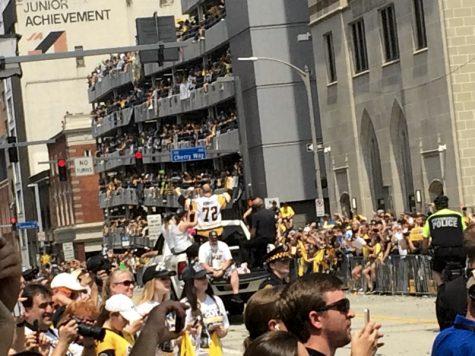 Tracey Shultz was one of those who made it to town early this morning to see the Pens. After watching game six from home on Sunday, she came to celebrate the win.
"It's awesome—knew we were going to do it," Shultz said. "Now we have to go for a three-peat."
Compared to the previous year, crowds arrived in large numbers beginning early in the morning. Pittsburgh shut down the streets along the parade route by 9 AM. Ryan Bennett wasn't intimidated by the crowds and came to celebrate history being made with the team bringing back-to-back championships to town for the first time since the Penguins did it in 1991 and 1992.
"It was pretty great to win—going back to back. It hasn't been done in [the NHL in] 19 years. It was pretty cool to see that happen," Bennett said. "I was at the watch party for game six—it was electrifying. When Hornqvist scored in that last minute, it went nuts."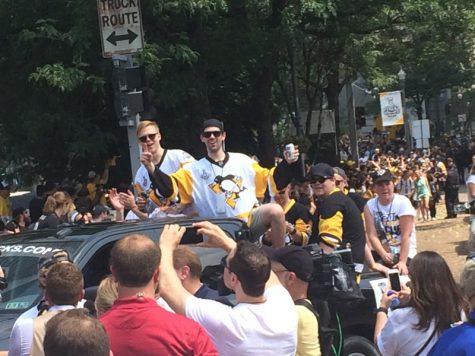 Penguin players jumped from the cars carrying them down Grant Street to walk the parade route and celebrate with fans of all ages. Captain Sidney Crosby carried the Cup to give them a close-up look. Barbara Reese has been at every Penguins parade since 2009, and she expected to be attending one this year, too.
"I've been a Penguins fan all my life," Reese said. "I predicted at last year's parade that we were going to go back-to-back. It is great seeing all the fans out here."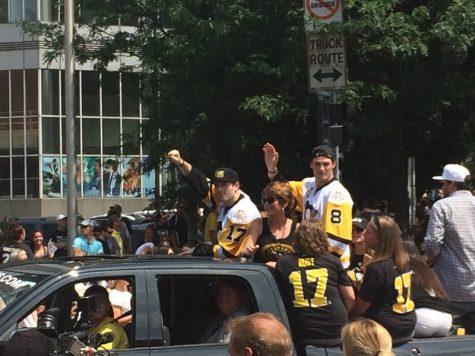 This year's parade ended at Point State Park where the Penguins took the stage and added "One for the Thumb" to their list of accomplishments. With this victory, they become the third franchise in the city to win five championships—joining both the Pirates and Steelers. The size and intensity of the celebration leaves no doubt that Pittsburgh has become a hockey town and continues building the reputation of Pittsburgh as the "City of Champions."