The great Greek debate: How does Stamolamprou compare to Spanou?
Anna Niki Stamolamprou is arguably one of the greatest Colonials to ever lay foot on the basketball court.
Her recent 39-point performance against LIU Brooklyn on Jan. 9 tied the team record held by Artemis Spanou for the most poin
ts scored in a single game. The product from Thessaloniki, Greece has been quickly been pacing herself towards many of the records set by Spanou when she dominated the Northeast Conference from 2010-2014.
But how exactly does the senior superstar compared to the legend like Spanou? And where would Stamolamprou fit on the Mount Rushmore of RMU women's basketball when her career is finally done with Robert Morris?
Stamolamprou is second all-time in career points scored, trailing only Spanou and slightly ahead of Laura Lindak and Elise James.
With four regular season games left and an average of 16.3 points per game this season, a reasonable prediction would be that Stamolamprou will score about 70 more points. That would put her at 1,745 career points and cement herself as the second leading scorer in school history.
Looking at just points, Spanou is clearly the greatest scorer of all-time with almost 400 more career points than Stamolamprou is even projected.
Although, Stamolamprou may be the better pure shooter.
As of right now, Stamolamprou has 265 career three-point shots made, which is 57 more than any other Colonial in the history of the program and over 100 more than Spanou — who only made 133 long-range shots in her 124-game career.
When it comes to assists, that may be the closest statistic between the two greats.
Spanou finished with 370 career assists, tied for third all-time on that list. Meanwhile, gaining is Stamolamprou with 352 — good for sixth all-time — and on pace for 365 career assists. And the reason behind Spanou's slight advantage could simply be that she played one more career game than Stamolamprou.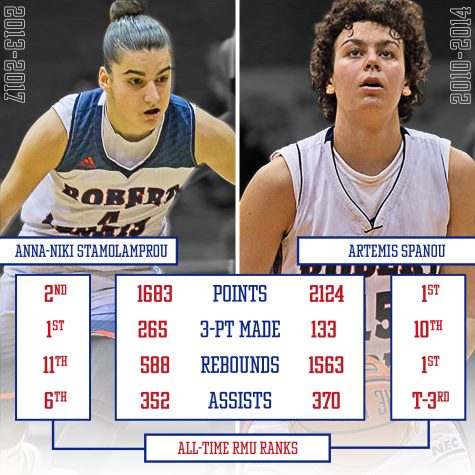 So far, it is Spanou with the scoring advantage, Stamolamprou with the three-point lead and a near draw in assists.
There is no doubt that both of these prodigious scorers can shoot the basketball, but it appears there is one category in which the 5-foot-9 Stamolamprou will never be able to compare to the 6-foot-2 Spanou:
Rebounds.
On the all-time list, Spanou is on top with 1,563 rebounds. That is nearly 1,000 more than Stamolamprou, who is just outside the top ten in the category.
The argument that can be made for Stamolamprou is her ability to rebound despite her size. Surrounding her on the leaderboard are Chinata Nesbit and Mary Durojaye, both of whom stand at 6-foot-2. The fact that most of the players on the all-time rebounding list are four or five inches taller adds to Stamolamprou's prowess from the point guard position.
Though, any debate must discuss the talent which each player had around them because that tells a story that the numbers are not able to do.
Stamolamprou spent her career playing alongside the likes of Ashley Ravelli, Rebecca Navarro and Janee Brown.
Navarro's presence is another that will be missed on the Colonials' offense next season. At fifth all-time in career 3-point field goals made, Navarro has been a perfect second option for Stamolamprou through their four years together.
Navarro could have actually taken some scoring away. In fact, Navarro, percentage-wise, is a better three-point shooter than Stamolamprou — Navarro shooting 37.3 percent, compared to the 35.6 percent success rate of Stamolamprou.
Brown currently sits at 11th on the all-time assists list with 253 and has been a key component in what Stamolamprou has been able to do offensively. Additionally, Ravelli spent three years with Stamolamprou and two years distributing the ball to Spanou.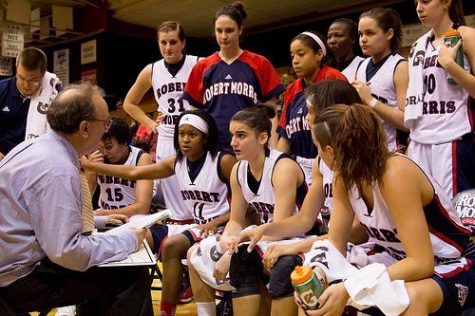 Ravelli is ninth all-time in assists, so it is clear she had a large hand in the scoring ability of both these stars.
Stamolamprou also has had to spend the past three seasons sharing shots with Megan Smith, who currently holds the highest three-point shooting percentage in team history (41.1 percent).
Playing alongside Spanou were players like Mary Durojaye, who finished her career in 2012 after two seasons with Spanou. Durojaye finished shooting 51.2 percent, placing her at third all-time.
But besides Durojaye, there were no notable players who did not play an almost equal amount of time with both Greeks; players like Lou Mataly and Ravelli both started their careers playing with Spanou and ended them with Stamolamprou.
When you look at the team's respective records with each star, it is pretty evident the talent that each player had to compliment Spanou and Stamolamprou.
Stamolamprou's career record is currently 74-49, compared to the 60-64 career record of Spanou. The numbers look close, mostly because of the 2013-14 season (21-12) the two played together. Take out that game, and their records shift to 53-37 and 39-52, respectively.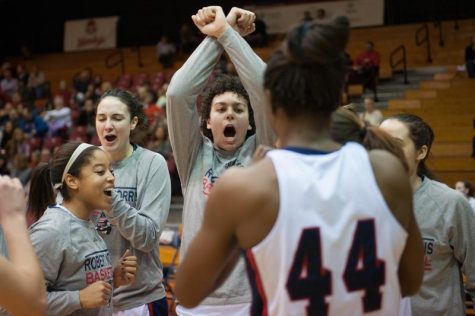 While Spanou may have the numbers, the talent Stamolamprou was playing with was far better, therefore taking away from her numbers. The records, both individual and season, show a better team during the Stamolamprou era compared to the Spanou era.
But with a point margin as large as Spanou's, it could be argued that even without the talent, Stamolamprou could not have produced those numbers on her own.
When it comes down to it, Stamolamprou is the greatest pure scorer that has ever worn a Colonials uniform. Her ability to shoot the three is unmatched, and her play-making ability is only matched by Spanou.
Spanou is the greatest all-around player in the history of Robert Morris women's basketball. She could score, rebound and pass just as well, making her a consistent double-double threat. Spanou's career averages were an outstanding 17.1 points per game, 12.6 rebounds per game, 3.0 assists per game.
Spanou's departure left a noticeable hole in the squad following her graduation in 2014 and may be matched by Stamolamprou, who is trying to end her reign over the NEC with a fourth consecutive trip to the NEC championship game and her third career appearance in the NCAA tournament.
A mark that shows the growth and perennial strength of the Colonials, starting with Spanou's arrival in 2010 all the way through Stamolamprou's exit in 2017.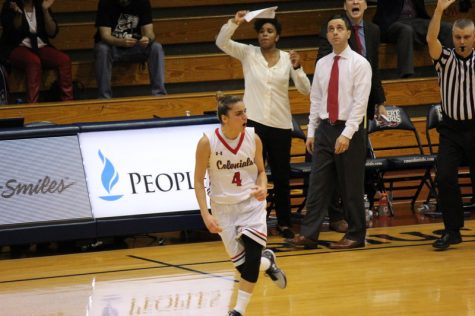 These two spectacular athletes carry with them a legacy that will forever be talked about at Robert Morris University. Their impact on a team that has become very consistent is one thing that cannot be compared.
Just as those who have left continue to talk about watching Spanou, students attending RMU today will look back at the larger-than-life moments in which Stamolamprou did the impossible and secured the win for the Colonials.
Spanou and Stamolamprou have all the attributes that make great players: statistics, character, drive and the ability to step up in the biggest moments on the largest stages.
Regardless of which player has had a more prodigious career, these two athletes have set the bar for greatness, and Robert Morris fans can only hope that these levels of greatness will be reached once again.