Two seconds made the difference in turnover-infested slugfest
The much anticipated home opener against the Dayton Flyers proved to be more than anyone could have bargained for. There were blocked punts returned for touchdowns, blocked field goals, interceptions, fumbles and controversy galore. More excitement than any fan could hope to get at a football game.
Unfortunately for Robert Morris fans, the Colonials just could not come up with the last bit of excitement to extend the game. The Colonials (0-1) came about one second short of potentially tying the contest.
Trailing by three points with 40 seconds left in the game, starting on their own 21-yard line, RMU freshman quarterback Matt Barr hooked up with speedy wideout Kyle Buss on two occasions to get the Colonials within field-goal range.
That is the moment things got a little hectic, confusing, out-of-the-ordinary, just plain strange.
Here's how it all played out.
Barr connected with the aforementioned Buss on an intermediate crossing route, and Buss made it up to the Robert Morris 42-yard line.
But he stayed in bounds. Consequently, two crucial seconds disappeared from the clock.
Two plays later, Buss caught a screaming 20-yard pass from Barr, cutting up the middle of the field all the way down to Dayton's 28-yard line. As per rule, the clock stopped at :02 until the chains were reset, signaled by the umpire.
The offense sprinted downfield in hope of salvaging a spike, stopping the clock with just enough time for junior Connor Shennan to put his powerful leg to work.
The referees had different plans. In a massive blur of confusion, masked by screams of "SPIKE IT, SPIKE IT!" from the sideline, Barr began frantically waiving his arms forward before taking the snap. At the snap, the offensive linemen stood up simultaneously, as is expected on spike plays.
Or what they thought was an obvious spike play.
Two seconds later, Barr lay on the new turf of Joe Walton Stadium with the football still in his clutches, the clock showing all zeroes, and Dayton still on top.
Barr took the snap, but instead of spiking the ball, he looked downfield to his receivers, who were nowhere to be found. He was chased and sacked while his offensive line prepared for a potential game-tying field goal.
Clearly, this required some sort of explanation.
"Two seconds left on the clock, we got down. We were going to spike it," said Barr. "The plan was to spike it. And the umpire said, 'You can't spike it within two seconds. It will be a flag and clock runoff.' So, I had to do something. I tried to get everyone to go deep."
Translation: Robert Morris was deprived the shot of sending the game into OT because of a technicality.
After all the yelling and debating over this debacle simmered, the smoke cleared, giving the Flyers (1-0) the 27-24 victory. This extended Dayton's winning streak against RMU to 13. The last time the Colonials beat UD was in 2000, 1999 being the last victory Robert Morris earned in Moon Township.
To say this opening game to the 2015 season was a defensive battle would be a serious understatement. Well, at least in the first half.
Through one half of play, even with Robert Morris putting up ten points, leading Dayton 10-0, the two teams combined for just 12 first downs and 193 total yards of offense. Both defenses held their own exceptionally well against the running game.
Robert Morris' Rameses Owens and Dayton's Connor Kacsor were held to just 20 and 19 yards rushing respectively in the first 30 minutes.
But it was the Colonials' defense that carried play early on. It was a thoroughly impressive half of defense. Aside from the mere 82 yards allowed of offense, they played takeaway a few times, and in critical moments.
RMU forced two fumbles in the first half, even though the Flyers fell on them both, and picked off passes from both quarterbacks Dayton threw out on the field, starter Blake Bir and backup Alex Jeske, who replaced Bir halfway through the second quarter.
Both interceptions were made by the same Colonial, strong safety Ryan Richards Jr. The sophomore playmaker first dropped back into a cover three zone, and sat right underneath the wide receiver's route to make his move. He caught Bir's pass inside Dayton's red zone, which was immediately followed by Robert Morris' first touchdown of the game with 9:11 left in the half.
Richards then waited until the end of the half, on the opposite end of the field, to leave a mark. A poorly thrown ball by Jeske inside RMU's red zone resulted in Richards' second pick, and saved at least three points for Robert Morris.
According to Richards, there was more luck than skill involved for both plays. "Right place, right time," he said.
The third quarter is where Dayton started playing like Dayton, and both defenses started to give.
"We kept them off the scoreboard in the first half," Robert Morris head coach John Banaszak said. "I don't like the way we came out of the locker room at halftime. We wanted to start the game strong up front. In the first quarter, we were able to do that. Now we got to come out in the second half and play a whole game."
The Flyers came out flying in the second half, driving straight down the field before settling for a field goal. Then, the momentum shifted in a big way.
After forcing a fumble on a punt, RMU had a first-and-goal from the 10-yard line. On third-and-goal, Dayton free safety Danny Leach picked off Barr's throw, taking it 93 yards for a touchdown, which tied the game at 10 a piece.
Despite that play, along with a so-so overall performance, coach Banaszak like the way Barr (14-34, 156 yards, 1 TD, 2 INT) performed in his first collegiate start. "I think he had a very good game for a freshman playing against a good football team like Dayton," said Banaszak. "I'm sure that he did some things wrong. I thought he was able to put that behind him, come out and play the next play."
Following the pick-six, it was a back-and-forth game that went down to the wire, ultimately resulting in the strange 27-24 ending.
Next week, Robert Morris travels across the Pa. border to play FCS powerhouse #16 Youngstown State, both teams still looking for their first win of the season. This non-conference match-up is slated for a 7 pm kickoff.
About the Contributor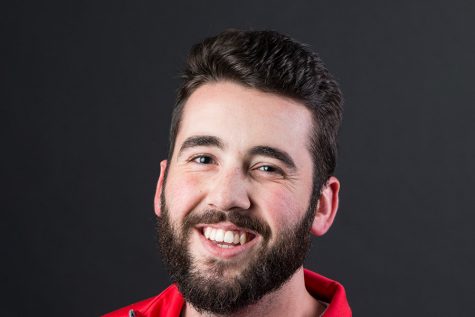 Zach Laufer, Digital Content Manager
Zach is a senior at RMU, majoring in sport communication with a minor in sport management. He is a highly motivated worker that will strive for perfection...