Turnovers dig hole too deep for defense to climb out of in loss to Sacred Heart
The day began with a team full of hope, confidence, and with a clean conference record.
It concluded with a team with no offensive touchdowns, eight turnovers, and an NEC home opener loss.
Along with much to address.
The Robert Morris Colonials (2-4, 1-1) could not overcome the offensive struggles they battled through all game in a 26-13 loss at the hands of the defending NEC Co-champion Sacred Heart Pioneers (3-2, 1-0). However, the score does not even begin to encompass everything that transpired in this contest.
It started the way a RMU fan could only hope for: defense forces a quick three-and-out, and punt return up to around midfield for the Colonials offense.
Sophomore running back Cole Blake then promptly handed Sacred Heart the first of their many gifts on the afternoon. On Robert Morris' second play of its first offensive possession, the powerful tailback met his match, colliding with and bouncing off a Pioneers defender before being jarred of the ball.
The Colonials defense, however, was more than up to the task of covering up for any mistakes made by the offense, a common theme on the day. If they had not been ready, the score might have been a lot more lopsided.
"If it weren't for our defense, there'd be 50 points on the board," said head coach John Banaszak.
On two occasions alone in the first half, RMU turned Sacred Heart over on downs. Both cases saw defensive end Forrest Mason hurry  Pioneers quarterback RJ Noel into throwing the ball out of bounds.
Sacred Heart did break through late in the first quarter, Noel connecting with backup running back Jalyn Croom for a 36-yard touchdown. Croom ran a stop-and-go route, beating junior linebacker Jimmy Masson up the far sideline.
Though, Masson would finish with the upper hand.
With just over five minutes remaining the first half, and his team trailing 14-0, Masson avenged the touchdown he relinquished in a big way. Fortunately, Noel's throw flew behind wideout Tyler Dube. He tipped the ball a few feet into the air, which gave Masson ample time to snatch it. Then in a Troy Polamalu-esque return, Masson took it all the way to put the Colonials on the board.
"Honestly, it was a gift," Masson said. "But I'm very thankful for it, much needed."
Robert Morris seemed to be building enough momentum to get back into the game. But, as was a common occurrence in this game, a turnover dug Robert Morris even deeper in a hole.
Freshman quarterback Tyler Brown relinquished his first of two fumbles four plays after the defense managed a stop on fourth down. What appeared to be a fairly decent snap bounced right off the true freshman's hands and into the arms of defensive tackle Ryan Cottrell.
Each fumble and interception given away did not allow the RMU offense to get into any kind of rhythm, especially in the first half. Although, coach Banaszak put the several botched snaps squarely on his quarterbacks.
"I think it was a quarterback problem," he said. "It looked to me like the snaps were there, and they were either dropped or… taking your eye off the ball and not doing what you're supposed to do. That hurt us more than anything."
After Masson's pick six, the Colonials quickly got the ball back with just enough time left in the half to close the gap, and turned it over just as fast.
Brown threw an ill-advised ball, attempting to connect with Kyle Buss, that was read all the way by defensive end James Rentz, who slipped underneath the receiver to snag the crucial interception near midfield. That, coupled with a rushing touchdown by Noel with 18 seconds to play in the half, capped off a potential 13-point swing in the game (Sacred Heart had its ensuing PAT blocked).
The Pioneers left the field holding a comfortable 20-6 lead.
Robert Morris elected to receive the second-half kickoff, and that was a very good decision.
Electric freshman running back Dante Satcher fielded the ball at his own 4-yard line and found daylight through the right side. A lot of it. He exploded through the wall set by his teammates and cut back to the middle of the field to get past the kicker en route to a 96-yard touchdown, his first in college.
Satcher sounded more relieved than anything when talking about it after the game. "About time," he said. "I felt like I could have gotten it all year. I'm excited I got it through."
After a brutal half for the offense, last season's opening week starter Luke Brumbaugh entered the game in place of a rattled Brown, following another defensive stop.
"I think Tyler Brown was pretty much shook up," said Banaszak. "So we felt at halftime that we put Luke in and throw the ball. He's a much better thrower than Tyler at this point, so we thought that was just the best opportunity."
Brumbaugh initially found success through the air, leading a nice drive into SHU territory. When it stalled, they looked to the reigning NEC Special Teams Player of the Week, kicker Connor Shennan. But to fit the weirdness of this football game, his 42-yard try banged directly off the right goal post and kept the deficit at seven.
That drive aside, however, Brumbaugh did not perform the way he wanted or expected to. He finished 10-of-24 for 132 yards, one fumble and three interceptions. Granted, one of those came after the game had already looked to be decided.
True freshman Warren Robinson nearly made it a ballgame half way through the fourth quarter. The Colonials trailed 26-13 at that point, and were in desperate need of a big play to get back in it.
Robinson backpedaled to catch the punt, then after somehow avoiding a charging gunner, sprinted past everyone down the near sideline and into the end zone. But of course, that would not fit the script of this game. An illegal block in the back took the lead-slicing score away, along with the realistic hopes of the fans.
A back-and-forth of punts and two Brumbaugh interceptions later, RMU came out empty handed, losing by a final score of 26-13.
Besides the ridiculous amount of  turnovers given away, the Colonials also failed to surmount any kind of rushing attack, gaining an abysmal -7 total rushing yards on 26 carries as a team. Albeit a large portion of the lost yards were due to fumbles in the backfield, but the combination of Blake and Rameses Owens managed a mere six yards on 11 carries.
So, RMU will look to regroup heading into a much-needed bye week. As far as the message going forward is concerned, any and every synonym for "improve" was talked about by players and coaches alike.
Robert Morris will return to action Oct. 24, when they host rival NEC foe Duquesne at Joe Walton Stadium. This cross-city contest will get underway at 6 p.m.
About the Writer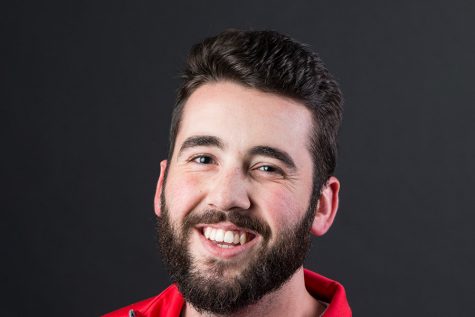 Zach Laufer, Digital Content Manager
Zach is a senior at RMU, majoring in sport communication with a minor in sport management. He is a highly motivated worker that will strive for perfection...