Un-'Lucky' in Kentucky: Wildcats wrangle RMU in round two
Lexington, KY – The Robert Morris men's basketball team should have never played at Kentucky in the Keightley Classic.
Rather, they should have been in Lexington eight months ago, for the first round of the National Invitation Tournament, but Rupp Arena was hosting NCAA Tournament contests.
However, the Colonials finally received their opportunity to take the court of the most recognized venue in college basketball for the first occasion since 1993.
It was just 244 days overdue.
This time around, Robert Morris (2-2), taking on the #1 ranked team in the country, wasn't as lucky, falling to the University of Kentucky (3-1), 87-49, Sunday night.
"Everybody wants to build the story up from last year's game and obviously, these are two completely different teams," said head coach Andy Toole. "Kentucky played an excellent basketball game. I thought a lot of times, during the course of tonight, we followed our formula defensively as best we could, but unfortunately, at the end of those possessions they still either got offensive rebounds or made threes."
Senior Karvel Anderson paced RMU, tallying 16 points, including a 4-9 performance from beyond the arc, while brothers Andrew and Aaron Harrison, combined for 36 points for the Wildcats.
"He [Aaron] is a good shooter. He did score a lot of different ways and he got fouled and made his free throws," said UK head coach John Calipari. "The greatest thing that Andrew did is that he had eight rebounds. Your point guard gets eight rebounds, that means you're out and going."
Mike McFadden, who knocked down two clutch free throws to seal the RMU victory last season, went to the charity stripe 51 seconds in, giving the Colonials an early 1-0 lead.
Kentucky countered 28 seconds later when Aaron Harrison, ESPN's 9th rated recruit of the class of 2013, buried a trey from the wing.
Robert Morris would never regain the lead.
It took 8:30 for RMU to knock down its first field goal, a 15 foot jumper from freshman Aaron Tate, and it would take until the 9:43 mark of the first half for the Colonials to hit another shot from the floor.
UK's speed overwhelmed Robert Morris and a major reason they were able to run away with the game was due, in large part, to the fact that they outscored their Northeast Conference opponent 14-0 on fast break opportunities.
During the final 20 minutes of play, Lucky Jones, RMU's second leading scorer, injured his hip. Although he returned, the Newark, New Jersey native had to leave the game shortly thereafter.
"I'm proud of our guys in terms of their fight, their continuing to play hard throughout the entire game," said Toole, RMU's fourth year skipper. "We'll build on those things and learn from some of the mistakes so that when we get into similar atmospheres going forward, we'll be more equip to play better."
While coordinating the calendar for the 2013-14 campaign Calipari, a Moon Township native, purposely arranged for the Colonials to venture to Lexington, but not because he was looking to exact revenge against the 2013 NEC regular season champions.
Rather the 54 year old scheduled RMU because he knew it would test his starting five, all of whom were freshmen.
"I'm happy we defended the way we did, we rebounded the way we did. Again, you understand, this is the team that beat us a year ago, and let me say this, they beat us good," said Calipari, whose been at the Wildcats' helm since 2009. "This is not a revenge game. I watched them on tape, they play really hard, they're well coached. Our fans didn't want to hear what I had to say. They're like 'no, we want to smash these guys."
Even though Toole basked in the glory that the Robert Morris basketball program received as a result of hosting the winningest program in college basketball history, he's content that the series has come to an end.
At least for now.
"Obviously the buildup to this was, to me, a little bit ridiculous. Now that it's over with and the second part has occurred, order has been restored," he said. "You can't take away the notoriety that we've gotten from it or that people were interested in it, but now I think both clubs can move forward with the rest of their season."
About the Contributors
Nick Buzzelli, Sports Editor
Nick is a senior communication major with a concentration in journalism at Robert Morris University and is the Editor-in-Chief of RMU Sentry Media.

In...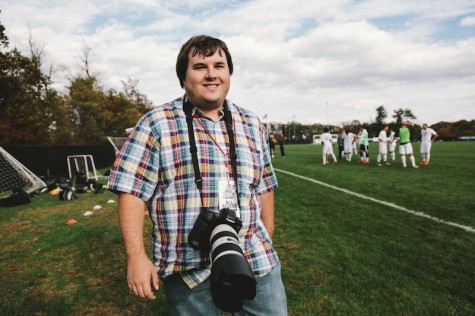 Kyle Gorcey, Freelance Sports Photographer
Kyle is a senior Communications major with a concentration in journalism at Robert Morris University who is a writer and sports photographer for The Sentry. The...