Volleyball gets season started
The Robert Morris University volleyball teams schedule is already in full swing after competing in the Villanova classic.
According to head coach, Dale Starr, with two new additions to the roster, the Colonials are working on continuity.
"There are a lot of returning players, so there is a lot less teaching. We had eight freshmen last year and seven of those are returning," said Starr.  "We only have two incoming freshman. We can get into more technical things. We're a little farther ahead with the offensive and defensive systems."
He goes on to explain that while they have a young team, they are working on getting better each day.  "We have 14 kids in camp and nine are freshman and sophomores," said Starr. "There are growing pains, but we are focusing on getting better every day and working hard to get ready for the season."
Senior, Lindsey Monger, also knows that this is a learning process.  "Well, this is new to everyone. We have two freshmen and four seniors, so we're not young, but were not old too," said Monger.  "We have a lot of sophomores too, they haven't learned everything. They still have to learn the process. We will take the two freshmen under our wings and teach them."
Starr also talked about the fact that he has options for this season and that he believes this team will be successful,  "we will be better off this time than we were a year ago."
He noted the fact that they will definitely have a more experienced team.  "Last year, we had a lot of kids that were scared to death," said Starr.  "Not a lot of players have entire freshman having a full season under their belt. It will help us get ahead, in conference games and non-conference games."
About the Writer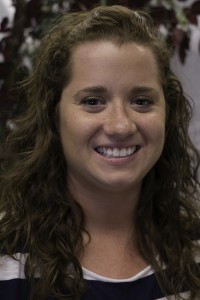 Brooke Smith, Editor-in-Chief
A senior journalism major at Robert Morris University, Brooke serves as the Editor-in-Chief and a staff writer for RMU's student-run newspaper, "The...