Weekend sports roundup
Ian Kist, Staff Reporter
February 22, 2015
Women's hockey
Feb. 20
RMU 4(10-17-5, CHA 7-8-4), Penn State 1(15-14-4, CHA 9-8-2):The Colonials came out victorious at Pegula Ice Arena in University Park, Pa Friday in game one of a two game series against the Nittany Lions. Senior Rebecca Vint kept her success in her career going against Penn State as she scored two goals, which were her 14th and 15th goals against PSU and the first and third goals of the contest. Sophomore Rikki Meilleur scored RMU's second goal of the game and Freshman Jessica Gazzola knocked in RMU's fourth goal of the game. Colonial's goaltender Jessica Dodds only allowed one puck get past her as she faced 33 total shots. The win also allowed Robert Morris to clinch home ice advantage in the quarterfinals of the College Hockey America Tournament.
Feb. 21
RMU 4 (11-17, CHA 8-8-4), Penn State 1 (15-15-4, CHA 9-9-2). The Colonials and the Nittany Lions had another battle Saturday afternoon in University Park, Pa at the Pegula Ice Arena, to complete a two game weekend series that saw the exact same final score as from the night before, a 4-1 RMU victory. Penn State recorded the game's first goal but did not find the back of the net for the remainder of the game. Rebecca Vint was able to get RMU on the scoreboard with a Penn State five on four advantage. It was the Senior Captain's seventh shorthanded goal in a Colonial uniform. Freshman Amanda Pantaleo scored RMU's second goal of the contest with the assists coming Katelyn Scott and Katherine Murphy. The Colonials received a power play goal from Mackenzie Johnson, a sophomore forward to give Robert Morris a 3-1 lead. Sophomore Mikaela Lowater provided RMU with a fourth goal, her second goal of the seaon. Colonial goalie, Jessica Dodd kept her solid play going as he faced 24 shots but only allowing one puck to make its way past her early in the game.
Men's Hockey:
Feb. 20
RMU 4 (21-5-5, AHC 18-3-4), RIT 3 (12-14-5, AHC 11-9-5): The Colonials opened a two game series with a one-goal win on the road in Henrietta, N.Y against RIT. Both teams were looking overtime straight in the eyes with only seconds remaining in the third period when Senior Caption Cody Wydo got the puck past RIT goaltender Jordan Ruby to prevent an extra frame of hockey to be played. Not only did the captain's goal give Robert Morris the victory but also it RMU the regular-season conference title for the first time in 11 years. Junior Greg Gibson put RMU on the scoreboard first as he scored the Colonial's first two goals. Junior Chase Golightly was able to even the score at three in the third period, as he was able to get one past RIT's Jordan Ruby. RMU goalie Dalton Izyk received the victory as he faced 30 shots allowing only three to make their way past him
Feb. 21
RMU 3 (21-6-5, AHC 18-4-4), RIT 4 (13-14-15 (AHA 12-9-5): The Colonials wrapped up a two games series against RIT Saturday night in Rochester, N.Y. at the Gene Polisseni Center but it was not the outcome they would of liked. RMU suffered its first loss since Jan. 10, winning ten consecutive games. The first period was scoreless but RMU started the second period with a purpose. RMU received all their goals for the game from Timmy Moore, Greg Gibson, and David Friedmann early in the second Period. However, RIT would answer with a little less than half to go in the second frame to cut the Colonials lead to 3-1 and begin a RIT comeback. Brad McGowan for RIT would provide his team with three-second period goals to send the game to the third period tied. RMU came up empty in the third period; however, RIT was able to get one more goal to give them the lead and the victory at home. Robert Morris goalie, Terry Shafer was targeted 36 times allowing 4 of those 36 shots to get past him.
Softball: EMU Madeira Beach Invitational
Feb. 20
Game 1
RMU 9 (3-2), North Dakota 2 (1-4): Robert Morris opened their play in the EMU Madeira Beach Invitational Friday with a seven-run win against North Dakota and a game in which RMU was never trailing. Ashley Gerhart led RMU in hits with three including a homerun. Another RMU homerun came from Stacey Capp, her first collegiate homerun. Haileigh Stocks, Alexis Schwartzmiller, and Kristen Gablet all finished with two hits. Nicole Sleith was in the circle for the Colonials in which she picked up her second win of the season and needed no assistance from another RMU pitcher.
Game 2:
RMU 7 (4-2), Eastern Michigan 4 (1-6: RMU played their second game Friday against tournament host Eastern Michigan. RMU for the second straight game did not trail at any point in the ball game. Jordan Gurganus, Ashley Gerhart, and Olivia Lorusso all had a double. Kristen Gablet had three RBI's including a homerun. Freshman Nicholette Maderitz made her first collegiate appearance in the circle for the colonials. Maderitz went three innings and gave up two earned runs while striking out two and walking one Eagle's batter. Haileigh Stocks came into game for relief and gave up one earned run in 3.2 innings. Nicole Sleith came in to earn the save.
 Feb. 21
RMU 7 (5-2) Texas State 5 (7-7): The colonials played their third game in the EMU Madeira Beach Invitational Saturday evening to improve their season record to 5-2. The Colonials were able to beat Texas State but had to it in comeback from behind fashion. In the fifth inning, RMU saw the scoreboard read 3-1 in favor of Texas State. RMU got huge performances from Senior Tess Apke and Freshman Olivia Lorusso. Both players had two hits with each hitting a homerun. It was Apke's 20th homerun of her collegiate career. RMU also got help offensively as Kristen Gablet hit a double and Jordan Gurganus hit a triple. Pitcher Nicole Sleith went the full seven innings in the circle, giving up five earned runs, striking out 13 Texas State batters, and walked only two hitters in route to her third win of the season.
Feb. 22
RMU 0 (5-3), UAB 11 (9-5): RMU started their third day of play in the Sunshine State in a game that didn't go the way they planned late Saturday morning. RMU was held scoreless and could only produce one hit, which came from Freshman Olivia Lorusso. RMU started with Haileigh Stocks in the circle. Stocks went four innings, gave up six un-earned runs, and struck out two UAB batters and moved to 2-1 on the season as she received the loss. Nicholette Maderitz came into the game to relieve Stocks. Maderitz went 0.2 of an inning giving up five runs that were all earned runs. UAB was able to get the win in only five innings of play.
RMU 2 (9-3) Harvard 1 (2-3): RMU finished their play in the EMU Madeira Beach invitational with a 2-1 extra inning victory against Harvard Saturday afternoon. The game was scoreless until the eighth inning. Harvard scored one run in the top half of the inning but RMU was able muster two runs to win in walk off fashion I the bottom half of the eighth. With a runner on base, Junior Lauren Hacket was able to hit a homerun and end the game for the Colonials. Nicole Sleith earned the win for Robert Morris as well as her fourth win of the season as she went all eight innings, gave up one un-earned while run striking out nine hitters and not giving up a single free base.
Women's Basketball:
Feb. 21
RMU 66( 14-12, NEC 12-3), Bryant 69 (19-7, NEC 12-3): the Colonials had their 11 game winning streak snapped by the Bulldogs Saturday in Smithfield, Rhode Island at the Chace Athletic Center. RMU set a team record with most three-pointers in a single season with their nine three-pointers made in this contest. Freshman Megan Smith finished with 23 total points, a career high for her so far in her early collegiate playing time. Junior Lou Mataly and Sophomore Judith Sole both finished with double-digit points as Matlay had 11 and Sole had 10 points respectively. However, RMU's offense was not enough against Bryant as the Colonials found themselves down by eleven points at one point in the second half. RMU went 27 of 62 shooting from the field for a percentage of 43.5.
Men's Basketball:
Feb. 20
RMU 76 (14-14 NEC 10-6, Bryant 70 (13-14): From the Chace Athletic Center late Saturday afternoon in Smithfield, Rhode Island, the Colonials picked up their tenth NEC win and improved to .500 on the season. Offensively, Junior Rodney Pryor who finished the contest with 23 points led RMU once again. Senior Lucky Jones finished second in scoring for Robert Morris with his 14 points. RMU also saw two of their freshman players, Marcquise Reed and Elijah Minnie both record double digits scoring numbers as Reed had 13 and Minnie had 12 points. Junior Aaron Tate and Jones both brought down six boards in the victory. RMU shot 45.8 percent from the field and only missed two shots from the charity stripe all game
Men's Lacrosse:
Feb. 22
RMU 10 (0-3), Detroit 11 (2-1): Robert Morris had a battle with the University of Detroit from Ultimate Soccer Arena that went into overtime and it was a contest in which saw a good amount of back and forth action without. Unfortunately, RMU came away with their third straight loss so far this young season. Freshman Carter Yepsen along with juniors Luke Laszkiewicz and Eric Rankel all had a multi-goal game. Yepsen's multi-goal game allowed him to have his first ever hat trick in his career. RMU was able to start the game with a 3-0 lead but Detroit was able to battle back and take a 6-5 lead into the locker room with them during halftime. The teams traded goals during the second half in which RMU scored early with a goal by Yepsen. With chances towards the end of regulation play, the Colonials could not find the back of the net. Detroit was able to control RMU's offense by not allowing a scoring chance in overtime, which allowed Detroit to find a scoring chance of their own in which they capitalized on to secure them victory.
Women's Lacrosse:
Feb. 22
RMU 20 (1-1), Cincinnati 7 (0-4): The Colonials were able to pick up their first win in their second regular season contest on the 2015 campaign Sunday afternoon. Offense was not hard to come by for the colonials as they scored 20 goals. RMU got two four-goal performances as Junior Emily Jamison and fellow Junior Corey Karwacki put up four goals each. Senior Kristin Yoviene, and Junior Jessica Karwacki scored two goals apiece. Freshman Mackenzie Duffy was in goal for Robert Morris. Duffy made eight saves giving up seven goals as she went onto receive the win.
About the Writer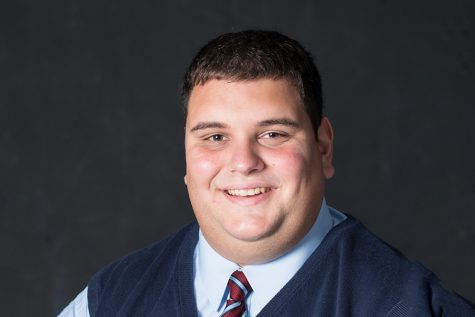 Ian Kist, Sports Assistant
Ian is a communication major with a focus in sport communication and a minor in sport management. He is the RMU Sentry Media Assistant Sports Manager....