What you need to know about the Colonials: Paul Jones and the RMU offense
With preseason nearing an end, head coach Joe Walton and the RMU staff are working relentlessly to improve an offense that ranked second to last in the Northeast Conference a year ago. In order to do so, the Colonials must be able to depend on a number of talented, but unproven players to potentially carry the load in 2013.
One player to watch in particular is Penn State transfer quarterback Paul Jones, who comes to RMU with two years of NCAA eligibility left in his career. The former US Army All-American selection was a highly touted recruit out of Sto-Rox high school, and looked to continue his promising career at PSU before a coaching change, position change, and academic issues caused Jones to consider a change of scenery. After returning to his home roots of the Pittsburgh area, Jones looks to be on track to lead the Colonials on a successful 2013 campaign.  Following the team's final inter-squad scrimmage of the preseason, Walton named Jones the starter after a solid position battle throughout camp with sophomore Derik Abbott.
"I think Paul is going to be a pretty good quarterback for us. He still has some things to learn but hopefully we'll bring him along." said Walton, in an interview after the team's final inter-squad scrimmage.
When asked what has shown the most about Jones, Walton pointed to his high character mentality.
"He's got pretty good savvy for a young guy," he said.  "He's been around college for a couple years so I think he's a pretty level headed kid.  I think more than anything, his command in the huddle has been pretty good."
Jones embraced the competition with a positive attitude, noting the fact that it's made him a better player than he was before camp.
"I'm a firm believer that competition makes everyone better," he said. "I just try to focus what is on the field and stay away from all the outside stuff."
If one were to look at Jones, the first thing that comes to mind is his physical build, almost resembling Steelers QB Ben Roethlisberger.  The 6'5", 250 pound gunslinger is an outstanding athlete with a rocket of an arm. He has displayed good command of the offense through camp despite only serving his second semester with the team.  But don't be fooled by Jones's size. He's also a legitimate mobile threat, and has showed that he can use his legs either to evade pressure and find guys down field or just to scramble for a few extra yards.
His biggest challenge will be to continue to learn and develop in Walton's complex pro offense, but if the preseason has been any inclination of his time and dedication to learning the playbook, Jones looks to be headed in the right direction.
"I feel like the adjustment's been pretty good. Football camp is football camp no matter where it is. I'm just counting down the days until week one," said Jones. "The offense as a whole is a really tight knit group. Everyone likes each other, so it's easy to go out there and have fun. "
Alongside Jones, the Colonials offense will be an important factor of just how far this team can go. The running back position is a bit of a question as of late, due to former starter Evan Taylor being out all of the preseason with an undisclosed illness.  After Taylor, the next leading rusher returning from last season is junior hybrid RB/FB Ryan Thermil. Knowing both positions is a must for Thermil, who has the ability to be both a bruiser up the middle but also catch passes out of the backfield. Deontae Howard is also a trustworthy option out of the backfield, but he lacks the big play capability Walton's offense demands from the halfback position.
"We're just trying to put everything together and develop everything," said Thermil. "It's always good to have options and be ready to know both positions just in case."
The offensive line is returning majority of their starters from last season, led by senior offensive tackle AJ Dalton. Slotted at left tackle, Dalton has been handed over the keys to protecting Jones' blindside, something he's not new to. Dalton doesn't have anything else on his mind other the team first, something he's always been known for.
"We look really strong. We have a lot of veteran guys together. We worked hard this summer in the offseason and we're ready to have a good year." said Dalton.
Banaszak stressed that the health of the offensive and defensive line is extremely important, "The biggest thing is that we need to stay healthy on the offensive and defensive lines. You win football games in the trenches. Walton's offense demands a strong offensive line," he said.
The starting five up front have been a little banged up through camp, but the team has developed the 'next man up' mentality pertaining to injuries.
"We do have some people hurt, but we travel with eight guys. We want to make sure the young guys can step in there and not miss a beat if the worst case scenario happens," said Dalton, who plays a major role in the development and nurturing of some of the younger guys. "I just want them to play with some passion. We're lineman so I want them to be nasty; we're not here to be nice."
Time will tell whether or not serious improvements have been made within the RMU offense. Their first test comes Thursday night, when the Colonials travel to Lexington for a date with NO. 19 Eastern Kentucky.
About the Contributor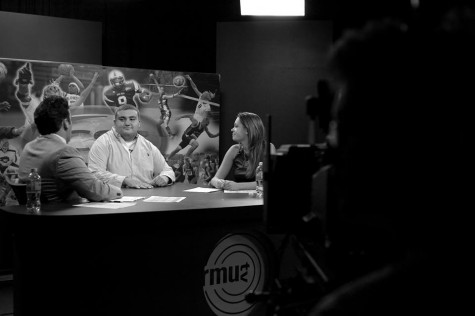 Chris Mueller, Sports Reporter
Chris is a junior Communications major at RMU with an applied concentration in journalism. He is Sports Editor for RMU Sentry Media.  As current Sports...