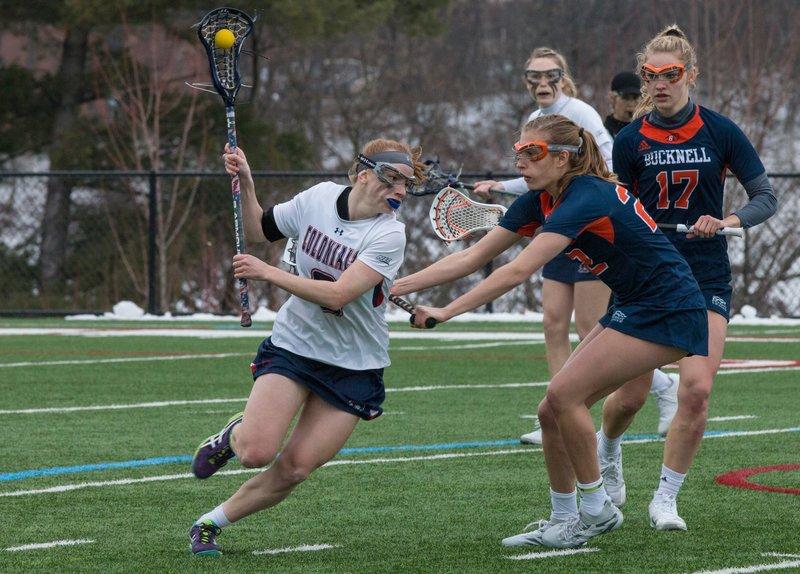 Women's lacrosse ends losing streak against St. Bonaventure
The Robert Morris University Colonials women's lacrosse team was home this weekend as they hosted the St. Bonaventure Bonnies at Joe Walton Stadium on a sunny Sunday afternoon. The Colonials snapped their four-game losing streak with an 11-6 victory. During the first half, the St. Bonaventure Bonnies were the first to put their name on the board first with a goal from Rylee Arnold at 27:19. Seconds later, Bonnie midfielder put the ball past Colonial goalie Katelyn Miller to make it 2-0 St. Bonaventure.
The Colonials got into the scoring spirit as attacker Kerri Sayrafe put a point on the board to make it 2-1. Two minutes later, Colonial midfielder Sophia Eureka tied the score to make it 2-2. Another two minutes later, the Colonials stole the lead as midfielder Dana Davis made it 3-2 Robert Morris.
The first half of the game, the Colonials didn't play a physical game but managed to score three goals to end the half 6-5. Goals were scored by attackers Shannon Lynch, Kerri Sayrafe and midfielder Dana Davis.
St. Bonaventure stole the show as they played with momentum but only scored three goals in the half as well. Goals were scored by midfielder Kyra O'Gorman, attacker Gabrielle Bradley and midfielder Rylee Arnold. Rylee Arnold's goal was scored as the buzzer went off.
"We let the refs affect how we played in the first half," said RMU head coach Katrina Silva. "Everything was a foul. This is Division 1 lacrosse, so there's usually some contact and some legal stick checking and in the first 30 mins, the refs were really having an impact on us and on our mental abilities. We talked about that after the half and said we have to play our lacrosse and need to work a bit harder and move our feet a little faster, and I think we made some really nice adjustments and got our confidence with the ball in the second half."
The second half of the game was in favor of the Colonials as they managed to score five goals. The Colonials could have scored more but Bonnies goalie Morgan Conroy played a brick wall for the remainder of the second. Goals were scored by attackers Shannon Lynch (twice in the second) and Kerri Sayrafe, and midfielders Sophia Eureka and Melanie Gandy.
Four Colonials scored more than one goal in Sunday's game. Midfielders Sophia Eureka and Dana Davis scored two, and attackers Kerri Sayrafe and Shannon Lynch scored three.
The Colonials were comfortable with their game this afternoon, which contributed to their success. "I felt very comfortable," said attacker Shannon Lynch. "We were coming down from a lot of losses and today we just wanted to come out and have fun and leave with a win and a good mindset."
Coach Silva was very pleased with the Colonials' effort today after coming back from a long, two-game road trip to California. "Excited," Silva said. "We went to California for two games; that's a really, really long trip and it felt like all 3,000 miles out there, so I thought we played a little flat when we were out there (in California) and couldn't put together a full 60 minutes, and I thought today we started off a little rough but we played a solid 45 minutes, which was awesome."
The mood on the field is to have fun and Shannon Lynch said that's what the team did today. "What we worked on a lot throughout the week is to have fun and play like ourselves," said Lynch. "We came into this game more relaxed, so the game kinda flowed and whatever opportunities were there, we took them."
Coach Silva says that there are adjustments to be made but the team is coming along. "Our midfield transition, working from one end to the other is still going to need some improvement, but saw some defenders coming over and shooting the ball today, which is exciting, so we're getting there."
The Colonials are back home next Saturday as they host Louisville at 1 p.m. at Joe Walton Stadium.