Worthem finding his niche in NEC play
When Jeremiah Worthem stepped to the free throw line with five seconds remaining in Robert Morris's contest against Saint Francis (PA) on January 16th, the Charles L. Sewall Center was silent.
The fans weren't inaudible because they didn't think that Worthem, a 67% free throw shooter, could ice the game for Robert Morris.
Rather the 1,221 souls packed inside "The Chuck" wanted the freshman to concentrate on the two biggest shots thus far in his collegiate career.
"Going to the line I was just talking to myself, going through my routine every time I shoot free throws and they just went down for me," said Worthem.
The graduate of Mathematics, Civics and Sciences Charter School in Philadelphia is finding his forte for an RMU program that is atop the Northeast Conference with a 4-0 mark in league play.
And the league is starting to take notice.
Because of his 12 and 21 point performances against Saint Francis and Mount St. Mary's respectively, the 6-foot-6-inch forward was tabbed, for the second time this season, as the Choice Hotels Northeast Conference Rookie of the Week on January 20th.
"It [hitting big shots] just means that he's growing up, he's maturing. He just has to do a little bit more, extra little things," said junior Lucky Jones. "He is, in my opinion, and I know coaches and players as well, probably the best freshman in the conference."
But despite acknowledging Worthem's success, Jones doesn't want to jinx his teammate.
"I'm not trying to put a lot of pressure on him but if he continues to stay humble and hungry, big nights like this or certain occasions of making a shot is a piece of cake," he said. "He has that hunger and he has that fight and he's going to continue to improve each and every night."
In 19 games this season, Worthem is averaging 8.9 points per game, which makes him the third leading scorer on the squad.
"He [Worthem] had two free throws and he had a big rebound for us [against SFU] and those are the things we expect from Jeremiah. I don't think anybody on the bench was shocked when he raised up to shoot the shot and I don't think anybody was shocked when it went in the basket," said head coach Andy Toole. "We know what kind of talent he has. When he's locked in and he's flying around, he's capable of doing a lot of really productive things for us."
About the Contributors
Nick Buzzelli, Sports Editor
Nick is a senior communication major with a concentration in journalism at Robert Morris University and is the Editor-in-Chief of RMU Sentry Media.

In...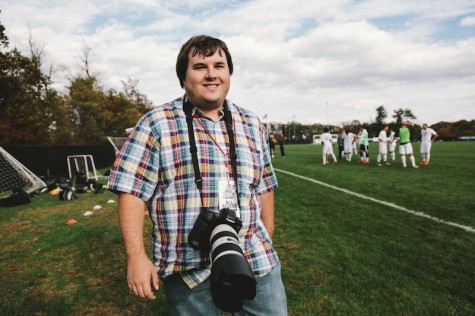 Kyle Gorcey, Freelance Sports Photographer
Kyle is a senior Communications major with a concentration in journalism at Robert Morris University who is a writer and sports photographer for The Sentry. The...