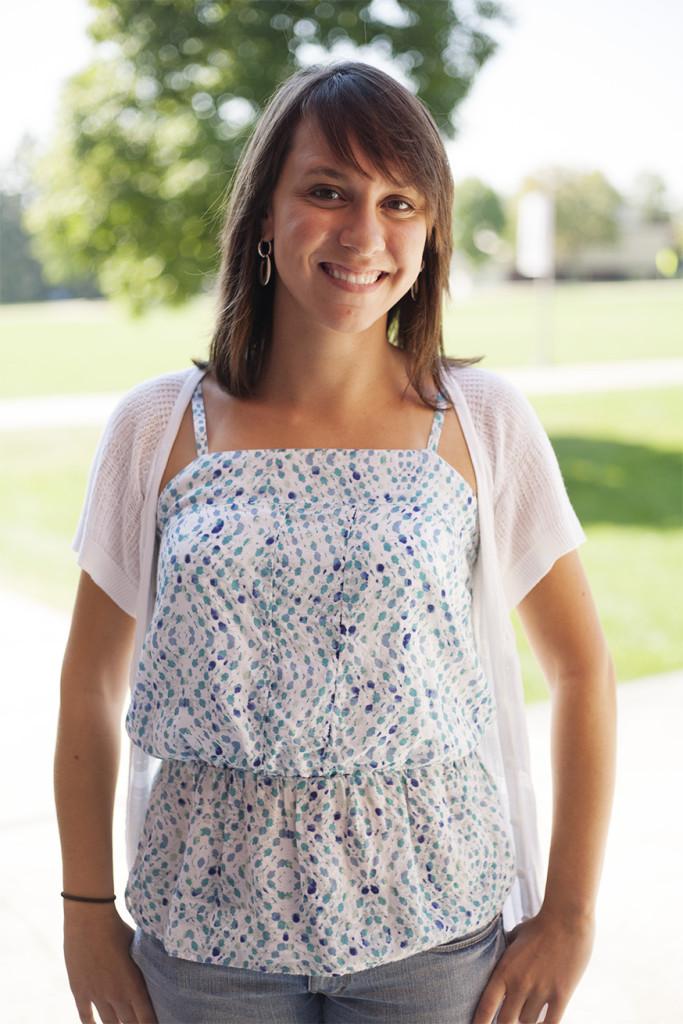 A senior journalism major at Robert Morris University, Andrea serves as a staff member this semester, writing and producing packages for all aspects of RMU Sentry Media. She previously served as the editor-in-chief for the 2012-2013 school year as well as the news editor from spring 2011 to fall 2012 and assistant news editor in spring 2012.
In addition to writing for the university's paper, she is a member of the Society of Collegiate Journalists,which she serves as the vice president, Lambda Pi Eta, National Society of Collegiate Scholars, National Society of Leadership and Success, National Residence Hall Honor Society and Voci Italiane, RMU's Italian American Club.
Andrea currently works at WPXI as a freelance web producer and will be interning in KDKA's commercial production department this fall.
Contact Andrea at 
[email protected]
[tfb username=AZRMUsentry count='true' lang='en' theme='light']
Andrea Zanaglio, Staff Writer
Nov 15, 2013

Give to get at SCJ's Balancing Out Hunger Food Bank fundraiser kickoff

(Story)

Nov 11, 2013

RMU's VETS Center looks to raise money for Emergency Fund

(Story)

Oct 25, 2013

Day 1 of NOLA13 convention: Sessions, sights, sounds of New Orleans

(Story)

Sep 22, 2013

"Prisoners" questions limits of morals, beliefs in dire circumstances

(Story)

Sep 15, 2013

Insidious Chapter Two: Not-so scary sequel

(Story)

Aug 24, 2013

Moon Twp. approves zoning, conditional use application for Yorktown Hall

(Story)

May 03, 2013

Fire department responds to dumpster fire behind Washington Hall

(Story/Media)

May 01, 2013

RMU's schools recognize students in all areas of study; Complete list of recipients included

(Story)

Apr 18, 2013

Sentry Live in Five: 4/18/13

(Story)

Apr 11, 2013

RMU communication students launch new Twitter account: @RMUTraffic

(Story)

Apr 08, 2013

RMU's KDR 'Brave the Shave' event raises more than $2,000

(Story/Media)

Mar 28, 2013

Sentry Live in Five: 3/28/12

(Story)

Mar 24, 2013

Spring snowstorm could bring up to 6 inches of snow Sunday night

(Story)

Mar 24, 2013

Bus trip to RMU vs Providence canceled due to weather

(Story)

Mar 21, 2013

Sentry Live in Five: 3/21/13

(Story)

Mar 07, 2013

Sentry Live in Five: 3/7/13

(Story)

Mar 05, 2013

Winter storm warning goes into effect Tuesday evening

(Story)

Mar 04, 2013

RMU Radio presents All Day Radio event

(Story)

Feb 25, 2013

'Argo' wins the most coveted prize of them all at 2013 Oscars

(Story)

Feb 19, 2013

Update: NSCS pen pal venture turned down

(Story)

Feb 14, 2013

Last minute Valentine's Day gifts

(Story)

Feb 14, 2013

Sentry Live in Five: 2/14/13

(Story)

Feb 11, 2013

Power restored on RMU'S Moon Campus; classes remain canceled for evening

(Story)

Feb 01, 2013

Winter weather advisory in effect for weekend

(Story)

Jan 31, 2013

The Package Tour pre-sale gives you reason to wake-up early

(Story)

Jan 27, 2013

Freezing rain expected to cause problems during morning commute

(Story)

Jan 25, 2013

RMU alert issued: University closing at 2 p.m. due to weather conditions

(Story)

Jan 25, 2013

Winter weather advisory remains in effect

(Story)

Jan 20, 2013

Bear spotted near Moon Twp. Giant Eagle

(Story)

Nov 06, 2012

Obama and Casey take PA

(Story)

Nov 06, 2012

Issues: Energy and Environment less important than 2008

(Story)

Nov 06, 2012

RMU Live Election Night coverage begins at 8 p.m.

(Story)

Nov 03, 2012

Day 2 at CMA conference in Chitown

(Story)

Oct 29, 2012

Threat of Sandy forces RMU to cancel classes and activities

(Story)

Oct 29, 2012

Monitoring Hurricane Sandy: Top resource sites

(Story)

Oct 29, 2012

Residence Life will remain open until midnight, shuttles stopping at 8 p.m.

(Story)

Oct 12, 2012

Movie Review: The Perks of Being a Wallflower

(Story)

Sep 20, 2012

RMU Student Media convergence efforts flourish

(Story)

Sep 11, 2012

Remembering 9/11 eleven years later

(Story)

Jun 28, 2012

Beat the heat with Colonial Theater's 'Broadway and the Gardens' series

(Story)

Apr 12, 2012

Where, oh, where have job postings gone?

(Story/Media)

Mar 16, 2012

RMU student Marco Giovengo passes away in Lexington apartment

(Story)

Mar 15, 2012

Movie Review: 21 Jump Street

(Story)

Mar 09, 2012

Armored robbery victim, RMU alumni remembered

(Story)

Feb 20, 2012

HATMA Works to Gain New Members

(Story)

Feb 13, 2012
Feb 06, 2012
Jan 31, 2012

Movie Review: The Woman in Black

(Story)

Jan 30, 2012
Jan 23, 2012
Jan 22, 2012

Joe Paterno dead at 85

(Story)

Jan 21, 2012

False reports that Joe Paterno has died spread across web, social networks

(Story)

Jan 15, 2012

RMU Celebrates MLK

(Story)

Jan 09, 2012

WELCOME BACK, STUDENTS!

(Story)

Dec 08, 2011

Holiday Inn, campus expansion focus of Town Hall Meeting

(Story)

Dec 08, 2011

VT campus put on lockdown, two found dead

(Story)

Dec 01, 2011

Two thousand caps and counting

(Story)

Nov 16, 2011

Movie Review: Twilight Saga: Breaking Dawn Part I

(Story)

Nov 10, 2011

Getting SET for graduation

(Story)

Oct 28, 2011

RMU and PAAR team up to promote sexual assault awareness

(Story)

Oct 26, 2011

Executive Decision 2011 set to take place tonight

(Story)

Oct 03, 2011

RMU Homecoming 2011: Night game, live concert add new appeal

(Story)

Sep 15, 2011

RMU officially opens new School of Business building

(Media)

Sep 15, 2011

Jefferson Center's new initiatives encourage students to get active

(Story)

Sep 11, 2011

9/11: Where were you?

(Story)

Sep 11, 2011

RMU College Republicans, Army ROTC sponsor 9/11 remembrance events

(Story)

Aug 25, 2011

RMU's summer facelift

(Media)

Aug 25, 2011

50 plus volunteer projects planned for fall

(Story/Media)