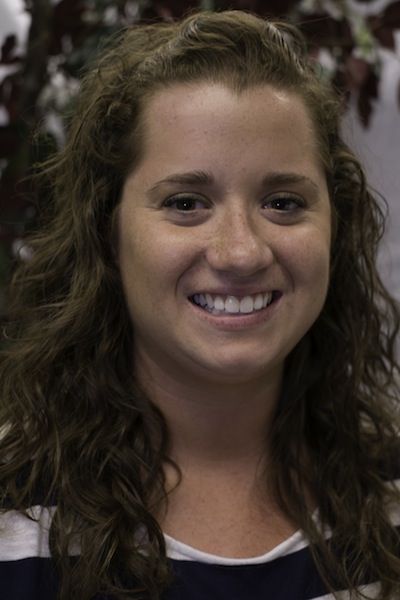 A senior journalism major at Robert Morris University, Brooke serves as the Editor-in-Chief and a staff writer for RMU's student-run newspaper, "The Sentry."
In addition to writing for the university's paper, she is the Secretary for the Society of Collegiate Journalists and an active member of the RMU webstreaming team that produces live sporting events.
Brooke also compiles the statistics and proof reads the Pittsburgh Penguins
IceTime
programs that get handed out to fans at each home game. In addition to her work with the Penguins, Brooke is also an intern with the MLB's Advanced Media department working out of PNC Park with the Pittsburgh Pirates.
Brooke Smith, Editor-in-Chief
Oct 27, 2015

Colonials continue strong conference play

(Media)

Dec 06, 2013

Remembering Dr. Crawley

(Story)

Dec 01, 2013

Kushneriuk krushes cancer and keeps dream alive

(Story)

Nov 25, 2013

Dr. Rex Crawley loses battle with cancer

(Story)

Nov 22, 2013

Men's hockey set to Krush Cancer

(Story)

Oct 25, 2013

Talking with Dr. Andrea Frantz

(Media)

Oct 25, 2013

Greetings from NOLA

(Media)

Sep 28, 2013

ACHA Division I pulls out OT victory against Lehigh

(Media)

Sep 16, 2013

Four former RMU men's lacrosse players selected in NLL Draft

(Story)

Sep 12, 2013

NCAA men's hockey hosts annual golf outing

(Story)

Aug 21, 2013

Moon fire department and RMU police called to Hale Center

(Story/Media)

May 03, 2013

Zimmerman named honorary member of men's hockey team

(Story/Media)

Apr 01, 2013

Rankel brothers find success at RMU

(Story)

Apr 01, 2013

Atlantic Hockey to introduce goal review for 2013-2014 season

(Story)

Mar 11, 2013

CMA 13 in NYC: Monday night recap

(Media)

Mar 11, 2013

CMA 2013 in NYC: Day 3 update

(Media)

Mar 11, 2013

CMA 2013 in NYC: Day 2 update from Central Park

(Media)

Mar 11, 2013

CMA 2013 in NYC update: Welcome to the concrete jungle

(Media)

Mar 07, 2013

RMU Psi Chi and Psychology Club set to host Psych in a Box

(Story)

Feb 17, 2013

South's OT goal lifts RMU over Niagara

(Story)

Feb 14, 2013

Three Colonials nominated for Hobey Baker Award

(Story)

Feb 14, 2013

Men's lacrosse faces new rules heading into 2013 season

(Story)

Jan 25, 2013

Update from Chris Kushneriuk

(Story)

Jan 12, 2013

Colonials win 4-3, split weekend series with UConn

(Story)

Dec 30, 2012

Colonials beat Miami 1-0, win Three Rivers Classic

(Story)

Dec 28, 2012

Colonials defeat Nittany Lions 6-0, advance to championship game

(Story)

Dec 27, 2012

Colonials prepare for Three Rivers Classic

(Story/Media)

Dec 21, 2012

Members of the hockey community raise funds for Kushneriuk

(Story)

Dec 10, 2012

Men's hockey and lacrosse teams raise $14,402 during "Movember"

(Story/Media)

Nov 18, 2012

Men's hockey and lacrosse teams debut Movember music video

(Story)

Nov 10, 2012

Movember update through the first ten days

(Story/Media)

Nov 08, 2012

Men's hockey and lacrosse team up for Movember

(Story/Media)

Nov 04, 2012

Chris Kushneriuk update

(Story)

Nov 03, 2012

CMA Conference in Chitown: Look who we found!

(Media)

Nov 03, 2012

CMA Conference in Chitown: WGN tour

(Media)

Nov 03, 2012

CMA Conference in Chitown: CSC's honorable mention

(Media)

Nov 01, 2012

Airport edition: On our way to Chicago

(Media)

Oct 31, 2012

Men's hockey and lacrosse Movember photos

(Story)

Oct 30, 2012

Hervato and South named assistant captains

(Story)

Oct 28, 2012

Fans get the chance to "Skate with the Colonials"

(Story)

Oct 16, 2012

Men's hockey raises money to "Krush Cancer"

(Story)

Oct 07, 2012

Men's hockey beats Wilfrid Laurier 10-4

(Story)

Sep 17, 2012

Friedmann and Wilson attend NHL rookie camps

(Story)

Aug 27, 2012

NCAA men's hockey names captains for 2012-2013 season

(Story)

Aug 27, 2012

Volleyball gets season started

(Story)

May 27, 2012

2012 Graduate, Jenn Schulze, completes JFK 50 Mile Challenge

(Story)

Apr 23, 2012

NCAA men's hockey team gives back to the local hockey community

(Story/Media)

Mar 23, 2012

Men's hockey seniors leave their mark on the record books

(Story)

Mar 21, 2012

RMU Sentry Media debuts new YouTube page

(Story/Media)

Mar 08, 2012

Men's hockey heads to Niagara to face the Purple Eagles

(Story)

Mar 05, 2012

Men's hockey wins in dramatic fashion

(Story)

Mar 01, 2012

Colonials set to face off against American International

(Story)

Feb 25, 2012

RMU defeats Air Force in OT thriller

(Story)

Feb 19, 2012

Frank Vieira finds musical success

(Story)

Feb 17, 2012

Penalty kill shines while power play struggles

(Story)

Feb 10, 2012

RMU NCAA men's hockey vs. Mercyhurst preview

(Story/Media)

Feb 05, 2012

NCAA men's hockey earns 100th program win at home against Canisius

(Story)

Feb 01, 2012

Men's hockey freshmen make their presence known

(Story)

Feb 01, 2012

Ostergard nominated for the Hobey Baker Award

(Story)

Jan 26, 2012

RMU NCAA men's hockey vs. Niagara preview

(Story)

Jan 20, 2012

A day in the life: American Idol Pittsburgh from a PA's view

(Story)

Jan 15, 2012

RMU splits series against Holy Cross

(Story)

Jan 11, 2012

RMU men's hockey vs. Holy Cross preview

(Story/Media)

Dec 31, 2011

Buckeyes snap Colonials eight game unbeaten streak

(Story)

Dec 29, 2011

NCAA men's hockey team prepares for the College Hockey Showcase

(Story/Media)

Dec 16, 2011

12-17 RMU vs. RIT game preview

(Story)

Dec 12, 2011

Men's hockey improves to a seven game unbeaten streak

(Story/Media)

Dec 05, 2011

RMU men's hockey team raises over $3,000 during Movember

(Story)

Dec 02, 2011

Advice from the men's hockey class of 2011

(Story)

Dec 02, 2011

Catching up with the men's hockey Class of 2011

(Story)

Nov 28, 2011

Movember update Day 28

(Story/Media)

Nov 27, 2011

RMU vs. Army weekend recap

(Story)

Nov 19, 2011

Movember update through the first 19 days

(Story)

Nov 16, 2011
Nov 14, 2011
Nov 10, 2011

Men's hockey and lacrosse participate in Movember

(Story)

Oct 26, 2011

Men's hockey names assistant captains

(Story)

Oct 26, 2011

Two men's basketball freshmen cited for underage drinking

(Story)

Oct 15, 2011

RMU men's hockey gets first win of the season against Mercyhurst

(Story)

Sep 30, 2011

Men's hockey looks ahead to upcoming season

(Story)

Sep 30, 2011

Field Hockey news and notes

(Story)

Sep 15, 2011

Incoming freshmen learn to be student-athletes at the college level

(Story)

Sep 15, 2011

Sports web streaming team is looking for new members

(Story)

Sep 05, 2011

Open-Mic Night is a hit every Tuesday night

(Story)

Aug 27, 2011

Schooley signs contract extension

(Story)

Aug 27, 2011

Andrew Blazek gets invited to the Pittsburgh Penguins prospect camp

(Story/Media)