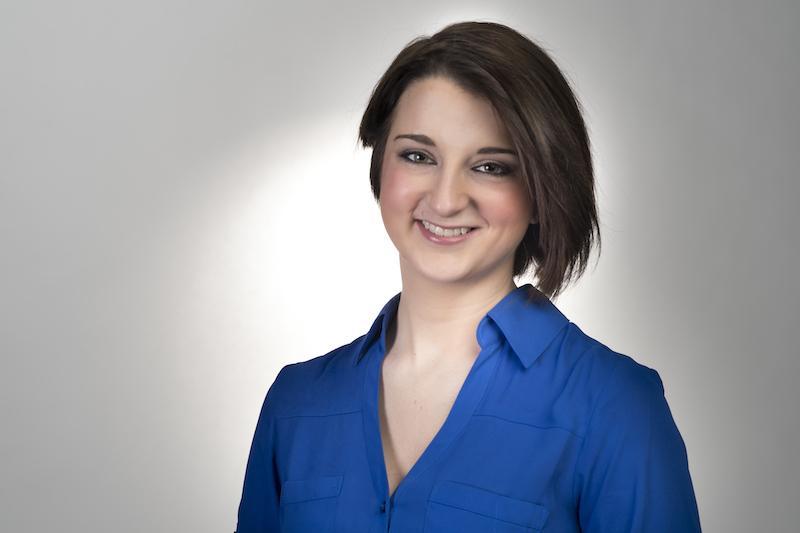 A junior communications major with a concentration in journalism and a focus in media studies, Leah is the Editor-in-Chief of RMU Sentry Media. She is also the producer and former anchor of RMU-Live and is on the social media desk for Trending Now. She has served as the producer of Colonial SportsCenter for 2013-2014, winning a Communicator Award of Distinction for that year, as well as doing on-camera and behind the scenes work for the show.
Leah currently is working on her undergraduate thesis, studying the effects of social media on news consumption.
Outside of RMU Sentry Media, she is a member of the University Honors Program and the Society for Collegiate Journalists. She is in the process of founding the Robert Morris University Chapter of She's the First - a non-profit organization dedicated to funding the education of girls in low-income countries.
Leah Fleischel, Social Media Editor
Nov 19, 2015

Colonial Sports Center | November 19, 2015

(Story)

Nov 18, 2015

Traveling home for Thanksgiving? Avoid Parkway East if possible

(Story)

Nov 09, 2015

RMU Live | November 9th, 2015

(Story)

Nov 02, 2015

RMU Live | November 2nd, 2015

(Story)

Oct 26, 2015

RMU Live | October 26th, 2015

(Story)

Oct 19, 2015

RMU Live | October 19th, 2015

(Story)

Oct 12, 2015

RMU Live | October 12th, 2015

(Story)

Oct 05, 2015

Trending Now: Fitness (9-23-15)

(Media)

Sep 28, 2015

RMU rowing head coach dies after lung disease complications

(Story)

Aug 24, 2015

Presidential search in final stages, announcement expected in 'upcoming weeks'

(Story)

Jul 31, 2015
Jul 07, 2015

Lucky Jones signs contract with Liége Basketball in Belgium

(Story)

May 22, 2015

Erik Stein, former area coordinator for residence life, dies at 38

(Story)

May 21, 2015

SCIS selects AnnMarie LeBlanc as new dean

(Story)

May 21, 2015

School of Business names Dr. Lois Bryan interim dean

(Story)

May 01, 2015

Police, fire crews respond to dumpster fire near residence halls

(Story)

Apr 14, 2015

BREAKING: Provost David Jamison named as interim President

(Story)

Apr 14, 2015

Board gives fundraising for new event center green light

(Story)

Apr 01, 2015

University reveals plans for solid gold Dell'Omo statue

(Story)

Feb 13, 2015

Valentine's Day gifts you can do in less than 24 hours

(Story)

Feb 09, 2015

RMU "Levels Up" password security for students

(Story)

Jan 29, 2015

Colonial Sports Center | January 29, 2015

(Story)

Jan 23, 2015

RMU honors Allegheny Conference's dedication to Pittsburgh with documentary

(Story)

Jan 20, 2015

Wolf plans to help PA prosper as new governor

(Story)

Nov 04, 2014

Views from Washington D.C.

(Story)

Oct 16, 2014

Eight things traditional college students take for granted

(Story)

Sep 16, 2014

New city, new perspectives

(Story)

Aug 20, 2014

Owning the Interview

(Story)

Apr 15, 2014

President Obama Picks Pittsburgh as Place with "Opportunity For All"

(Story)

Apr 05, 2014

Variety of government officials visit RMU to encourage voting

(Story)

Apr 04, 2014

Look Good Naked: Two is better than one

(Story)

Mar 29, 2014

Look Good Naked: Power Poses

(Story)

Mar 25, 2014

Dr. Purohit accepts CDIO position

(Story)

Mar 21, 2014

Look Good Naked: Learning from the best

(Story)

Mar 18, 2014

Police Blotter 3/13/14 – 3/17/14

(Story)

Mar 14, 2014

Police Blotter 3/4/14 – 3/10/14

(Story)

Mar 08, 2014

Phipps Conservatory Is a Pittsburgh Treasure

(Media)

Mar 07, 2014

Look Good Naked: Music can be magic

(Story)

Feb 28, 2014

Look Good Naked: The art of running

(Story)

Feb 27, 2014

BREAKING: President Dell'Omo to remain at RMU

(Story)

Feb 27, 2014

BREAKING NEWS: President Dell'Omo expected to leave RMU for La Salle

(Story)

Feb 26, 2014

Police Blotter 2/18/14 – 2/24/14

(Story)

Feb 24, 2014

UPDATE: Revere Center crash cause determined; damage evaluated

(Story)

Feb 22, 2014

Car crashes into Revere Center

(Story)

Feb 21, 2014

Look Good Naked: It's the little things

(Story)

Feb 20, 2014

Topping Town Brings Sweet Small Business to Moon Township

(Media)

Feb 14, 2014

Look Good Naked: The truth about cleansing

(Story)

Jan 31, 2014

Look Good Naked: Even when hibernating sounds better

(Story)

Jan 29, 2014

President ensures plan hits home with hardworking city

(Story)

Jan 29, 2014

President Obama wraps up visit

(Story)

Jan 29, 2014

Sentry Media covers President Obama's visit to West Mifflin

(Story)

Jan 24, 2014

Look Good Naked: An introduction

(Story)

Jan 13, 2014

RMU keeps moving forward with approved 2014-2018 Strategic Plan

(Story)

Dec 31, 2013

From the Editor's Desk: Reflecting on 2013 and looking forward to 2014

(Story)

Dec 12, 2013

SCJ raises over $5,000 to Balance Out Hunger in Pittsburgh

(Story)

Dec 06, 2013

Remembering Dr. Crawley

(Story)

Nov 26, 2013

Arrangements for Dr. Rex Crawley set and open to RMU community

(Story)

Nov 15, 2013

Changes coming to RMU Library

(Story)

Nov 07, 2013

Academic Affairs announces RMU eTranscript service

(Story)

Oct 22, 2013

New overnight parking policy in place for students

(Story)

Oct 15, 2013

Past and present of Colonial Theatre come together for Rent: In Concert

(Story)

Oct 09, 2013

Pittsburgh Speaker Series kicks off with George Papandreou

(Story)

Oct 01, 2013

RMU putting documentary grant to use

(Story)

Sep 17, 2013

Submissions sought after for sixth annual Creepy Conference

(Story)

Sep 15, 2013
Sep 11, 2013

RMU helps ensure America "Never Forgets"

(Story)

Sep 08, 2013
Sep 05, 2013

Global Get Togethers offer great chance for connection

(Story)

Sep 01, 2013
Aug 23, 2013

Plan that built foundation will now pave way for stronger future

(Story)

Aug 22, 2013

Welcome Home Class of 2017: New Student Orientation Schedule

(Story)

Jul 03, 2013

RMU ResLife finds ways to escape housing bind

(Story)

Apr 30, 2013

English department professor Dr. Stephen Arch no longer RMU employee

(Story)

Apr 29, 2013
Apr 22, 2013

Class Officers for 2013-2014 announced

(Story)

Apr 22, 2013
Apr 16, 2013

RMU students go "One Day Without Shoes"

(Story)

Apr 16, 2013

Survey says: Students want new Rec Center

(Story)

Apr 14, 2013
Apr 07, 2013
Apr 06, 2013

Adams claims Battle of the Halls championship title

(Story)

Apr 03, 2013

Communication and Media Arts students put Creativity to Work

(Story)

Mar 31, 2013
Mar 28, 2013

Easter Break 2013

(Story)

Mar 26, 2013

RHA to host 3rd annual Battle of The Halls competition

(Story)

Mar 25, 2013
Mar 20, 2013

March Madness? It Might as Well Have Been

(Story)

Mar 20, 2013

Celebrating Communications at RMU

(Story)

Mar 18, 2013
Mar 13, 2013

RHA to host St. Patrick's Day party

(Story)

Mar 11, 2013

Those Two Coveted Words: "You're Hired!"

(Story)

Mar 11, 2013

"Thinking Like an Editor" but on a Bigger Scale

(Story)

Mar 07, 2013

SCJ in the Big Apple: CMA National Convention 2013

(Story)

Mar 07, 2013

Upcoming Pittsburgh Speaker Series: Vicente Fox

(Story)

Mar 03, 2013
Feb 28, 2013

RMU celebrates Irish Heritage throughout March

(Story)

Feb 25, 2013

Delta Phi Epsilon to raise ANAD awareness all week

(Story)

Feb 24, 2013
Feb 21, 2013

Friday marks beginning of Little Sibs weekend

(Story)

Feb 20, 2013

RMU students looking to build relationship with Navajo Nation

(Story)

Feb 17, 2013
Feb 14, 2013

Jeanette Walls speaks at RMU, Heinz Hall for Pittsburgh Speaker Series

(Story)

Feb 13, 2013

Housing selection season at RMU in full swing

(Story)

Feb 11, 2013
Feb 03, 2013
Feb 03, 2013

Dining services meeting previews future changes

(Story)

Jan 30, 2013

Residence Hall Happenings at RMU

(Story)

Jan 27, 2013
Jan 22, 2013

Calling all seniors: 'The Patriot' offers 2 last chances for senior portraits

(Story)

Jan 20, 2013
Jan 17, 2013

RMU Library offers textbook alternative to buying, selling, renting madness

(Story)

Dec 19, 2012

President Dell'Omo addresses RMU, Barack Obama in aftermath of Conn. school shooting

(Story)

Oct 01, 2012

The time is now: Get involved!

(Story)

Sep 23, 2012

Stay Fresh, Man!: What's the rush? Sorority Recruitment 2012

(Story)

Sep 15, 2012

Homecoming 2012: You don't want to miss this!

(Story)

Sep 14, 2012

Stay Fresh, man! Class of 2016 Edition

(Story)