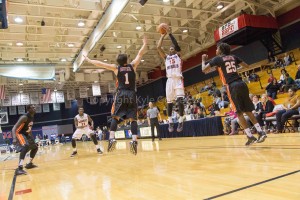 Jon Fisher, Assignment Editor

February 6, 2014
Dear Colonial Crazies,  Due to the emotional roller coaster that sports provide, it's only fair to assume that fans will be along for the ride. Extreme highs and lows dictate whether your adrenaline will pump even harder, or if your blood pressure may barely read a signal after a crushing defeat...
Erica Sablofski, Staff Writer

January 30, 2012
The Colonial Crazies club at Robert Morris University has begun its first major year of operation strong with a packed student section during every game. The club began during the fall 2011 football season after receiving the financial approval of the Student Government Association. The Crazies' first...