A Letter to the Colonial Crazies: Where are you?
Dear Colonial Crazies, 
Due to the emotional roller coaster that sports provide, it's only fair to assume that fans will be along for the ride. Extreme highs and lows dictate whether your adrenaline will pump even harder, or if your blood pressure may barely read a signal after a crushing defeat. In some extreme cases, resentment toward an opponent may cause violence and anger among the many in attendance.
Fans are supposed to stick together through thick and thin, right? Yes Crazies, I'm talking about you. From the Kentucky game to Bryant's invasion last week, all of you are showing the numbers and how they truly replicate on the scoreboard. Your presence is felt and it doesn't take a brain surgeon to figure that out.
However, where have you been when the bright lights of ESPN aren't on the Sewall Center? Going back to last year, this has been the attendance record at the men's games.
NEC First Round St. Francis Brooklyn — 1,788
NEC Semi-Finals Mount St. Mary's — 1,303 (Spring Break exception)
Saint Francis University 1/16/14 — 1,221
Sacred Heart 1/23/14 — 824
Wagner 1/25/13 — 1,093
Below is the attendance record for the last two ESPN-televised games:
Kentucky 3/19/13 — 3,444 (Sewall Center record)
Bryant 1/30/13 — 2,454
Do you see the differences?
To be frank, aside from the Kentucky game, there was nothing more significant about either game; just sounds like laziness to me.
Reset your clocks to Saturday evening on the first of February around 6:35 p.m. The RMU Colonials suffered their first Northeast Conference loss this season with a 74-73 loss to the Central Connecticut State Blue Devils. With a 16-point lead at halftime, the fans base predicted an easy win right? The naive would assume so.
Would a few more fans in the stands have improved the Colonials lack of demeanor in the second half?
Men's basketball is arguably the most popular sport at Robert Morris University. The brightest stars have came and conquered without a moment's notice from only one sell-out crowd (Kentucky) since I've been here and prior to that that as well.
Some of the stars include Karon Abraham, Velton Jones, Russell Johnson, Tony Lee, Jimmy Langhurst, Jeremy Chappell and others, but they have experienced little-to-no full crowds at the Chuck.
Let's take a look at a few examples to which I'm elaborating on:
The 12th man in Seattle. Seahawk fans gather in the thousands to watch their favorite team battle the opponent each week. With the help of all that noise, they have lost one home game in the past two season. Mark it as 15-1 for the reigning Super Bowl Champions.
Pittsburgh prides itself on being the hometown crowd that cannot be stopped. The Oakland Zoo is full of only Pitt students that encourage the Panthers to many successful seasons in the Big East (now ACC). At the end of the 2012-13 season, the Pitt men's basketball team has compiled a record of 180–22 (.891) at the Peterson Events Center.
To what does this letter represent Colonial Crazies? There really isn't anything crazy about you unless ESPN proves it to the masses. I've announced enough games over the last three years to see the crowds behind my back. The noise alone can penetrate my microphone, if loud enough.
Great leaders throughout history pride themselves on "strength in numbers." Chris Cappella, leader of the Crazies, sent out an e-mail through Marty Galosi's mail chain that prompted all of the students to come to the Bryant game last Thursday.
Give credit where it is due. That was a brilliant idea and it got people to come to the game. That is why the Bryant game garnered one of the biggest crowds in the past few years. But here's a question that comes to mind: where are those e-mails for normal home games?
It shouldn't take an e-mail to get students to want to come out and see their school team. Show some pride.
This letter is not to frustrate the Crazies and elicit a "crazy" response. Rather, it is a shot to the leaders of the Crazies in an attempt to give support to a team that needs it right now. Six players down, the Colonials rallied off seven straight victories to begin conference play.
One player in particular, Desjaun Newton, according to Toole, is "figuring out his future," and will not be on the roster anymore. Newton still attended every home game since that time.
In spite of his status, he still finds time to make every single home game. Something that even select Colonial fans cannot say.
If you have the time to respond, please don't with your remarks of anger and resentment. Prove me wrong and attend the remaining home games. I'll do you one better and post them here.
2/15/14 against Mount St. Mary's
2/20/14 against LIU Brooklyn
2/22/14 taking on Saint Francis Brooklyn (Senior Night)
I will leave you with this: Craig Meyer, a Pittsburgh Post-Gazette writer, tallied the average attendance of the NEC teams during the 2012-13 season. Robert Morris ranked eighth out of 12 teams with 1,196 fans per game.
Yet, they won the NEC regular-season title and are a threat to win the NEC championship every year.
Explain that to me.
Finals are not for another few months and this team could do major damage in the NEC tournament. Why not support their run for a title? Have a wonderful night and I'll see you on the 15th. Hope to see you there.
Sincerely,
A Disappointed Observer
About the Writer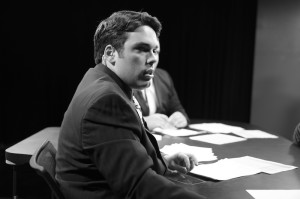 Jon Fisher, Social Media Editor
A senior communication major with a concentration in journalism.  Jon is a staff writer of the sports/opinons section and is the social media editor...