Dan Kitchen, Staff Writer

May 8, 2014
The NFL Draft is but a couple hours away, and speculation is running rampant, especially given the additional time now that the draft has been moved back. One of the best draft classes in years has several elite talents fighting to be the first overall pick; one of those prospects may very well be the...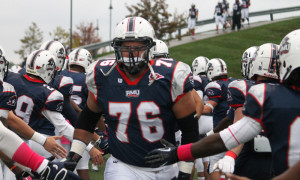 Chris Mueller, Copy Editor

February 12, 2014
It doesn't take bright lights and a big city to chase a dream. Just ask A.J. Dalton. A former All-American left tackle for Robert Morris, Dalton is on a quest to prove his worth amongst the NFL, a league where long-term, quality players are rarely selected from tiny FCS programs. But in his case, it's different.   In Dalton's particular circumstance, none of the outside elements matter. All it takes is one shot, one team to take a chance on the fleet-footed offensive line prospect that reigned dominance over the Northeast Conference for four straight seasons. "The NFL has been my goal all my life," said Dalton. "When I came to Robert Morris, I knew that I was going to have an opportunity to play early, if not all four years. 37 starts later, I was in the position I committed myself to be in." 37 starts later, Dalton is on the brink of accomplishing his dream. There wasn't always a cl...