Dalton making the jump from FCS to the NFL
It doesn't take bright lights and a big city to chase a dream. Just ask A.J. Dalton.
A former All-American left tackle for Robert Morris, Dalton is on a quest to prove his worth amongst the NFL, a league where long-term, quality players are rarely selected from tiny FCS programs.
But in his case, it's different.  
In Dalton's particular circumstance, none of the outside elements matter. All it takes is one shot, one team to take a chance on the fleet-footed offensive line prospect that reigned dominance over the Northeast Conference for four straight seasons.
"The NFL has been my goal all my life," said Dalton. "When I came to Robert Morris, I knew that I was going to have an opportunity to play early, if not all four years. 37 starts later, I was in the position I committed myself to be in."
37 starts later, Dalton is on the brink of accomplishing his dream.
There wasn't always a clear path, but now with the NFL Draft in May approaching, the light at the end of the tunnel is beginning to materialize.
Not many Colonials have gone on to make waves in the league. Dalton wants his name to be mentioned with the Tim Hall's and Hank Fraley's inside the walls of Joe Walton Stadium, a barrier he is striving to surpass.
"I want to put Robert Morris on the map," he said.  "We have a lot of great people in our athletic department and faculty. I just want to be a pennant for RMU and help us gain credibility so other players can have the same opportunity I'm having right now."
What is Dalton doing with that opportunity?
He signed with Bill Schwenk of Calvary Sports Management for representation, and follows an intense six-day-a-week workout regimen headed by Kaf Herring of Kinetic Prototype Sports based out of Atlanta.
With cracking an NFL training camp roster the ultimate task at hand; getting bigger, stronger and especially faster is Dalton's number one priority.
"It's actually some of the hardest training I've ever done in my life. It's also some of the most specific training. We do all different muscle groups. We don't just focus particularly on one," said Dalton. "We also focus on fast-twitch muscle fibers to create explosion, because at the next level speed is everything."
Dalton is a testament of when talent meets hard work, something he exhibited far before all of the success.
"The work ethic that AJ shows is something you can't teach," said Codi Casper, a teammate of Dalton both in high school and at Robert Morris. "Either you have that hard working drive or you don't. I feel that AJ's done that since he was little."
Casper grew up ten minutes down the road from Dalton in the small farm town of Carrollton, Ohio, about a 45 minute drive from Canton. The two's relationship is extremely tight-knit, with their bond as a brotherhood, reflective of the unity involved growing up in a small town community.
"Carrollton is a place where you learn self-respect," said Dalton. "It's a place where you can't do anything soft. All of the men in the community are blue-collar men. They work hard."
His character directly transcends the demeanor of his former stomping grounds.  Dalton's parents were nose-to-the-grindstone individuals, and the values instilled unto their son at a young age have carried over throughout his life to the point that they've impacted his teammates as well.
"AJ was a hard working teammate but also a leader," said Casper. "It didn't matter to him if he was talking to a fellow senior or a freshman. He was always willing to help out a teammate whether it in the film room, the practice field or the classroom."
Dalton isn't just turning his dream into a reality for his own personal benefit, but for the family he has walking behind him in his hometown.
"It would mean the world to me to be drafted," he said. "I do everything not only for myself, but to help other young men back in Carrollton."
Yes, he may have the cards stacked against him. He isn't coming from a Division I program like a lot of his peers, and he didn't play against the top competition in college football. But that doesn't mean the talent or drive isn't there, it just shows that this prospect doesn't take no for an answer.
"I didn't have an opportunity to hide behind talent like some players at Auburn or Ohio State. I really had to stick out and had no place to hide," said Dalton. "I made it to this plateau because I worked hard and stayed focused. While people were taking summers off, I was on the field running and putting in the work that the guys at the higher-tiered school were doing."
Once he makes it into a NFL training camp, whether it as a draft pick or rookie free agent, he's got just as good of a chance as everybody else.
"My mindset is that I just want to be the best available player that I can be," he said. "I can't control what general managers or coaches like me. I just have to be the best that I can be and showcase my talent, athleticism and experience that I had at Robert Morris."
Come this May, NFL franchises will carry out their draft boards and take chances on certain players they deem having the ability to contribute or challenge a veteran for a roster spot. Selecting Dalton as a late-round pick would not only reward the hard work of a high character prospect, but it'd salute the small blue-collar town of Carrollton; a place that deserves a new hero.
About the Writer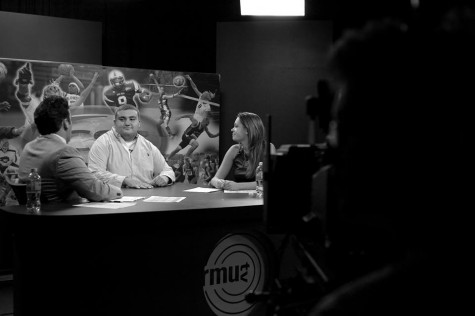 Chris Mueller, Sports Reporter
Chris is a junior Communications major at RMU with an applied concentration in journalism. He is Sports Editor for RMU Sentry Media.  As current Sports...