A new journey: My first taste of the "Big Apple" part III
Friday was supposed to start off earlier than normal (5 A.M.) by making a trip to The Today Show. That didn't happen, as sleep trumped the decision about as easily as the Seahawks beat the Broncos in the Super Bowl. So when my alarm sounded again, I arose and took a stroll down the street to go get the official breakfast of overweight champions, McDonalds. On my way, I met a man sitting on the sidewalk, so I asked him "Mister, why are you sleeping on the street?" And he rambled on and on until I told him I'd buy him a sausage McMuffin if he would shut up.
…This didn't actually happen, but for those of you who don't understand the reference, I don't talk to strangers, so don't be alarmed.
The conference day was highlighted by a session held by an ESPN writer who told of his wide variety of experiences. Being a sports fan, I thought this would be great. When he started talking about the Knicks, that's when I realized "Toto, I don't think we're in Pittsburgh anymore." I couldn't give a rats behind about basketball. His information was very insightful though and offered to keep in contact with anyone looking to get their feet wet.
We had dinner at the traditional Rosie O'Grady restaurant that night. I now understand all the hype people were giving it. The fish was out of this world!
Afterwards, we decided to hit the town for a night of shopping. We eventually made our way to Rockefeller Center (finally!!!). Unfortunately, Jimmy Fallon was nowhere to be found. We even made our way to the Queens Borough Bridge.
Man, was that a walk.
The highlight of the night easily came though as we were wandering Times Square later on. So if you are unaware of what goes on there, people try to emulate Disney World (horrendously, I must add) by dressing up like popular characters. The catch though, is that once you take a picture with them, they want a tip.
That's bull. You don't even look (or sound) real, my friends. Pretty annoying if you ask me. With that being said, I will never look at Spider-Man the same way again, but that's for another day.
Anyways, Elmo from Sesame Street was probably the most recurring character on the corners. To our surprise, we noticed two Elmo's across the street standing side by side up against a garage door. You guessed it, they were making their bladders gladder right there and then.
Simply stunning if you ask me.
About the Contributors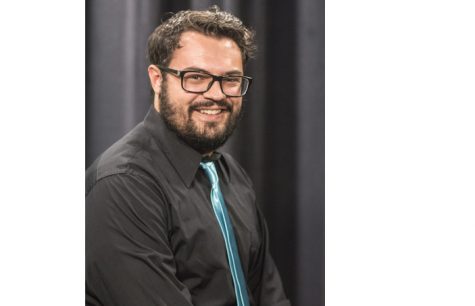 Matt Merlino, Chief Graphic Designer
A senior Media Arts (Graphic Design) major, Matt is the award-winning Chief Graphic Designer for RMU Sentry Media. His design work has won first place...
Nick Buzzelli, Sports Editor
Nick is a senior communication major with a concentration in journalism at Robert Morris University and is the Editor-in-Chief of RMU Sentry Media.

In...