Big Brother: All-Stars houseguests fall victim to "Janelleousy"
After 14 seasons, multiple different twists, Twitter reporting on every live feed update, two celebrity seasons, an online-only spin-off, the highly acclaimed Big Brother is back!
The fans wanted it, and they got it. Big Brother: All-Stars, or BB22, has taken over the second half of the summer for the first time since the first all-star season, BB7, in 2006, and once again features a cast of all returning players back in the house.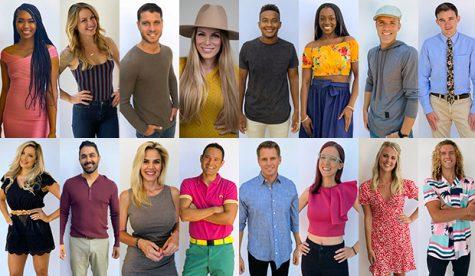 Fan favorites Cody Calafiore, Enzo Palumbo, Keesha Smith, Kaysar Ridha, Dani Donato-Briones, and Da'Vonne Rogers returned to try and win the grand prize of $500,000.
Ian Terry and Nicole Franzel, who won BB14 and BB18, respectively, will both look to become the first two-time winner in Big Brother's 20-year history.
Also joining these eight all-stars are other former players; Tyler Crispen, Kevin Campbell, Nicole Anthony, Bayleigh Dayton, David Alexander, Memphis Garrett, and last, but certainly not least, Janelle Pierzina.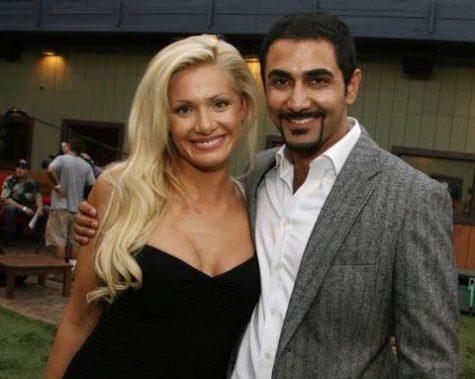 When Janelle and Kaysar entered the house this season, both instantly became targets for the other houseguests, for no reason other than that they were seen as legends of the game and considered great players. Despite not winning one competition during BB22, Janelle and Kaysar were both put up on the block. During week three, only 23 days into the game, Janelle was sent packing as the third evicted houseguest, and Kaysar shipped out with her the following week, not leaving without blowing up Cody, Nicole Franzel, and Dani's games in the process.
Janelle is arguably the most popular Big Brother player of all time, finishing in third on both BB6 and BB7. She has also competed on BB14 and was named America's favorite houseguest for her role in BB7 and is proclaimed as, "the queen," by fans and members of the Big Brother community. She also holds the record with the most days spent in the Big Brother house at 200. Janelle returned for a record fourth time this season, looking to finally win the $500,000 grand prize she came so close to winning 15 and 14 years ago. She has always been a close ally of Kaysar, as they played together on both BB6 and BB7.
Her popularity can be best described by listing her official "Janelle" nameplate necklace she wore on the show to eBay and receiving a total of 88 bids reaching $18,300 and still four days left to place a bid, with 100% of the proceeds going to her charity, Give Kids The World.
Queen Janelle received some surprising hate this season by her fellow houseguests because of her "old school" mentality to play the game, relying on a strong alliance and making big moves to make it to the end. To be specific, she was targeted from the start by Nicole Franzel and Dani Donato-Briones, who are both playing for their third times. Dani has vowed to "dethrone" the queen and come for the crown as the best woman to ever play.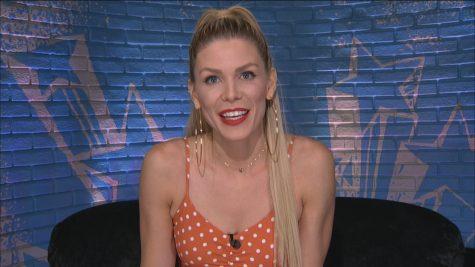 Dani fell victim to what Big Brother fans on Twitter have dubbed "Janelleousy," becoming jealous of the accomplishments earned by Janelle and determined to attack her game at any means necessary.
The first month of the season was dominated by this concept, as the Head of Household would be crowned and players would immediately attempt to throw Janelle's name under the bus.
The difference between these two styles of gameplay can not be more different, Janelle and Kaysar were loyal to each other until their games were over but the rest of the house has formed multiple different side alliances to cover their back.
These developments have outraged fans and the proof is in the pudding with ratings significantly lower than seasons prior, disappointing fans in this so-called "all-star" season.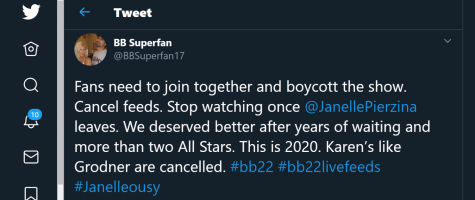 The power of "Janelleousy" has changed the game to the point where fans are turning off their TVs and logging off until next season.
After years of pleading for the return of an all-star summer, viewers have been disappointed with the lack of conflict in the house and sheer determination to eliminate the most popular players in show history.
Fans begged Big Brother production to save Janelle at any cost, but "Janelleousy" might have got to them too, making the rest of BB22 an uphill battle to prove that bringing back these former houseguests was the right decision after all.