Breakfast satisfaction at Eggs N'at
One of the best kept secrets in Moon Township is Eggs N'at; a local breakfast and lunch restaurant that serves up classic feel-good food for the hungry locals who are in the know. This is a spot where you can start your day off with a satisfying meal in a homey environment from 7 a.m. to 2 p.m. Monday through Saturday and 8 a.m. to 2 p.m. on Sunday.
When there is time to have breakfast, the typical student doesn't have endless cash to spend on something that isn't covered by their meal plan. What they crave is real food that comes at a reasonable price, and Eggs N'at provides both good food and good value.
Located at 8556 University Boulevard—less than a mile from the RMU campus and within walking distance of the Yorktown Residence Hall, the restaurant makes you feel welcome from the moment you walk in. It is a small but cozy place with a pleasant staff and fast service.
During a recent visit, it was clear that this establishment not only serves the students living close by—it serves the entire community. There was a constant flow of both groups coming in and out to chow down on some great food.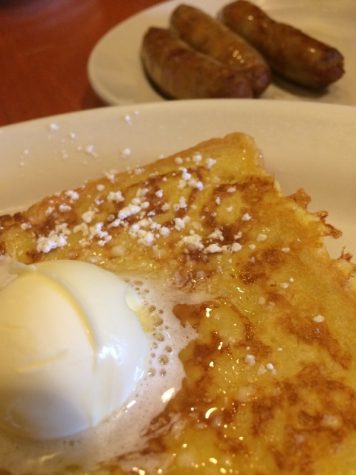 I did not have to wait long for my order to almost magically appear in front of me. The French toast came with a scoop of butter on top that melted and mixed with the syrup. The buttery combination complimented the crustiness of the toast and the soft, warm "egginess" of the bread inside. It was delicious, it hit the spot, and it left me wanting more. The sausage links that were served alongside my entree were just as good, and they provided the perfect savory accompaniment to the sweetness of the French toast.
My friend picked a Greek omelet from their extensive menu. It was packed with just the right combination of spinach, Kalamata olives and feta cheese. The eggs that were folded over the omelet's filling were prepared to perfection; turning the entree into a delicious success. It came with a side of potatoes ("Kelly's Homefries") and wheat toast, which were both well prepared. She was very happy with her breakfast choice.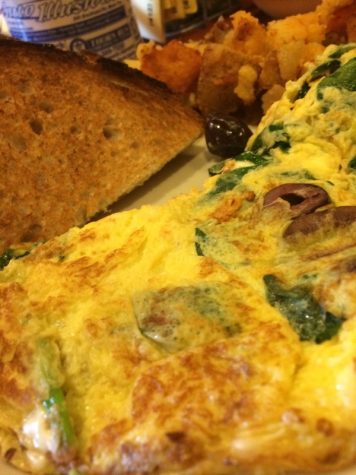 Overall, we were both pleased with our meal and will recommend it to others–in addition to returning there for ourselves. Sometimes local spots such as Eggs N'at can be easy to pass by in favor of a more well-known restaurant. In this case, anyone making that choice would be missing out on a fantastic meal. This is a local spot that will never fail to fill you up with delicious food and won't leave your wallet crying for mercy.