Cody Jasper shares his journey with Moon Fever and talks about the band's experience in Pittsburgh
PITTSBURGH– After months of waiting in lines to get a dose or two of the COVID-19 vaccine, people are finally able to hop back into lines to see bands live on stage. Moon Fever is delivering shots of sickness that rock fans certainly will not mind getting down with.
One place that the band stopped to spread their contagious head-banging energy was The Crafthouse Stage and Grill in Pittsburgh.
"I loved Pittsburgh, so I'll come back to visit, just to visit, or when we roll through I'll make sure to stay an extra day," said Cody Jasper, lead vocalist of Moon Fever.
Jasper and the other members of Moon Fever are young and fresh faces to the rock genre, who offer the scrappy energy of a neighborhood garage band that would keep rock fans jamming and mothers worried.
The band prides itself on avoiding the meshes of genres that are popular within a lot of today's music. Their goal is simple: keep the "rock" in "rock and roll."
"There have become so many alternatives to everything," said Jasper. "We just want to be like, 'Bleep all of that, we're rock!' We are just a rock band. We are this kind of rock, this kind of rock and this kind of rock, we're all of it because it is 2021 and every day that I wake up, I'm influenced by something else."
The reception of Moon Fever's traditional style has been good for any band that is trying to establish itself. According to Jasper, the band sees around 100,000 streams per month, and one of their hit songs, "Cocaine," has seen around 700,000 streams.
"We miss rock and roll. We have friends who are in rock bands and we wanted a piece of it," said Jasper. "It seems to be that people miss it and they are enjoying our effort at trying to be a straight-up rock and roll band."
The crowd in Pittsburgh certainly responded well to Moon Fever, especially considering the young band helped welcome the power of concerts back into everyday life. With the number of vaccinated Americans increasing with every passing day, the number of scheduled concerts is also increasing. Moon Fever was one of the first bands to truly celebrate the return of live concerts to the everyday entertainment world in Pittsburgh.
"The energy was insane every night because people hadn't done something like that in a while, and it opened up my eyes a lot. This first tour … in the pandemic reminded me of the importance of what our duty is as a live band, a rock and roll band," said Jasper. "Sometimes after a concert, somebody would come to you and they'd be like, 'This is the first concert I've seen in 15 or 16 months,' and you're like, 'Wow!' It really hits you."
The power of live music and the magical impact that it has on people can truly be highlighted in Jasper's own personal story. He began to pursue his goal of becoming a professional musician after one emotional concert.
"I saw Explosions in the Sky at the Ogden Theater in Denver, Colorado," said Jasper. "It changed my life. I remember crying; I watched the show and I cried."
After the concert, a conversation with a close friend added more fuel to a spark of passion, which led Jasper to pursue his musical career.
"That night, my roommate and I were laying on the floor of our house with our heads next to each other, and I was jamming on the guitar," said Jasper. "Tim, [he] sat up and he goes, 'What the hell are you doing?' and I was like 'Huh?' He said, 'What're you doing, man?' and I'm like, 'What're you talking about?' [He said] "You should be doing this, you should have been playing at that show tonight,' and it was this big eye-opening moment."
The next day, at around 18 years old, Jasper called his mom, moved back home and began saving up money for good musical equipment. Soon after the purchase of his new gear, he moved from his small hometown of Amarillo, TX to Austin, TX, which was rapidly growing at the time.
"Even when I moved there, 10 or 11 years ago, people were talking about how it was blowing up then. In the time since I was first living there, it has become a whole different place. It is for the good, I guess, but … it was just so much more beautiful and clean," said Jasper.
During his time in Austin, he met a booking agent and began his journey.
"Shortly after that, I was playing like five to seven shows a week on Sixth Street, playing blues and covers and stuff," said Jasper.
Life in Austin was quite different from what Jasper had grown up around in Amarillo, a town that Jasper still seems to have a lot of love for.
"I've got longtime friends, and my mom's here. It keeps me grounded to come visit. People are nice to me," said Jasper. "People just know you for you."
As Jasper continued to work in Austin, several states over to the west, Mitch Micoley was on the hunt for a vocalist to join his band.
"Mitch, the guitar player, had a band in Los Angeles, and he was looking for a new singer. I was living in Austin, TX, not doing much. I had kind of laid low from playing and I wasn't really in a good headspace, actually," said Jasper. "I got a message from Mitch's manager, the band's manager at the time, on Facebook. She asked me if I was the Cody Jasper that played at the Pecan Street Festival, 12 years prior in Austin, TX. She remembered me from that. So they needed a singer, and somehow she remembered me."
After the connection was made, Jasper and Micoley began meshing melodies and ideas to see if the chemistry was there.
"Mitch sent me some songs. I liked the songs. I put some vocals on them, they liked that; I flew out to LA and I joined the band that day," said Jasper. "Within the month, I think, I moved into Mitch's apartment, a studio apartment. We literally wrote songs and rehearsed our set every day."
The two have been working together for a few years, and even worked through the phantom year of 2020.
"It has been about two years but we say one because COVID didn't count," Jasper said with a mischievous smirk. "2020 didn't count."
If 2020 did not count, 2021 certainly has, as Moon Fever began performing shows with another rock band, Adelitas Way. According to Jasper, the bands got along very well together, and he even learned a lot from lead singer, Rick DeJesus.
"The singer, Rick, is so motivational, like, every day. Once we got to know each other, and when you see him, it's like, 'Hey how are you doing man? How's your voice? Try this tonight.'"
Before the two bands performed together in Pittsburgh, Jasper got to enjoy some key components of the Steel City. Cody, an avid cyclist and runner, enjoyed biking in the city, but to the joy of many Pittsburgh natives, skipped the bike lanes on his first day and enjoyed the GAP Trail.
"I rode the GAP Trail, and the day before the gig I rode, like, 22 miles. I rode all the way to some far bridge, far out east and then looped back around through downtown, ate at the sandwich place— I forget the name of it," said Jasper.
That sandwich place, of course, was Primanit Brothers. Jasper also enjoyed a ride on one of the beloved Pittsburgh inclines. The trip sparked some nostalgia for him.
"Doing the lift-up thing, it was beautiful. It reminded me of Austin before it got huge," said Jasper.
With a belly full of Primanti sandwiches, the band performed nine of their own songs and even covered one from the Rolling Stones.
The setlist was as follows:
Do You Want Me
Ride With Me
Super Soul
Cheap Thrills
Undertaker
Medicine Man
Cocaine
Shaking Off the Evil
Beast of Burden (cover)
Lost and Found
The band's decision to cover the Rolling Stones' "Beast of Burden" may seem planned, but Jasper says it was a spur-of-the-moment decision.
"We don't really follow a setlist that much," said Jasper. "Usually it's about how my vocals are feeling, you know? We'll end a song and I'll look down and look at Mitch and be like, 'I can't do that one right now, I need a breath.'"
While some nights the song choice is dependent on vocal strength throughout the performance, on their night in Pittsburgh, the Rolling Stones cover was added to the show due to a matter of timing.
"Sometimes we run out of time, or we'll have extra time. So our sound guy will come in our ears and he'll be like, 'You've got six more minutes,' and we'll be like, 'Crap, that was our last song.' So that night I looked at Mitch and just said 'Let's play Beast of Burden,'" said Jasper. "I think we've played that once before, just messing around, but it was just one of those moments that was like, 'I think the crowd would dig this.' We probably heard it on the radio on the way there."
"Cocaine," "Cheap Thrills" and "Lost and Found" all come from the band's most recently released EP, "Payphone Blues," which acts as a brilliant introduction to the band.
While that EP was released just two months ago, there is much more to come from Moon Fever, including the release of their new single, "Medicine Man." Jasper expects that song to be released around August.
"We've got ballads, we've got freaking 90s punk rock, we've got heavy metal, just classic rock, bluesy rock songs, so I am ready to get them all out," said Jasper.
The band is expected to return to Pittsburgh, carrying the attitude of a common band saying: "Keep coming back and we'll come back, and we'll come back if you come back."
About the Contributor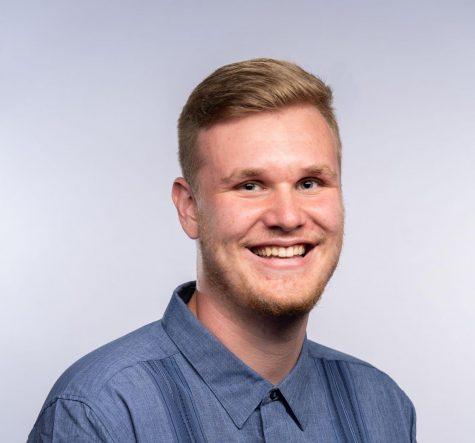 John Blinn, Head Arts & Entertainment Editor
John Blinn is a senior Communications major from Freedom. John can be found most of the time listening to the Foo Fighters. John is taking on two new roles...