Cool stuff on the Internet: IFTTT
The next time you're aimlessly surfing the web, I've got something for you to check out. Launched publicly in September of 2011, IFTTT is a service that allows users to design powerful connections with one simple statement, "If this than that".
For example, I set up IFTTT to send me a text message every morning with the current weather. To IFTTT my Recipe looks like, IF it's 6:30 AM, THEN send a text message with the current weather. Another example might be IF my address is posted on Craigslist, THEN call me, or IF tomorrow's weather calls for rain, THEN add a google calendar event to close the windows.
All of those examples IFTTT likes to call Recipies, and each Recipe contains 'Channels.' The service currently offers 130 different channels like Facebook, Instagram, Gmail, Weather Report, Android or iPhone Location and so on. Each channel has 'Triggers' and 'Actions.' When you create a Recipe, you pick a channel, like WordPress, then you pick a Trigger for that Channel, like "Any New Post on WordPress, then another channel like SMS, and an action, Send a text message with the post title to Sentry Media's social media editor." With  a bunch of different channels to choose from, each one having a few different Triggers and Actions, your Recipes are only limited by your imagination.
The Recipes within the 'Back to School' section include mute my Android phone when I get to school and add tasks to Google calendar based on due dates. There are some other sections for music lovers, green thumbs, Nike+ users and recipes for photo enthusiasts.
A few major companies have gotten in on the action with IFTTT and created Channels for their products. My favorite is Phillips Hue. Hue bulbs are color changing light bulbs that wirelessly connect to an access point in your home and turn on or off and change colors with commands sent from a mobile app. With the addition of an IFTTT Channel, you could have the lights in your home blink blue when you receive a facebook message, or turn on when your iPhone gets close to your house.
Trending Recipes at the time of writing included a Recipe to get a daily digest with your fantasy players' health changes. The all time most popular Recipe is to backup your iOS contacts to a Google spreadsheet.
So the next time you're online, jump on to ifttt.com and explore some of their features. So far the service is completely free, but you would have to buy Philips Hue light bulbs to get that Channel to work obviously.
 Do you have a cool IFTTT Recipe? Let me know in the comments section.
About the Contributor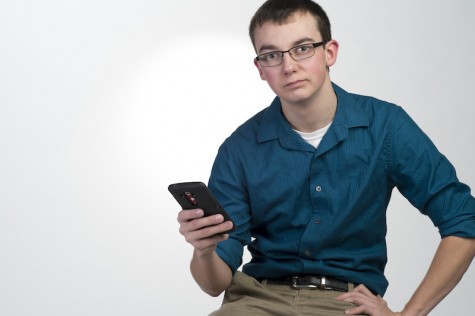 Dylan McKenna, Digital Content Manager
Dylan is a sophomore at RMU and is the Technology Manager for The Sentry. He is a software engineering major and is responsible for maintaining the technical...