How far can passion take you? Advice from Jim Axelrod and Michelle Miller
From the sensitivity of covering destruction in the Iraq War, to the sacrifices made to keep up with the demand of breaking news, CBS News reporters Jim Axelrod and Michelle Miller gave their own knowledge nuggets of broadcast journalism during their "Network News" presentation at this year's College Media Association Spring Convention in New York City.
Axelrod is the anchor of the Saturday edition of the CBS Evening News and works as a national correspondent for the CBS Evening News with Scott Pelley, as well as many other CBS broadcasts.
Miller, a CBS News correspondent, regularly appears on the CBS Evening News with Scott Pelley, CBS This Morning, and the CBS Sunday Morning with Charles Osgood.
Axelrod gained a passion for journalism later than most expect. Only after receiving both his undergraduate and master's degrees in Art History, did his interest surface. He even waited tables before landing a sportscaster job at a small television station in Utica, New York.
"Whether you are getting it at a university or getting it at a small T.V. station somewhere, the idea is that you are refining a skill set." said Axelrod. "Live this stuff, if that's what you want to do."
His passion for the industry was noticed and has taken him to a national network, but not without making a few mistakes along the way.
Axelrod gave an example of one of his earlier fault made during his time in Utica.
When conducting an interview with professional golfer Wayne Levi, Axelrod became confused of which camera to address. Each time the director tried to catch up with his gaze, the young reporter turned to another camera. This resulted with the live shot catching the side of his face each time.
"I want that to happen in Utica. I don't want that to happen in New York, because a lot of people see it. That's how you end up on Youtube," joked Axelrod.
He admitted, of course, there were more serious mistakes to be made, something that Miller has had personal experience with.
She was fired from her position, along with her producer and videographer, after making an editing judgment error on a video package. She humbly stated that taking the fall for the error was a "shared responsibility."
"That was clearly the worst mistake of my career. But it also taught me two valuable lessons: One, you have to stand by your word and the 'but' stops here…The second thing I learned is to not over elevate, embellish, or lie about what you do, what you've done, or where you've been," she said.
She also opened up about a personal mistake made due to her dedication of the job. Miller took for granted spending time with her friends and family. She discussed a time, before her father passed away, when she turned down his invitation to see a Frank Sinatra concert, in order to work a night shift.
Axelrod has also been forced to make a significant amount of sacrifices in his journalistic lifetime, in order to provide more leverage in the cut-throat industry.
"How many times did I say yes at CBS before I could say no? A lot. I said yes to going to Afghanistan 10 days after 9/11," he said. "I suggested to go to Iraq with my wife seven and a half months pregnant. I said yes to moving to Dallas from Miami, literally with four days notice. Whole family, 'lets go.'"
Over the span of his nine weeks in Iraq, he admitted to losing a large portion of his personal sympathy. During a car drive after the trip, Axelrod noticed an area that looked similar to a street in Iraq, "except there was some bodies in the trees," he casually commented to his wife.
That is the moment when they both realized he had lost some sense of humanity.
"You can get so into your professional exterior that you stop functioning as a human being. That is no place you ever want to be," said Axelrod.
He stressed the importance of self-maintenance, in order to avoid acting as a robot at work or at home. There is responsibility to relay a non-bias opinion of news to the audience, but one must acknowledge that a sense of numbness to tragedy is not natural.
"For me, is is almost automatic." said Miller. "I get destruction and mayhem. I lived it. I've been through it. So there is a point where you just kind of move through it."
However Miller did admit to a story that was hard to cover. Two years ago, the CBS correspondent was sent to Chardon High School after the fatal shooting occurred.
"Looking into that mother's eyes. I almost lost it. When I am one-on-one, having a sit down with someone, it really gets to me," said Miller.
Overall, every journalist has their own journey as to how they have landed into the industry. The two CBS reporters gave an open-book perspective on broadcast journalism, and the sacrifices made to follow a passion.
To view some of the video clips discussed, visit the following links bellow:
Michelle Miller – Chardon High School Shooting Package
https://www.youtube.com/watch?v=a2PvsLi9ooM
Jim Axelrod – Sandy Hook Shooting
http://www.cbsnews.com/videos/young-survivors-recount-newtown-school-shooting/
About the Contributor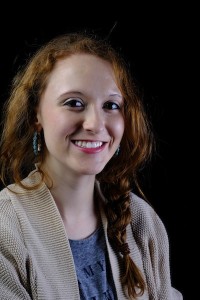 Kendall Valan, Assistant News Editor
A junior TV/Video Production major with a minor in journalism at Robert Morris University. Kendall is the assistant news editor for the student-run news...