Humans of RMU: The One Who Knew the Signs
Over a million people a year are diagnosed with a disease that has a major impact on their lives. They are faced with a daily struggle to control their bodies, and when that command fails, there are immediate and long term health implications. In order to educate the public about the disease, November is National Diabetes Month. The National Diabetes Education Program sponsors this month of awareness to highlight the need for ongoing diabetes education and support.
Cassidy Baker, a junior at Robert Morris, was diagnosed as a type 1 diabetic on December 19, 2014—between the fall and spring semesters of her sophomore year. Type 1 or juvenile-onset diabetes, is typically diagnosed in young adults and children under 20 years of age. After the disease was discovered, it had a major impact on her life.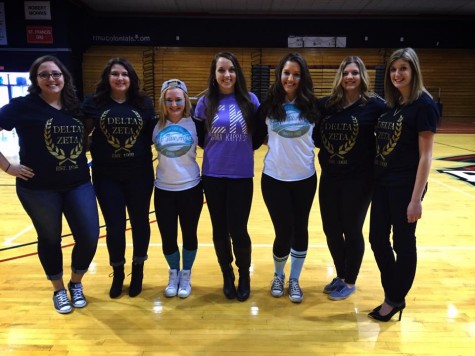 "My lifestyle had to be altered as a result of my new diagnosis," Baker said. "Virtually everything was different for me because I was already adapted to college, and now, I had to deal with something entirely new."
According to the American Diabetes Association, research shows that type 1 diabetes is not inherited, but diabetics do inherit risk factors for the disease. For a still unknown reason, the body's immune system is triggered and starts creating autoantibodies that attack the pancreas, which stops producing the insulin needed to maintain the body's blood sugar levels.
While Baker had a distant cousin with diabetes, she was surprised that she developed the disease. At the time, she was worried enough about changes in her health to have a doctor check her symptoms.
"Knowing my own body led me to get checked for diabetes," Baker said. "The constant thirst, the unsatisfied hunger – I was not acting within my norms. I even remember joking around with my roommates that I was probably a diabetic because of the amount of liquids I was drinking."
One way doctors can see how the body manages blood sugar over a period of months is by testing Hemoglobin A1C. In people without this condition, the A1C normally falls into a range of 4.0-5.6 percent. When diagnosed, Baker's level was 12.5 percent. She has since been able to take control of her diet and medication, so her latest testing shows it at 5.8 percent.
"Every day, I crunch numbers and make educated guesses regarding my dosage," Baker said. "In short, managing diabetes is a balancing act."
While most college students just have to worry about avoiding early morning classes and working around a job, sport or other activity, Baker, who has now spent almost a year living with this disease, has to take the management of her diabetes into account when planning her daily schedule.
"The most important thing for me to consider is that I need to make sure that I can eat regular meals; therefore, I avoid classes that would prevent [that]," Baker said. "I do not like having lots of classes scheduled back-to-back in case I am having a bad day and need a break. I prefer morning classes and avoid afternoon classes at all cost – I am usually too tired to focus in the afternoon."
Although she has to carefully arrange her schedule, Baker finds time to be an active member and leader in many organizations including membership in the Zeta Tau Alpha Fraternity, the RMU Panhellenic Council (where she is currently Vice President of Member Development and will begin a term as President of Member Development in January), the Women's Leadership & Mentorship Program, the Student Conduct Board, the Pre-Law Society, and the Alpha Chi Honor Society.
Diabetes has not stopped Baker. With November being National Diabetes Month, she wants others to be educated about the disease.
"Ignorance is not an excuse," Baker said. "There are several major differences between type 1 and type 2 diabetes, and you should learn what makes each unique. Poor eating choices did not cause me to become a type 1 diabetic. More importantly, not all who are ill physically show signs; rather, while our outward appearance does display pain, the internal blame is always raging."