Humans of RMU: The Sheetz Crew Member
Food consumes the interest of college students. People don't learn on an empty stomach, so eating is a big deal. When the food on campus gets boring, people start looking off-campus for a change. With more than 400 locations across Pennsylvania, Ohio, West Virginia, Virginia, Maryland and North Carolina and over 14,500 employees, according to their website, there is probably at least one Sheetz convenience store near most college campuses for a quick meal.
Robert Morris is no different. There is a Sheetz just a few minutes drive away, and it's also the employer of Gabby Kortyna—a junior at RMU. Kortyna began looking for a way to make money and found herself working there.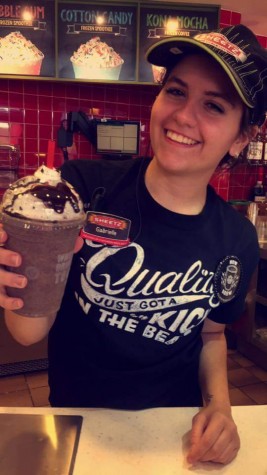 "I just started school and needed to be able to financially take care of myself," Koryna said.
Being able to work there has some additional benefits beyond just the paycheck. A perk of her employment is that it helps reduce the size of the tuition bill that has to be paid each semester.
"One of the best parts of working at Sheetz, and there are many, is the tuition reimbursement they give every semester," Kortyna said.
Holding down a job while being a full-time student can take time away from studying and time away from friends—just like any other activity that students are involved in outside the classroom. Working at Sheetz for almost three years, Kortyna feels like she has been able to figure out how to handle all the demands.
"You need to learn how to manage your time and adjust your hours of availability at work, so that you are not sacrificing time spent on homework or studying," Kortyna said. "Time management can be stressful."
Between work and school, having enough free time to spend with friends has been a challenge for Kortyna, but it is worth the effort to find that time.
"It is tough, but I do not work every day and have one day a week that I never work on," Kortyna said. "Sometimes it takes a lot of planning to find a day that works for some people to hang out."
Beyond the financial rewards, she has also found that there are career and personal benefits to working at Sheetz. Foremost is that she has had to learn to deal with people in a professional manner, and she gets to have fun at work, too.
"I love my job," Kortyna said. "It is fast paced and a fun workplace."