Humans of RMU – The Software Developer
The average person spends somewhere between 90 minutes and nearly 3 hours a day on their smartphone based on publicly available studies. Considering the number of social networks that people also use, it is not surprising that social media applications are more popular than ever. Elijah Carrington, a junior at Robert Morris University, is using his software development knowledge and new business skills to make a name for himself with his own social app.
"Boldest is a social app that creates a local community based on distance and time," Carrington said. "Bolds, or posts, last for three days and can be seen by anyone using the app within a 5-15 mile radius. You can see who is online and even glance at [more than] 250 colleges or universities."
Carrington first had the idea for Boldest in 2014, and he spent that summer researching what he needed to know to start a software company. All that knowledge was brought together in an extensive business plan, which resulted in the founding of his own startup.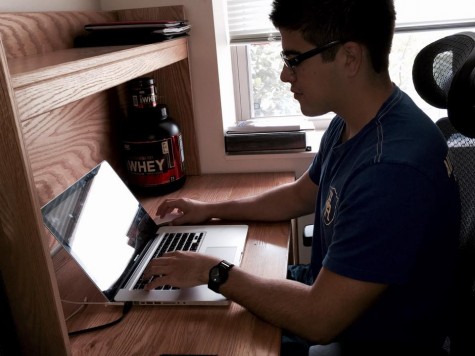 "After completing the business plan, I formed a company, Blur Graphics, LLC to house the intellectual property [from the app] and reduce individual liability," Carrington said. As the sole employee, he is responsible for all the development and for running the business.
The actual development of his new app began last January, and hundreds of hours of hard work will lead to the first release of Boldest in October. Since developing a mass-market app is new to Carrington, he's planning to listen carefully to the feedback of his users in order to improve the product.
"For those using Boldest, the [value of the app] comes from what is being shared and the user's experience," Carrington said. "The uses will develop with time; it may change into something I have not thought of based on feedback."
When the app is released, it will be available on the iPhone, and will be optimized for iOS 8 and 9 on the iPhone 5S through iPhone 6S Plus.
Carrington learned a great deal he didn't know before, so he could bring Boldest to the public. As progress was made, he became more enthusiastic about what was taking shape, and that helped drive the project to completion. This undertaking has taught him how important it is for the work to fill him with the energy to get things done.
"Passion is paramount to finding the determination and wherewithal to complete projects."