Peeps Oreo: Missing a flavor of spring
Over 100 years ago, in 1912, the Oreo was first introduced to the world. In the decades that have followed, this chocolate wafer cookie with cream filling has become one of the most iconic food brands in the world. With slogans such as "Wonderfilled" and the well known "Milk's Favorite Cookie," it is one of the favorite treats for generations of children and adults.
The original cookie has had a number of makeovers—from "Double Stuf" with extra filling, to the smaller "Thins" and the vanilla cookie-based "Golden Oreo," but the basic formula has remained the same.
In more recent years, there have been a number of "Limited Edition Oreo" releases that often celebrate the season with different flavored icings in between the cookie rounds. With spring fast approaching, the Oreo bakers have prepared a new creation that pairs their classic cookie with a popular Easter basket treat—Peeps.
The "Limited Edition Peeps Oreo" combines vanilla wafers with a cream filling that is colored neon pink. When I had first heard of this special cookie, I had expected them to come with the traditional chocolate cookie, but it turns out that they only come in vanilla. With Spring Break just ending, I thought it would help me get into the spirit of the season by trying out this new cookie variety.
Even though I had heard about these cookies arriving at Walmart several weeks ago, it wasn't until recently that the release date of February 22, 2017 became known. Since it was a limited edition, it made sense to get there as soon as possible, so they would not be sold out. It took trips to several of their stores and conversations with a number of confused employees before finally spotting a package bearing the "Peeps" logo. For all the hype, the roll out to stores was pretty underwhelming.
The first thing I noticed was that the package cost the same as a regular package of "Oreo" cookies but contained about four ounces less. Apparently, the consumer has to pay for the colorful packaging of these two combined products.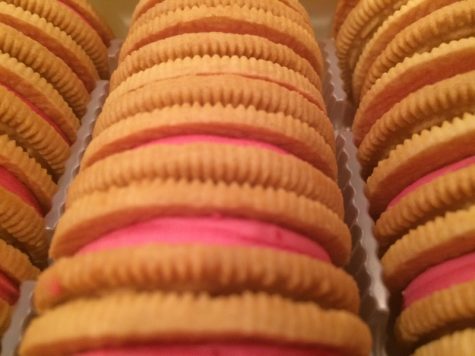 The rows of "Golden Oreo" cookies with "Peeps" frosting are pretty impressive when first peeling back the packaging, but surprisingly, they smelled like any other package of "Oreo" cookies. Trying my first one, I was hoping for a taste that would remind me of the marshmallow center of the annual Easter treat, but it was pretty much an "Oreo." If you concentrated, you could detect some granules of sugar that remind you of the candy's coating, but if you didn't know about the "Peeps" tie-in, the extra sugar would be easy to miss.
I really wanted to like these cookies, and I did like them. But, that was because I enjoy occasionally treating myself to a few "Oreo" cookies. The bad news is that if you wanted to try these cookies to celebrate the "Peeps" flavor, you're likely to be disappointed. You can really spend the same money for a bigger package of the original, and I suppose if you really wanted to combine the cookie taste with the candy's marshmallow goodness, you could even sandwich a "Peep" in between two of them.