Recap: Ribfest returns to Pittsburgh in 2021
PITTSBURGH — It was one of the mightiest and meatiest returns to Pittsburgh that we have seen since COVID-19 hit the Steel City. Ribfest took place right outside of Heinz Field, decorating the street with a haze of smoke that had seeped right out of cooking pork.
2021 marked the first year that Ribfest had returned since the start of the pandemic. The event was canceled due to the danger of COVID-19. It is, after all, difficult to eat a rib with a mask on.
Vendors from all across the state proudly displayed a diverse cast of sauces and trophies from victories at other festivals to draw in the business of returning Pittsburghers and rib fanatics.
"It was a shame that we could not have it last year," said Sada Lantgios, a Pittsburgh resident and long-time fan of Ribfest. "It is really good to be back."
Lantgios's excitement was shared among the grillmasters who bring the magic to the festival. Despite the festival's competitive nature, a sense of friendly connection among cooks was lost during the initial peak of the pandemic, something Zach Tomechko, an employee of Smokin' T's BBQ, was glad to see make a return.
"There is a nice community actually behind all these grills. It is really nice to have everyone working together, and it has been a great time burning some ribs and being able to share it with everyone out here," said Tomechko.
For Tomechko and Smokin' T's, the goal of Ribfest went beyond sharing the art of their food. Vendors at Ribfest were also competing to bring home a first, second or third place trophy. Competitors also had the opportunity to bring home a "people's choice award," voted on by the people in attendance.
Tomechko believed that Smokin' T's had an edge on the advantage. One reason for that was due to the method that they use in cooking their pork.
"We are one of the two on the entire line today that actually use wood when we smoke our ribs," said Tomechko. "Some other guys out here might not follow that procedure. It is a little more old school, but we prefer to smoke it low and slow with the wood and make it delicious."
Tomechko explained that Smokin' T's was not only a force to be reckoned with because they cook their ribs with wood, but also because of the business's overall style.
"We have been doing barbeque for a long time. We are Kansas City style, where we are very big on the rubs, and we have a whole lot of barbeque sauces that are ketchup-based," said Tomechko.
Smokin' T's was not the only vendor of note at the festival. Lantgios, who attended the festival daily, took a liking to a different grill.
"We got both of them [ribs and pulled pork] from Rib King. The pulled pork was great, as always," said Lantgios. "I had a half rack of ribs as well. It was also really good. The barbeque sauce was great."
The tactic that led Lantgios to Rib King was one that she uses annually at Ribfest.
"We usually try a different one. Whichever stand has the most trophies lined up, that is usually the one we go to," said Lantgios.
The vendor that added the first-place trophy from Pittsburgh's 2021 Ribfest to their spread was Big Boned BBQ of South Carolina. The winner of the people's choice award was Pittsburgh's own Bad Azz BBQ.
Ribfest followed the return of another wildly popular tradition and successful Pittsburgh event, Picklesburgh. With the two so close together, one duo of the city debated which was better.
"I have always been a big pickle fan," said Michelle Peterman, advocating for Picklesburgh over Ribfest. "Ever since I was young, we put pickles on everything. We even drank pickle juice."
While Michelle defended Picklesburgh with the nostalgia that families have due to the commonness of the food, Mike Paulina believed that there was more to show in terms of national diversity at Ribfest.
"I am more of a person who likes to travel and try different foods from different parts of the country, so that is why I like Ribfest," said Paulina. "There are so many different vendors here. I like to give a try to different barbeque sauces and see how they cook their meat."
While the ribs are the star of the festival, some live music was performed at the festival to create pleasure for your ears that complemented that of the taste buds.
Local Pittsburgh blues musician Billy Price performed on the last day of the festival, which was coined "BBQ and Blues Day."
"Yeah, you know, I really missed it a lot," said Price. "I love singing in front of my band."
Ribfest created a great opportunity for Price to perform in front of a live audience again, something he struggled within the earliest days of the pandemic. Price recalled a performance he gave at a winery in Washington D.C that proved that COVID-19 was going to hurt the process of concerts.
"[There were] eight [people] in the band, six in the audience, and that was it for quite a while. Everything got canceled. It is nice to see things coming back. Of course, we are still a little concerned about things," said Price. "We are definitely not out of the woods yet, but vendors are finding ways to have live performances, and the audiences that I've played for in the last few months have really appreciated being able to come out to hear live music."
Price played songs from his most recent album, "Dog Eat Dog," to help conclude the festival.
About the Contributor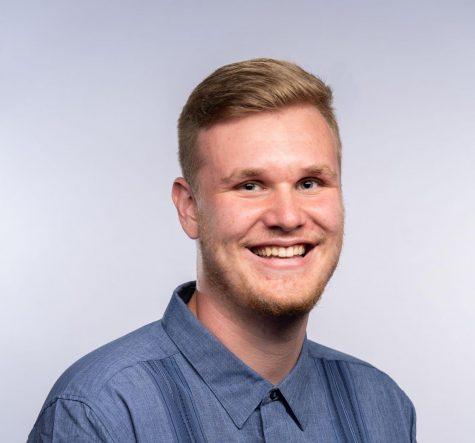 John Blinn, Head Arts & Entertainment Editor
John Blinn is a senior Communications major from Freedom. John can be found most of the time listening to the Foo Fighters. John is taking on two new roles...