RMU Proclamation: Thank you Mr. Jones
It was worth it. I can finally say I went to the NCAA Tournament.
Sometimes, it's just hard to say goodbye. Words aren't there, expressions are explained, and truly the unimaginable can't receive a justification as to why it happened. That's a scenario for life, not just sports.
However, in the wide world of athletics, saying goodbye is the hardest thing to do.
At a small university in Moon Township, Pa., Andy Toole, head coach for the men's basketball team, recruited a very talented kid out of Newark, N.J. His name is Mr. Jones. That's Lucky Jones to those who fancy the Charles. L. Sewall Center during basketball season.
Jones came out of St. Anthony, under the tutelage of legendary coach Bob Hurley. He stands at 6-foot-6 and has athleticism that rivals most division-one athletes. Aside from his scoring prowess, Jones was a natural leader at St. Anthony. Clearly, that transitioned to the NCAA level.
Freshman year, in 2011, I met Lucky Jones. With a smile that stretched ear-to-ear, there was something about him that made him special. Was it his natural charisma with step? Was it his personality, that boosted a room's morale with a single action? Whatever it was, Toole saw it too.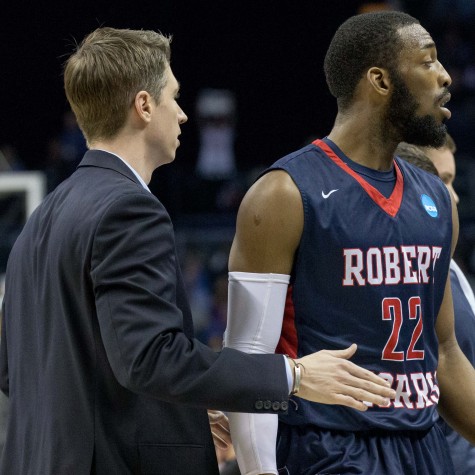 Me, being a basketball fanatic, turned over to Lucky and asked, "Are you going to start?" Without missing a beat, Jones replied, "I hope so. I have to get on the court first."
With the utmost confidence, Jones got on the court and didn't just step on it. He took it over.
That was 2011, when Jones was only a freshman. The class of 2012 got a taste at what Jones could really do. In 2012, Jones compiled 296 points, 213 rebounds and a 39 percent clip from the three-point line. He only started nine games that year. Like a fine wine, he only got better with age.
What takes many people by surprise is that athletes are people too. Yes, behind that manly exterior and physical demeanor, real human beings exist. Jones, like the common moniker says, is a "good basketball player and better human being."
Lucky Jones' last act on the floor was fouling so walk-on Conrad Stephens could get on the floor for Robert Morris. Class act. #RMU

— Andrew Chiappazzi (@BCT_AChiappazzi) March 21, 2015
Jones' legacy will forever-be remembered by actions like that. No matter what happened on the court, he always put his teammates first. The bruises and aches from diving over Colonials fans will allow him to remember vividly. 
"At least I put my stamp on something that nobody just thought I was an average player. I did what I could and once again, I just made some hustle plays. It was very special," said Jones on his impact. 
When the New Jersey-native talked about hustle plays, he was easily "Mr. Hustle" to that Colonials roster. It showed in his first game in a Colonials uniform against Rider on Nov. 11, 2011.
He grabbed 13 rebounds off the bench that night. 
What exactly is a fitting goodbye for a man like Lucky Jones? Should there be a parade? Perhaps that's reaching towards the extreme. Shall the RMU faithful tweet to him, "@Loaded_Luck22" and thank him for everything he did? Finding him on campus Monday and shaking his hand is always a nice gesture too.
Lucky Jones' career began on Nov. 11, 2011 against Rider University and ended on Mar. 20, 2015 against Duke. Altogether, he's in my top-5 starting lineup in Robert Morris basketball history. 
After the 135 games played, 1,632 points scored, 846 rebounds, 171 steals, 43 assists and 3,770 minutes Jones has accrued, his four-year career at Robert Morris University is officially over.
Jones didn't just play for himself. He competed for his teammates, the name on the front instead of the name on the back. Most importantly, Jones played for the thousands of fans that came out to see the Colonials play every week during basketball season.
He played for the Colonials Crazies that endured scares when Jones would dive over the 1921 Club and into the bleachers.
"It was worth it. I can finally say I went to the NCAA Tournament. I could wear that big ole ring that I'm going to get. It doesn't really matter, I sacrifice my body for the greater good of the team," said Jones after RMU's loss to Duke.
That's truly taking one for the team. Just in case you didn't know what the fans thought of you, Mr. Jones, here are a few examples:
Respect to Lucky Jones, he is one of those guys you feel has been around forever. Glad he got to at least one NCAAs. — Nelson Castillo (@NelCastBHJ) March 21, 2015
I've only known RMU basketball with Lucky Jones, sad to see him go

— Derek Glover (@dgblades182) March 21, 2015
It was a pleasure watching Lucky Jones for a year. Proud to be a Colonial — Damen McDermott (@damen84) March 21, 2015
During interviews, Jones has always given credit to everybody, but himself. He thanked the Colonial Crazies countless times for their endless support. He thanked his teammates for making the plays necessary to win.
He's thanked Coach Toole for always supporting him. He's thanked everybody else, but himself. After four years of blood, sweat and tears on that basketball court in the Charles L. Sewall Center, the acknowledgment can end.
Don't thank us, Lucky.
Thank you, Mr. Jones.