Spinning Jenny joins Friday Night Rocks
After a successful performance at the Hard Rock Cafe, "Spinning Jenny" will also be featured during this season's Pirates games. Being featured in the Friday Night Rocks playlist, the band, which includes Julia Balzano, an RMU student, will be heard by thousands of baseball fans.
"The video will be filmed at The Stage at Karma on March 15," "Spinning Jenny's" members said. "The cool thing is that everyone at the concert could be in the music video because it's going to be filmed in front of a live audience."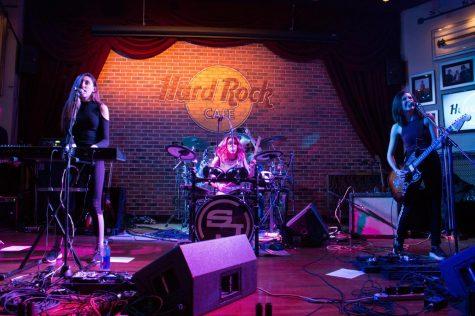 Friday Night Rocks is a program by AT&T SportsNet that will feature the music of local musicians during upcoming Pittsburgh Pirates' games this season. The participating bands will perform at a free concert where the music video will be shot–allowing fans to appear in the video. Featuring bands such as "Latecomer" and "Wine and Spirit" in addition to "Spinning Jenny," the Pirates seem to be showing their love for Pittsburgh's rock scene.
"We had an original song playing as bumper music for the Friday Night Rocks series," the band explained. "When we heard about the chance to do a music video with them, we submitted a new original song which went through a selection process along with multiple other songs by different artists. We're psyched that we got picked!"
"Spinning Jenny" is not a novice when it comes to song writing. With both an album and an EP under their belt, the band has experience when it comes to their songwriting process. Using all of that experience, they hope to write a song that matches the energy at PNC Park. "We wanted to write a really upbeat, anthem-type song that would get people excited," the band explained.
Don't forget about this FREE show, plus the opportunity to be in the Friday Night Rocks music video for our new song: Powerline! See you there ⚡️⚡️⚡️ pic.twitter.com/IyJ9f3zWoq

— Spinning Jenny (@Spinning_Jenny4) March 8, 2018
Spinning Jenny has been playing for over seven years, with each member contributing their own influence and style to the sound of the band. "As a drummer, I'm really influenced by 'Paramore' and 'Foo Fighters,'" said band member Talia. "Rhythmically, they always do really interesting things and that's something I try to keep in mind when I'm writing a drum part."
While the bands strong rhythm is influenced by some of the greats of the rock industry, the lyrics are just as strong. "'Weezer' has always been a big one for me," explained singer Julia. "I also love 'Pink Floyd,' particularly their lyrics. I love how they could write about really dark topics but keep an ironic sense of humor about it."
Angelina, who plays the piano and bass guitar, also has strong influences on her sound. Adding the rock essentials to the band, her influences can be picked up by attentive listeners. "One of my favorite artists is 'Marina and The Diamonds,'" Angelina said. "She really inspired me to pick up piano in addition to the bass."
The band shows no signs of slowing down despite this busy season. The band is planning on expanding their discography with new music in the future. "We are currently in the writing process," the band explained. "We're hoping to start recording another full-length album soon."
The band can be found on Instagram (@spinningjenny4), Twitter (@Spinning_Jenny4), Facebook (@spinningjennyband) and on YouTube as SpinningJenny4.