Dear Evan Hansen movie premieres in theaters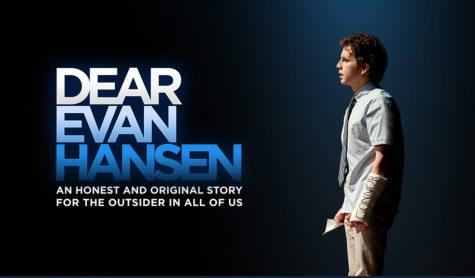 (Spoilers ahead)
The hit Broadway musical "Dear Evan Hansen" has been made into a movie that premiered on Sept. 24.
To keep the magic from the original Broadway production, Broadway star Ben Platt takes on the titular role in the film. Platt plays Evan Hansen, a teen with severe anxiety and depression whose therapist suggested he writes letters to himself to help manage his mental health. When writing one of these letters, Evan prints it at school, and it ends up in the hands of classmate Connor Murphy (Colton Ryan). When Connor's family finds him after he commits suicide and realizes that he has Evan's letter, they think that the two were friends, and Evan has to keep the charade up for both Connor's family and his classmates at school.
Although the decision to cut multiple songs including "Anybody Have a Map," "Disappear" and "Good For You" angered Broadway fans, the movie was still able to capture the original message of the musical: mental health awareness.
Even from the first few minutes of the film, Evan's mom mentions an assignment from his therapist; therapy is something that is generally stigmatized in today's society. Already, the audience is able to see Evan's declining mental health and that he is on medications to manage his anxiety and depression. Since mental health can sometimes be portrayed in different forms of media as something to be ashamed of, it is usually placed in a very negative light. But "Dear Evan Hansen" uses Connor Murphy's death as an opportunity for his classmates to know that they are not the only ones struggling.
Connor Murphy's suicide is shown not as a tragedy that should be covered up, but it opens up a conversation about mental health for Evan and his classmates. Evan is able to connect with his classmate, Alana (Amandla Stenberg) by discussing both of their struggles with mental health. Alana is a very involved member of the student body; she organizes a memorial service for Connor, participates and holds leadership roles in many student organizations and appears very happy throughout the film. When she opens up to Evan about her mental health, Evan realizes that people can be struggling without outwardly showing it. He begins to feel less alone and starts to help Alana with her efforts to honor Connor.
Later in the movie, Evan gives a speech at Connor's memorial that goes viral. He realizes how many people he can help by just giving them hope and showing them that they are not the only ones struggling.
Although the movie cuts many of the sarcastic quips that the musical holds (and 28-year-old Ben Platt should definitely not be playing a 17-year-old no matter how talented he is), the movie does provide the same awareness to mental health. It shows the audience that they are never alone and to reach out for help if they need it.