Pittsburgh area university students create new Kazakh society
In an effort to promote a sense of community among Kazakhs in the Pittsburgh area, Kazakh students from Robert Morris University, University of Pitt, Carnegie Mellon University, and people who came here through a job exchange program decided to create their own society in Pittsburgh.
Currently, the biggest in Pennsylvania is Penn State's Kazakh Society, which encouraged Pittsburgh's students and visitors to create another one. Kazakhs from Pittsburgh have already created new ideas, so the new society is on track to be even better than Kazakh Society at Penn State.
Aynur Akimbekova, who came to Pittsburgh from Almaty, which is the largest city in Kazakhstan, said, "People who arrived here for the first time need a lot of tips in domestic difficulties as well as moral help. Members of the society will not only help freshmen spend their free time together, but also to solve problems such as work searching or finding the best place to live." "We should have such a society here, in Pittsburgh too,"
"People from Kazakhstan should not lose the connection with each other and their culture," stated Aigera Tungyshbayeva, RMU student from Kazakhstan, Almaty. "It is going to be hard to create a society, but we already started and will never give up."
According to Almira Mekezhanova, another RMU student from Kazakhstan, Almaty, there is a group "Kazakhs in Pittsburgh, PA" created through a popular social website www.vkontakte.ru.
However, the electronic page sounds like a minor step in the society creation. This past weekend around 15 people from Kazakhstan and a few Russian guests went to Kennywood Park to discuss future society's plans.
At the unofficial meeting Yerzhan Baigaliyev, a freshman of  the University of Pittsburgh from Kazakhstan, Karaganda, introduced everybody to the next steps the society plans to take.
"We will have mutual meetings with other Kazakh's societies, such as Penn State's Kazakh Society. For example, our first meet is on next Saturday, Sept. 25," said Baigaliyev.
He also said such mutual meetings would extend the future society's opportunities.
For now "Pittsburgh-Kazakhs" are going to be involved in constitution creation, making the website more and more popular and spreading awareness of the group's existence.
About the Writer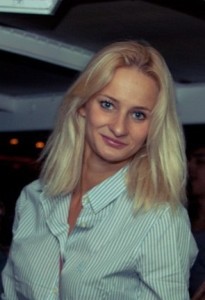 Yulia Vasilyeva, Assistant Ad Manager
Yulia Vasilyeva is a junior at RMU majoring in journalism and advertising.

Yulia is the assistant advertising manager and a staff writer for "The Sentry".

She...