The iPhone 6 and Apple Watch: Keynote Recap
Apple CEO Tim Cook presented more than just a bigger iPhone at the Flint Center for Performing Arts in Cupertino, CA today. Keynote highlights including the unveiling of 2 new iPhones, a whole new way to pay for products both in the store and online, as well as a smart watch dubbed Apple Watch, all capped off with a live performance by U2.
Despite rumors of production delays, Cook says that both a 4.7 inch iPhone 6 and a 5.5 inch iPhone 6+ will be shipped beginning September 19th. Both devices are thinner than their predecessor and both devices feature a slew of both hardware and software upgrades. To start, Apple has designed a new chip, the A8, that makes for a 25% faster CPU and 50% faster graphics than the 5s.
Super Evil Megacorp was on hand to do a live demo of a game they developed showing off the graphical performance of the devices. Expected advancements include faster LTE speeds, an 802.11ac wifi adapter, and advancements in motion processing. The "m8" motion processor includes advancements in gyroscope and accelerometer technology, and with the addition of a barometer, fitness apps will be able to measure more data than ever before. In addition to WiFi texting, iOS 8 will feature WiFi calling  and Voice over LTE. iOS 8 will be open to every iPhone after and including the 4s.
The next major iPhone improvement discussed during the keynote was the camera. The iPhone 6+ features "Optical Image Stabilization" which allows the camera to move up and down as well as side to side to stabilize video and pictures. Both iPhones include 1080p video capture at 30 fps, as well as slow motion options at 120 and 240 fps. Time lapse photography has been added, as well as auto focus features popular in DSLR setups.
A few other features wrapped in with iOS 8 and the new iPhones include text prediction based on context, ion enforced screens, a number of silicone and metal cases are available, and screen edges that wrap into the edge of the phone.
The iPhone 6 in the 16 GB configuration starts at just $199 with a contract, and goes up to $399 in a 128 GB configuration. The 6+ starts at $299 with the 16 GB configuration and goes to $499 with the 128 GB configuration with a contract. Preorders begin the 12th of September in the U.S.
The next advancement introduced at the live event included a new way to pay. It's called Apple Pay and it encourages users to forget the plastic at home and use the the iPhone 6, 6+, or the Apple Watch to pay for products. After taking a picture of the card, Apple verifies your identity with the bank, and adds the card to your personal "Passbook". The card number is not stored on the iPhone and Touch ID is incorporated to keep the payment method secure. Using a hardware chip called the "Secure Element", your phone is assigned a dynamic security code for every use of Apple Pay that is then transmitted to existing proximity sensors in stores via NFC. 220,000 U.S. merchants are ready for Apple Pay already, and companies including, Uber, Open Table, and McDonalds are finding ways to incorporate Apple Pay in their workflows. Apple Pay will be released in October for the iPhone 6 and 6+ only.
In case a new iPhone and a new way to pay isn't enough for you. there is "One More Thing…".
The tenth anniversary of the release of the iMac also marks the release of the Apple Watch. The new wearable won't be available until early 2015, but it might just be worth waiting for. Users take advantage of a sapphire touch screen and the "Digital Crown" to interact with the watch. In addition to haptic feedback hardware, the watch includes a gyroscope and an accelerometer. Other features include the ability to tap and sketch to other watches, and a full SDK will be open to third party developers very soon. Cook told how the Apple Watch can be used to control Apple TV, and how a few of his friends like the Apple Watches ability to be a viewfinder for iPhone camera. The Watch will start at $349, but unless you intend to have an iPhone 5 or newer by the release date, don't bother saving up.
Today's keynote started off rocky with live stream issues, and ending abnormally with the announcement of U2's new album being available for free to iTunes customers until October. But overall, it was a quality keynote with plenty of new advancements in consumer technology. It's expected that the full keynote will be available to watch on iTunes very soon.
About the Writer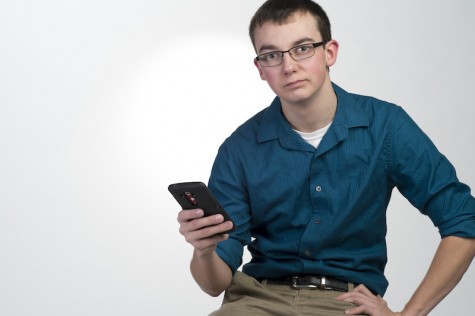 Dylan McKenna, Digital Content Manager
Dylan is a sophomore at RMU and is the Technology Manager for The Sentry. He is a software engineering major and is responsible for maintaining the technical...