Vampires, zombies, witches: Oh my!
Faculty and students alike were treated to a presentation of all the things that go bump in the night during the fifth annual Creepy Conference on Oct. 23 in the Sewall Center.
The conference featured stories of the undead, vampires, witches and ghosts and was sponsored by Sigma Tau Delta and the English Department. Founded by Dr. Sylvia Pamboukian, Dr. Edward Karshner and Dr. AJ Grant, the conference is a way for members of the RMU community to get into the spirit of Halloween.
At the conference, there were two panels consisting of three students in each. In the first panel, Sara Gunkel presented "Dracula Coming Out of the Coffin" followed by Jordan Neusch and his presentation of "Zombies: A Look at the Undead." Last but not least in the first panel was Marulla Quirk who presented her short story titled "Peter Und Der Malleus."
The audience was provided a short 15 minute break to enjoy the delicious desserts made by the members of Sigma Tau Delta.
Starting off the second panel, James Fedderman presented a powerpoint on the myth of The Slender Man titled "The Slender Man: A Modern Monster." Katherine Lamm presented her paper on Lunacy in Dracula and Professor Jim Vincent delighted the audience with tales of Ireland titled "Creepy Ireland."
At the end of the night, the Department of English picked two winners, Jordan Neusch and Sara Grunkel, who both received Barnes and Noble gift cards.
About the Writer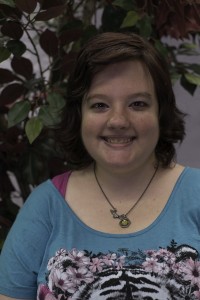 Alyssa Bishop, Staff Member
Alyssa is majoring in Graphic Design and minoring in English. She is the Advertising Manager for "The Sentry." She is also a contributing writer for Lifestyles...