Lunar Gala event jumpstarts Pittsburgh fashion trends
The city of steel became the city of bright LED lights, hot glue and armor shaped plastic during this year's Lunar Gala event on Feb. 15 at Carnegie Mellon University in Pittsburgh, PA.
The 18th annual fashion show, titled Hypnose, took place at the Carnegie Mellon University Weigand Gymnasium and was strictly run, produced, and modeled by students. Eighteen collections were featured with a combination of well-rehearsed models, high-energy dancers and the latest light show technology designed with the help of student digital artists.
Each year, the Lunar Gala gives the CMU student community the opportunity to showcase original work in fashion, dance and modeling. Creative worlds collide when the show allows a team of digital artists to pair up with fashion designers and models to create one of the university's most exciting nights of the year.
Since it's start in 1996, the Lunar Gala has been based on the Lunar New Year. However, the producers wanted to create a new theme that could "embody the correct and powerful imagery".
This year, the show was co-­produced by senior students Alanna Fusaro and CeeCee Chang. Both girls are LG veterans who took on the role of organizing all aspects of the event and helping it run smoothly the night of the show.
Fusaro started her Lunar Gala journey four years ago, when she was selected to be one of the fashion designers as a freshman.
"It was cool being able to walk out after your line and saying 'wow I just made all of that. That was a big piece of my life that I just made. It is a crazy realization," said Fusaro. "Even though it is a stressful process, everyone comes back. It is just so rewarding at the end. There is definitely a community between the models and designers."
Chang has also been involved with the show for four years. She worked her way up the latter by walking down the runway every year as a model.
"I think one of the hardest parts about being a producer was that I had no idea what was coming for me," Chang said. "I thought since I had been a model for the past three years I would know exactly what it was like, but honestly it is a completely different perspective."
Although the show only runs one day out of the year, the process starts approximately eight months before the audience files into their seats. Planning the theme comes together over the summer months, model auditions are held in September, and the fashion designers are chosen in October.
Models practice four hours a week for approximately six months and the designers power through their winter break to finish an eight to ten piece collection.
Fusaro, Chang and a group of committee members had the difficult task of narrowing down 300 models and 40 potential designers to select for the show. In the end, only 60 models (40 women, 20 men) were featured with 15 designers showcasing their work.
"We are drawn to things that are different," said Fusaro. "This is CMU. We are trying to be different."
On the night of the show, the opening look embodied the message of different. The line titled 'Cocoon' by designer Miriam Buchwald used hot glue patterns as an unconventional fabric for her clothing.
Other standout collections included 'Dilate', 'Lumi', and 'Errorz', which all incorporated light technology into the clothing to create a futuristic take on fashion.
'Lumi', designed by Christin Bongiorni and Mia Skinner, created clothing infused with bluetooth light technology that could be controlled by the models using a cellphone application.
"Today, there is a barrier between technology and non­technical goods," said Bongiorni. "By controlling illuminating electronics on clothing with a smartphone, we are able to engage both the wearer and the audience."
Although many students involved are not design majors, some LG alumni are seen working for some of fashion's big name designers. Luther Young, a J. Crew graphic designer, now works in New York City and incorporates his past experiences into his everyday career.
"If I did LG again, I would design accessories but I would also create really robust costumes. That's one element that I wish I could have factored in back in 2011," he said during a Q&A with the LG public relations team.
Pittsburgh fashion is rapidly growing and the Lunar Gala at CMU helps to boost student interest by given a creative outlet for thousands to see.
"People are starting to come out of the woodwork, because I think fashion in Pittsburgh in general is growing," said Fusaro. "I have been seeing more and more people starting fashion brands and boutiques. It is cool to see people transforming Pittsburgh into a more fashionable city."
About the Writer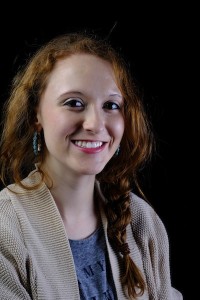 Kendall Valan, Assistant News Editor
A junior TV/Video Production major with a minor in journalism at Robert Morris University. Kendall is the assistant news editor for the student-run news...