And the Scavy Cup goes to…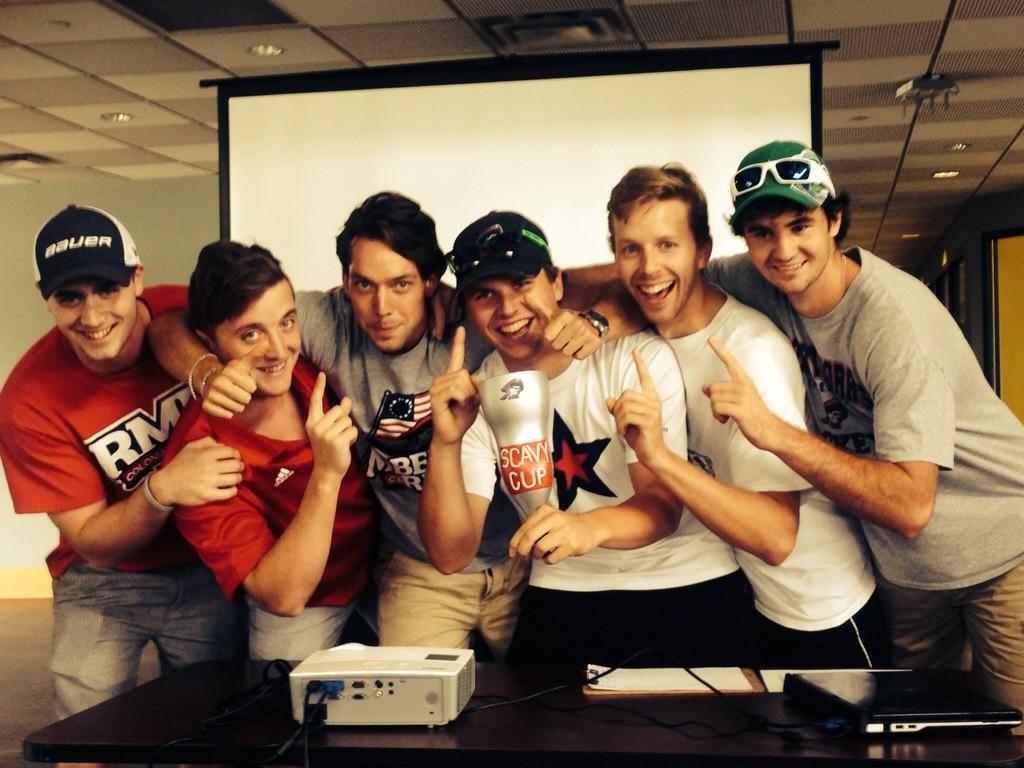 On Saturday September 7, the RMU ACHA hockey team took a trip through Pittsburgh to name its second Scavy Cup champion. The Scavy Cup, an annual scavenger hunt, has become a tradition for the team.
Head coach Michael Joseph broke the team into five small groups, each with their own team name, and then sent them out into the city with 20 clues to complete in two hours.
"We went from the Strip to PNC Park to the Point. We went everywhere. We probably walked a good five miles," said senior defenseman Eric Barger. "Then we started sprinting at one point to get back on time."
Other stops included the Allegheny County Jail, Market Square, Duquesne University, and Consol Energy Center.
Barger, Ryan Gayso, Sean Scannell, Joakim Axen, J.J. Bond, and Cody Frazier were on team 'With Love, From Sweden.' Having two members who spent the summer working in the area gave them a leg up in the hunt.
"'From Sweden, With Love' had the advantages. We had two past Scavy Cup Champions," said Gayso, a senior. "And we had a mindset made up that we knew that creative pictures got bonus points, so we defiantly upped the ante on those pictures."
Not all the teams had the benefit of knowing the city. Junior Andrew Lister took to the streets with four others who were strangers to the area.
"Our team was at a severe disadvantage, considering none of us were from Pittsburgh. I think the closest one was me and I'm from four hours away." Lister said.
"We were able to sort of make a map of what clues were closer to each other, then go to that area and knock out another set of clues. So doing it two years already kind of makes it easier."
Groups asked strangers to snap the photos since every member had to be visible. If missing a participant, the team lost points. Each photo taken was worth a point and bonus points were awarded to teams who put a unique twist on their picture.
Bonus points were also handed out to the groups that added extra photos to their collections. Selfies were not allowed to be taken but the judges made one exception to a shot included a former Colonial.
"My favorite was the extra credit we got. For one scene Jeff Siwik was coaching a Mite's team at Consol, so we got a picture with him," said Lister.
"Siwik Snapchatted us early that morning and said he was coaching in there, we asked if we could go in, so went down to the glass, knocked on it and he came over and we got a selfie with him."
At the conclusion of the hunt, the group returned to the rink and ate lunch while getting to view a slideshow of pictures form the day. Even though the selfie ban was lifted, Lister's group fell short of first place behind 'With Love, From Sweden.'
For the moment, the Scavy Cup resides in Gayso's stall, but it will make its rounds to all the members.
The event gave the Colonials a memorable time away from the ice and more time to get to know the numerous new members to the team this season.
"It's really the first opportunity to make fun of all the new guys so it's all in good fun," said Barger. "But it also brings everyone closer together."
About the Contributors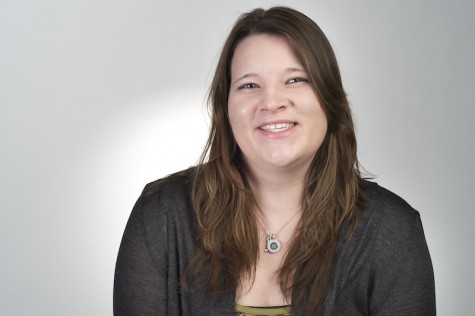 Audrey Gardner, Social Media Editor
Audrey Gardner is a senior advertising major with a minor in sport management. She is the Social Media Editor for RMU Sentry Media. She is the author...