Paul Ryan and Joe Biden set to square off in debate
Paul Ryan, the Republican Vice Presidential candidate and Mitt Romney's running-mate, is set to square off against the incumbent Vice President Joe Biden on Thursday, Oct. 11. Depending who wins the debate, it could be either catastrophic for the Democratic party, more specifically Obama's reelection efforts, or it could even the playing field, yet again with just three weeks to go until the election.
Paul Ryan (Challenger, Republican)
Mitt Romney's running mate in the 2012 presidential election has been a member of the United States House of Representatives since 1999 from Wisconsin's first district. At just 42 years old, Ryan has already made a significant splash in Washington. After being reelected to represent his district six times over in each election, Ryan received no less than 57 percent of the vote.
In 2011, when the Republicans took control of the House, Ryan was named the chairman of the House Budget Committee. They review all bills and resolutions on the budget.
In 2010, Ryan was a member of the national Commission on Fiscal Responsibility and Reform, a bipartisan organization tasked with developing a plan to reduce the national federal deficit.
In 2002, Ryan voted for the Iraq Resolution, the bill that enabled President Bush to use military force in Iraq. He also consistently votes for increases in defense spending and is in favor of troop surges, according to his past voting records. Ryan, much like his running mate, Mitt Romney supports a constitutional ban on same sex marriage. In addition to this, Ryan also voted against the repeal of, "Don't Ask, Don't Tell."
Sticking with the same, "conservative" values, Ryan has supported the rights of gun owners, and a constitutional amendment to ban flag burning. Ryan has also voted against the DREAM act, a bill that grants permanent residency to illegal immigrants that were brought to America as children, as long as they serve in the military or attend college.
On Aug. 12, 2012, when presidential candidate, Mitt Romney introduced Ryan as his running mate, Romney said, "Paul Ryan has become an intellectual leader of the Republican party. He understands the fiscal challenges facing America."
Joe Biden (Incumbent, Democrat)
After serving as a United States Senator of Delaware since 1973, Biden became the vice president of the United States under Barack Obama in 2009. Biden was first elected to senate at just the age of 29 after receiving his law degree from Syracuse University in 1968.
Biden ran for president in 1988 and 2008 but dropped out early on both occasions. In 2008, however, then presidential candidate Barack Obama selected Biden as his running mate. After beating republican nominees John McCain and Sarah Palin in the 2008 presidential election Biden was also elected to the Delaware state senate seat but gave up that position in favor of Vice President under Obama.
Much like his opponent in this year's presidential election, Paul Ryan, Biden also voted in favor of the Iraq War Resolution in 2002, which enabled then President George Bush to use military force in Iraq.
Throughout his entire vice presidency, Biden has served as a major role in Obama's decision making process including overseeing the implementation of the American Recovery and Reinvestment Act of 2009, more commonly known as, "The Stimulus."
Biden has also been praised in the past for his ability to work directly with Republicans in a bipartisan manner, mainly because of his contributions to the stimulus package he and President Obama authored.
Many attribute the completion of the Budget Control Act of 2011 to Biden. A bill that officially brought an end to the United States Debt Ceiling Crisis, if the crisis would have lingered much past Aug. 3, 2011, it would have sent the United States into sovereign debt. The bill was signed on Aug. 2, 2011.
In May 2012, Biden said that he was, "absolutely comfortable," with same sex marriage. On the other hand, Biden opposes drilling for oil in the Actic National Wildlife Refuge in Northeastern Alaska and supports funding from the government to find alternative energy sources. He also sides with Obama saying that action must be taken on global warming. In addition to this, Biden is also opposed to the privatization of Social Security. He also believes that high health care and energy costs threaten the prosperity and successfulness of American businesses.
In the months following Obama's election as president in 2009, he referred to Biden as someone, "Who does a bunch of things that don't show up on the stat sheet."
On September 6, 2012, at the Democratic National Convention, Barack Obama officially nominated Joe Biden for a second term as Vice President.
The two vice presidential candidates, Paul Ryan and Joe Biden will debate each other on Thursday, Oct. 11. The topics are set to include matters of foreign and domestic policy at Centre College in Danville Kentucky. The debates will be moderated by Martha Raddatz, the ABC Chief Foreign Correspondent and will be a town meeting format. The debates will air from 9-10:30 p.m. on C-SPAN, ABC, CBS, FOX, and NBC.
Additional debates between Barack Obama and Mitt Romney will commence on Oct. 16 and the final debate on Oct. 22 at the same time and on the same channels.
Election day is Nov. 6, so get to the polls and make a good, educated vote on which candidate you believe should be the next President of the United States of America.
About the Writer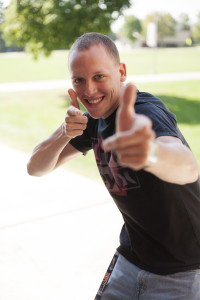 Patrick Ryan, Assistant News Editor
Patrick is a junior journalism major with a minor in photography at RMU. He is also the News Editor for RMU's student-run newspaper, "The Sentry."

In...