Steel Curtain Sessions: A whole different team (Week 3)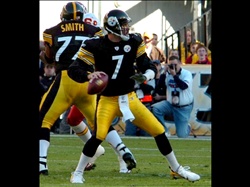 After a dismal week in Baltimore, the Steelers headed to Charlotte to face the Panthers on September 21. They were heavily favored over the Steelers and had won 13 of its last 14 regular season games.
I'm sure I am not the only one who had doubts about the Steelers in this game. Having said that, the Steelers looked like a whole different football team.
Positives & Negatives
Positives: I am shying away from bullet points and giving short summaries now. Obviously, the biggest positive is the victory. Also, the running game looked incredible and the offensive line did a solid job blocking. This was the highest rushing total by the team under Mike Tomlin as the Steelers racked up 264 total rushing yards. This was the first time the Steelers had two running backs go over 100 yards each in a single game since 1986. It seems now that a running game that had been non-existent for years is finally starting to come back to life in Pittsburgh.
After three games, the Steelers lead the league in rushing offense, averaging 163 yards per game on the ground. With the line consistently playing like this, these 2 backs (Bell and Blount) have a potential to be a very scary two-headed monster in the backfield. Great pass rush by the defense and finally forcing a turnover in which they turned into points.
Negatives: There were still some penalty problems that need to be addressed and fixed. The Steelers will be down line backer Jarvis Jones and first round pick linebacker Ryan Shazier for most likely the rest of the year and Ike Taylor, who broke his forearm will be out for at least six weeks. This will hurt the defense especially in a secondary that is already lacking in talent as far as the corner backs go.
Next Week's Matchup: The Tampa Bay Buccaneers have looked like complete turds this season and are arguably the worst team in the NFL. However, after all of these years watching football and especially the Steelers, I have learned that you do not sleep on anyone in the NFL, even if they appear to be garbage. The Steelers need to keep their foot on the gas and get hot. Being at home should hopefully work to their advantage seeing that the fans are great and very supportive.
PS: Harrison is back! Hopefully he can make an impact with his leadership and veteran experience and keep that line backing core