For the Re-Imperatour, the venues were almost all outside, and Ghost stated the show would go on no matter rain or shine, and it indeed did. As the rain poured on people like me not lucky enough to be under the pavilion, Ghost started off their show with one of their fastest growing song "Kaisarion."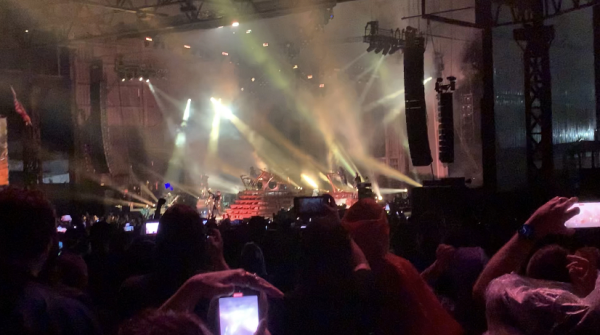 The energy was electric as Ghost preformed many fan favorites, including my favorite song "Rats." It was also amazing to see songs that were played live for the first time a Ghost concert like "Spillways" and "Respite on the Spitalfields."
As the fans continued to jam out to the music, and enjoying Papa Emeritus IV, the lead singer, and the nameless Ghouls interacting with the audience, the weather stayed relatively calm with just a little rain. The audience really made the experience of this concert special. The way they interacted with the songs was something I have never really seen before. People really getting into the music, dancing moving their arms, doing the gestures Papa Emeritus IV told the audience to do. Things like these may be commonplace at a concert, but there was something different about this one. The moment that really stood out was during the song "He Is." Out of nowhere, the entire crowd, and I really mean everyone, pulled out their phone, turned on their flashlight, and swayed to the song. It was just so beautiful, and not something I expected at a Ghost concert.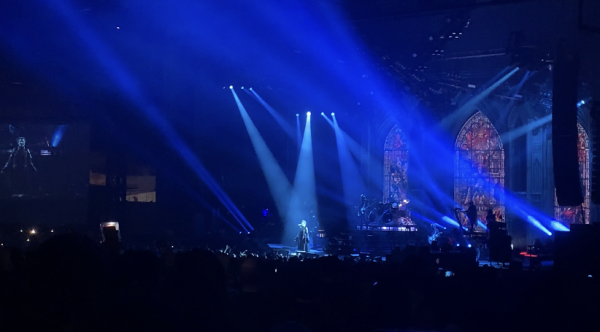 After "He Is," my absolute favorite moment of the show occurred (even if I knew it was coming). At the song "Miasma," two members of the stage crew rolled out this coffin that has a cover on it. As the keys enter the melody, the cover is removed to reveal the body of Papa Nihil, the first Papa of the band (in the band's lore that is). The two stage crew members attempt to resurrect him. After they zap him twice, he then comes back to life to perform the best saxophone solo I have ever heard. After his solo, he goes back into his coffin, dead once again.
Story continues below advertisement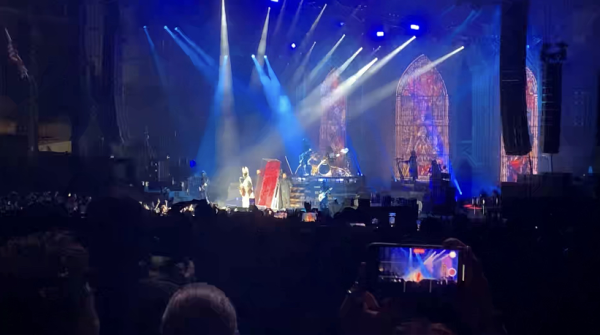 Unfortunately, the weather got questionable as huge strikes of thunder and lighting rang out near the venue. Papa Emeritus IV would preform his final song "Respite on the Spitalfields." It was a beautiful way to end the night, the lyrics really got to me, especially with the news that was to come later. A tradition at Ghost concerts is that Papa Emeritus IV would leave the stage for a few minutes, then come back and question why the audience had not left yet. He then bargains with the audience that if he plays three more songs that we would leave. He would then play the songs and then thank the audience for coming and the concert would be over. For us, that was not the case. The thunder and lighting was getting worse and worse each song, so with a heavy heart Papa Emeritus IV announced he could not do his encore. It was extremely sad to not be able to get to see the extra songs, but it was in the end the best for our safety.
The concert was just stunning and by far the best I have ever been to. I had so much fun and was just blown away by the spectacle Ghost put on.