The Beatles are coming
Five years after the death of Buddy Holly, Ritchie Valens and J.P. "The Big Bopper" Richardson (The Day the Music Died), and not even a full year after the assassination of President John Kennedy, four British gentleman would change the mood of the United States and the Rock & Roll music scene.
The British Invasion began when John, Paul, George and Ringo of The Beatles landed at John F. Kennedy International Airport February 7, 1964.  Two days later, The Beatles would perform on The Ed Sullivan Show in front of million of viewers.  Pittsburgh comedian Frank Gorshin also performed on The Ed Sullivan Show that same night of the Beatles first show and performance.
The Beatles became an American sensation and records with their names were being sold at a rapid pace. Capital Records initially declined to release their music.  This was partially due to the reason the group was from England and no group had reached and withstood success in the American music scene.  However, once Vee-Jay agreed to release The Beatles' music in an album entitled "Introducing The Beatles," Capital realized they had made a mistake.  To make up for their mistake, Capital quickly released The Beatles single "I Want to Hold Your Hand" and released an album "Meet The Beatles."  The album that almost wasn't released started what became known as Beatlemania and the British Invasion.
With the help of The Beatles, other British bands would soon make the trip to America.  These bands included The Rolling Stones, The Who, and The Kinks who helped shape the British sound in Rock & Roll and popular music.
And not too much surprise, The Beatles remained popular and continued to release chart topping songs and albums.  Most of the songs and albums consisted of original compositions, which was also unheard of at the time.  The Beatles were the first to break through into the American music scene as a successful band from England.
After 50 years, The Beatles' influence is felt more than ever.  The group's music is still being played in various forms and their writing, recording and producing techniques are still being utilized by musicians and artists today.
The lasting cultural effects of The Beatles' arrival to the United States will probably never be replicated.  The Beatles took a grieving country by storm and brought a new attitude and outlook to America.
Musicians before them, such as Buddy Holly, Chuck Berry and Little Richard heavily influenced the Beatles.  Without these three musicians, America and the rest of the world may never have seen The Beatles' arrival to the Rock & Roll music scene.  Who knows, without The Beatles, we may never have seen the emergence of other musicians known throughout the world today.
About the Writer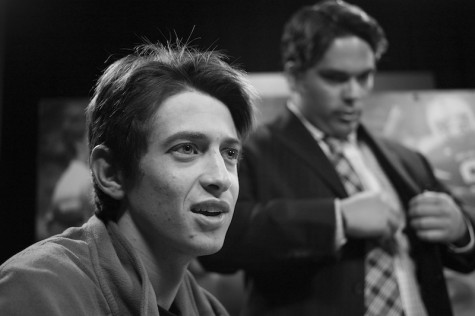 Mike Funyak, Staff Reporter
A Senior Business major with a concentration in Management at Robert Morris University, Mike is a Staff Writer and Blogger for "The Sentry."

In...