Bento Bowl and Chobani yogurt bar among new fixtures for RMU dining
Each year Robert Morris University sees a number of changes around campus, and the dining services are no exception. Thanks to student feedback, PNC Colonial Café, RoMo's Café, Hale Center Café and Wheatley Café have all been given an update over the summer semester.
There are three new food stations at the PNC Colonial Café: Colonial Carvery, Bento Bowl and Bada Basil, each of which will be replacing the former pasta station, International Market, and Crowd Pleasers, respectively.
The Colonial Carvery will offer a different meat everyday at lunch and dinner, with sides and a sandwich option. After a high student demand, Bento Bowl has returned in the place of the International Market.
The most notable Parkhurst dining change is the Bada Basil, an Italian wrap and pasta bowl station. Bada Basil will be serving more vegetarian friendly meals and is taking the place of Crowd Pleasers.
The items served at the pasta station, International Market and Crowd Pleasers will be blended into the menu options at Spoon and Fork. The chicken wrap has moved to the grill and Freshens added rice bowls to the menu.
Breakfast has also been taken into consideration. There is now a Chobani Greek yogurt bar with a variety of different flavors and toppings to choose from at both the PNC Colonial Café and the Wheatley Café.
 The Wheatley Café will now be serving two or three different menu items for lunch and dinner. Grilled cheese will also be served daily with an occasional featured grilled cheese special.
 In RoMo's Café, employees are still training with the new barcode scanner. Students are required to have every item scanned when paying at the register, just like at a grocery store.
 "It helps us track a lot better what we are selling," said Russ Williams, dining services senior general manager. "It's a lot more accurate pricing so we're not hitting the wrong buttons on the screen, it actually reads the barcode. We think it's going to be an advantage in accuracy for student purchases."
 The new Starbucks Frappucinno machine is up and running in the Hale Center Café. In the past, the machine used to make the frozen coffee beverages caused a noise disruption to the surrounded classrooms. Starbucks has now manufactured a new Frappucino maker quiet enough to run throughout the day. The new flavors will be mocha, caramel, coffee, strawberries and cream and vanilla bean.
"
"We try to change something every year; we don't want the program to get stagnant."
— Russ Williams, dining services
 With the changes that happened this year, Williams said he's looking forward to hearing student opinion for more future improvements to the dining services.
 "We try to change something every year; we don't want the program to get stagnant…even for returning students we don't want it to get boring," said Williams. "A student comes in here as a freshman and they live here all four years, we don't want them as a senior to have the same program. We want to change it up a little bit every year."
About the Writer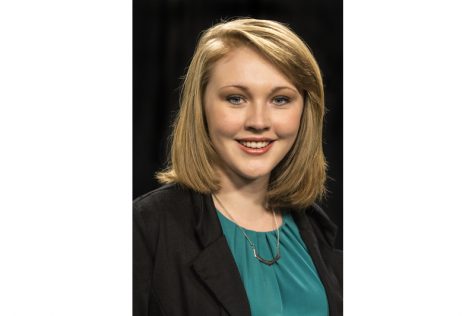 Hannah Smith, Social Media Manager
Hannah is a senior communication major with a concentration in journalism, who serves as the social media manager of RMU Sentry Media. She previously...