RMU's Greek Week Finale set to take place during "Best of RMU Day"
MOON TOWNSHIP– The highly anticipated Greek Week Finale will kick off on Sunday with changes for the pandemic.
In previous years, Greek Week ended with Airband, a live lip dubbed performance done by the Greek organizations on campus. As a result of the pandemic, things will be a bit different this year. There is a prerecorded Lip Dub Video that everyone will watch together. While the Chariot Race used to be a fraternity-only event, it was moved to the finale and involves sororities as well.
Phi Mu Delta member and President of the Intra Fraternity Council Jonathan Guaetta shares the importance of having the Chariot Race as a finale.
"We want that big finale, that camaraderie, that competition. We can't recreate an Airband this year, but we can adapt that," said Guaetta.
Participants build their own chariot and points are deducted from the final time for the most creative chariots or costumes.
"I think there's a lot of good coming from this year… through those adaptations and the substituted events, we're seeing a lot of growth and engagement throughout all of our chapters," said Guaetta.
Like many events, Greek Week underwent some changes during the planning process. Delta Zeta member and President of the Panhellenic Council Abby Staman is part of the planning committee with Guaetta. The planning committee is organized every year with eight social fraternities and four social sororities. Both the Intra Fraternity Council and the Panhellenic Council come together, along with representatives for each chapter to head the committee.
Because the pandemic required Greek Week to undergo more planning, Guaetta believes everything runs smoother this year.
"Covid has made us look more into the details and logistics of an event. You're forced to look more in-depth about what is happening at the event," said Guaetta.
Along with more virtual events and required masks, participants are asked to come to their events at specified times with fewer people and social distancing. For example, volleyball has four people instead of the usual six. They also request that there are no spectators.
Staman feels positive about this year's changes. Although she believes there are some challenges with the planning, she is excited to reach out to more people this year.
There are definitely some challenges, but it's just about learning to adapt to them," said Staman. We're going to get all of our alumni involved, and everyone on campus is going to see social media events, this year we're going to be able to reach out to a lot more people."
The Greek Week Finale is scheduled to take place on April 18 at noon, where the 2021 Greek Week Champion will be crowned.
About the Writer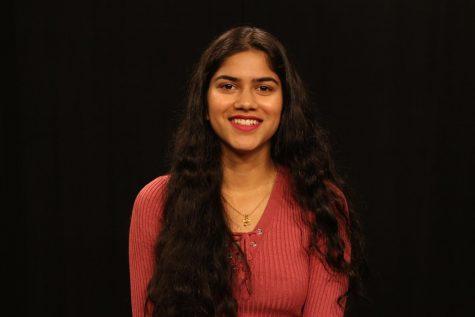 Soundharjya Babu
Soundharjya Babu is a sophomore Communications major with a concentration in Applied Journalism. She is also a member of the Women's Leadership and Mentorship...