COVID-19 across the country: The impact on Harrison City education
Editor's Note: Here at RMU Sentry Media, our writers come from all over the nation and the state of Pennsylvania. The COVID-19 pandemic has impacted all of those areas differently. During their time at home over break, some of our writers dove into how the pandemic has changed the place that they call home. Over the next few weeks, our writers will share a few of these stories. This article comes from Colby Sherwin who learned more about how education in his home area of Harrison City had been impacted by the pandemic.
HARRISON CITY — As the COVID-19 pandemic continues, every part of life has been affected. One huge part of life that has been affected is education.
Penn-Trafford School district is one of the smallest in Westmoreland County. The district is made up of two areas: Penn Township and Trafford Borough. As the pandemic continues, it has led to major changes in education. Back in March 2020, the school district had to go all online due to the COVID-19 pandemic.
This year, the school went into a hybrid style. Underclassmen go to classes on Mondays and Tuesdays, and upperclassmen are online these days; they come to class on Wednesday and Friday. Science Teacher Charles Gates teaches under and upperclassmen.
"The biggest change for me is that I have so few people here it's very difficult to know if the students are understanding the lesson," Gates stated.
Gates believes, now more than ever, that students learn much better in person. One big change for teachers is that they have to find more election materials, such as videos.
"One thing that I enjoy and will carry on after this is all over is the electric lessons. I find it interesting to find stuff like that to show my students," said Gates.
One thing Gates says he misses is the interaction.
"I don't know if it's the masks or the way we are teaching it but it is not the same and I really miss it," said Gates.
Gates does believe that this year is an improvement over last.
"When we went home in March we didn't have a plan we didn't know much about COVID," said Gates. "This year we came in with a plan and I think that it is really helping."
Even though life is very different than it was a year ago, Gates and many others are hopeful that we are heading in the right direction and slowly will go back to normal. One thing that won't change is how Gates cares for his students and his willingness to adapt to teach them more each week.
About the Contributor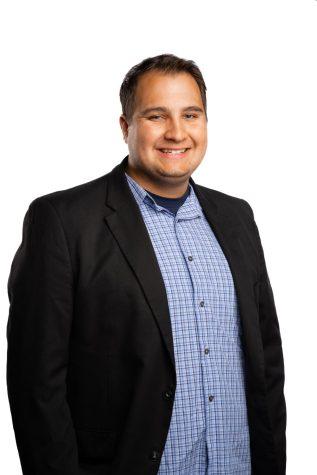 Colby Sherwin, Editor in Chief
Colby Sherwin is a senior News and Sports Communication Major from Harrison City Pa, He is the Editor in Chief for RMU Sentry Media. Colby can be found...