Entertainment center Scene 75 adding Pittsburgh location
The Ohio-based entertainment center, Scene 75, released on Feb. 7 that they were opening a new location in Pittsburgh. The company said in a press release that their fourth location would be located in the Edgewood Town Center in the Edgewood neighborhood of Pittsburgh. Founder and CEO Jonah Sandler says that the newest and largest entertainment center in Pennsylvania will offer fun for guests age two to 99.
"Pittsburgh's always been an awesome market for us," said vice president of operations Alex Zorniger in a phone interview. "Infrequently is there such a large facility that becomes available. I think this will be the largest entertainment center in Pennsylvania. We need about 90,000 square feet usually."
The building that Scene 75 is using to build its latest entertainment center is the site of the former Kmart that closed in 2016. In comparison to Dave & Buster's in the Waterfront, the new facility will be almost double in size and offer twelve different attractions all under one roof. Guests can enjoy go-karts, laser tag, a 4-D motion theater, bumper cars, virtual reality, blacklight mini golf, over 120 arcade games and a bar.
According to Zorniger, the new location will also feature an alley where guests can stop and eat from four different food trucks. The food truck-style cafeteria will be the second time they integrated this model in their venues, and according to Zorniger, Pittsburgh will be the second location in the U.S to have this type of food court. The style of food in each of the trucks has not yet been finalized, but Zorniger did give a little insight into what guests should expect.
"We're still refining what we're going to do with those, I think there will probably be a burger option, a chicken option and I think maybe a Mexican option too," said Zorniger. "Still kind of working that out, but you'll walk in and walk to the right and we'll have real food trucks in there."
Guests can also experience the custom-built 4-D theater. Zorniger says that the theater will fit eight people and will be built on a hydraulic platform that moves with the movie. Each of the films for guests to choose from have been made just for Scene 75.
"We're extremely excited to bring the fun to Pittsburgh and get involved in the community," said Sandler. "There may be others that have provided similar entertainment experiences, whether it be laser tag or go-karts, but very few will provide it all in one place like we will, open all year long."
Scene 75 opened their first location in Dayton, Ohio, in 2012 and now have three entertainment centers in Ohio. The company recently received awards such as Best in Cleveland for Indoor Entertainment, Best in Ohio for Family Fun and Best Entertainment Center in North America.
The Edgewood entertainment center will be a ten million dollar investment according to Sandler and will bring 150 jobs to the region. To learn more about the new Scene 75 location and its expected opening date visit their website.
About the Writer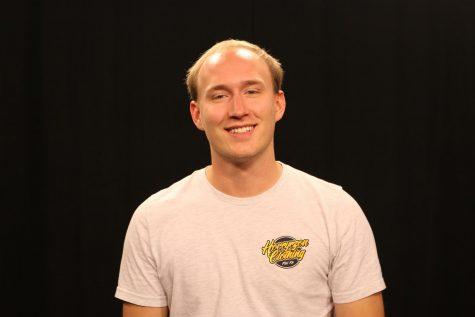 Gage Goulding, News Editor
Gage Goulding is a senior Applied Journalism major with a minor in Public Relations. Gage is the Lead Anchor for RMU Live as well as a package reporter...