Faculty Town Hall Meetings recap
On January 15 and 16, RMU held two faculty town hall meetings in the Sewall Center to address the upcoming semester, review the previous fall semester and provide a look into the future plans of the university.
Below are some highlights from the meetings.
Dr. Helena Vanhala was named the new director of the Center for Global Engagement.
Three members of RMU's faculty were honored with various, peer selected awards for their work in the academic community.
This semester's Rooney Scholar, Dr. Blessing Adeoye, was introduced.
A task force is currently working on reviewing the general education program in the undergraduate curriculum.
RMU President Gregory Dell'Omo and Wendy Beckemeyer addressed the topic of RMU's enrollment numbers, explaining the enrollment trends both online and on the Moon campus.
Facilities update: While the conversion of the Holiday Inn into a full RMU residence hall is moving ahead of schedule, plans for further construction on campus is sitting at a stand still.* Both the parking expansion behind the Wheatley Center and the loop road around campus are being held in limbo because of the nursing building construction project. While RMU works on funding for the construction project, the two residual projects have been placed on hold.* Already in progress is the shuffling of offices and departments that ultimately began with the movement of the education department to the fourth floor of the Nicholson Center. Additional moves are to come this semester.
Overview of the Comparison Group Scoreboard, which compares RMU to similar universities by a set criteria
Director of Institutional Research, Dave Majika, discussed RMU's scores on the 2012 National Student Engagement Survey (NSSE), and the ongoing strategic review.
RMU Sentry Media will be investigating many of these developments and more throughout the semester, so be sure to check back here and pick up a copy of The Sentry every month for continuing coverage.
About the Contributor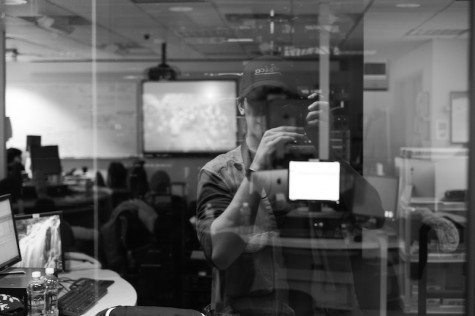 Paul Wintruba, Contributor
Paul is a junior photography major, and is a photographer for RMU Sentry Media.