First Monster Pumpkin Festival in Pittsburgh is a smash hit
PITTSBURGH — Pumpkin patches have been popping up all over western Pennsylvania for the fall season, but Pittsburgh had bigger plans.
Pittsburgh held the city's first Monster Pumpkin Festival Oct. 20 and 21 on the North Shore riverwalk, and it was a smash hit.
One of the many pumpkin activities Pittsburghers and travelers enjoyed the most was The Great Pumpkin Paddle Races.
When asked if competitors would race again, the popular response was simply "yes."
Racers were picked randomly by a contest on online to paddle their way in hollowed-out pumpkins down the Allegheny River.
Christi LeGard of Oakdale was one of the winners who was given the opportunity to compete in the pumpkin kayaking race. Halfway through, LeGard experienced what some would call a "technical issue." She was not as lucky as the others to only be dripping in pumpkin juice, but instead, her pumpkin became overwhelmed with water.
"I kept filling up with water, I was feeling it go in," said LeGard. "And then I just sunk."
[Best_Wordpress_Gallery id="532″ gal_title="Pittsburgh first Monster Pumpkin Festival is a smash hit"]
Christi plans to be in attendance next year, still willing to brave the mid-50 degree water.
Other massive pumpkins exceeding 2,000 pounds all over the North Shore had different uses. Some were filled with candy and dropped at 60 feet, making a pumpkin piñata for kids.
Adding to the festivities, pumpkins four feet and taller were carved with intricate designs, including a portrait of Mr. Rogers, Andrew Carnegie and many more iconic figures of the steel city.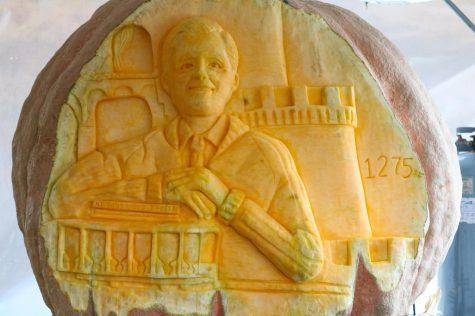 Event-goers all agreed on one thing: The Monster Pumpkin Festival needs to return to Pittsburgh next year.
"I'd say there needs to be a second," said Reid Andrews.