How the JFCS creates new lives for refugees in Pittsburgh
PITTSBURGH — With violence and chaos erupting in Afghanistan, citizens of the country are looking for a safe haven. One local organization has been helping refugees find a home in Pittsburgh and is currently creating a lifeline for Afghans who are fleeing the violence.
Starting life in a new country, particularly after escaping a threatening one, is certainly a challenge for refugees. According to Global Citizen, an organization dedicated to resolving global struggles such as poverty, the challenges that refugees face once they arrive in a safer nation, can often be overlooked. Some of the hardships that refugees face after arriving in the United States include struggling to learn English, adjusting to cultural barriers, finding transportation and securing housing and work. The Jewish Family and Community Services (JFCS) work to help refugees tackle all of these adjustments.
"The Jewish Family and Community Services is a social service organization in Pittsburgh that works to serve the local community by helping anybody in the community with a variety of areas, from refugee resettlement to senior services to counseling and therapy, to job search," " said Allie Reefer, public relations specialist for JFCS, "We try to help the most vulnerable and help the community through their challenges."
The JFCS has been aiding fleeing families since before the crisis in Afghanistan filled the news; however, they are expecting to provide aid for others in the near future. The organization has currently helped three Afghan families and are expecting the arrival of two more.
"We do not actually have an official date for when they'll be traveling, just because of the quickly changing nature of everything, but we're working together with the other resettlement agency in Pittsburgh, which is AJAPO [Acculturation for Justice, Access and Peace Outreach], and several other local organizations to try to prepare for what could be a potentially very large influx of arrivals," said Reefer. "We want to make sure that whether we get five families or whether we get 100 families, we are prepared."
The organization has established three different committees to lend a hand in aiding refugee families. One committee focuses on finding affordable housing for incoming people and another is dedicated to gathering donations of groceries, warm meals and clothing. The third committee is seeking volunteer support to help gather more donations, get groceries and work with families directly.
"In an ideal situation…we will find them a house to rent, we go grocery shopping for them, do a housing setup with all the furniture and essential items and then get a hot meal, usually from somebody else in the community, " said Reefer. "We will get a hot meal made for them by one of the other Afghan families so that they have something delicious and nutritious and from their home country to eat when they arrive."
After preparations are done, JFCS members will intercept families upon their arrival at the airport. From that point on, the work continues.
"Our staff members pick them up at the airport and take them to their house," said Reefer. "From there, they connect [the families] to everything they need, from medical care to education to ESL (English as a Second Language) classes if they need it and job help to be able to find work."
There are several different ways for refugees to get into contact with JFCS. One option is for the people attempting to leave their country to obtain a Special Immigrant Visa (SIV). Applicants for SIVs are then put into contact with the JFCS's national affiliate, HIAS. After reaching HIAS, families are assigned to various housing organizations in the country. Families are then able to choose where they would like to live from a selection of cities. Reefer says that there are a couple different reasons for families to consider settling in Pittsburgh.
"A lot of times, it is because of family members that live here, or friends that live here that have told them about their experience living here," said Reefer. "While the family piece or the friend piece is a really big factor, there are sometimes some other reasons, like if they've heard good things about living in Pittsburgh or that it's easy to find jobs here."
Reefer listed the various factories from the area, the Amazon processing center and several hotels as areas that are often willing to help refugees find starting work. While labor and family are very important deciding factors on where to live, sometimes Pittsburgh is selected for more human reasons.
"My coworker who decided to come here, when he saw the presentation, they [JFCS] presented it [Pittsburgh] as a very family friendly city and said that there were four seasons," said Reefer. "In Afghanistan, there were four seasons, so he really liked that about Pittsburgh."
While this SIV process may work for some families, it does not work for all, especially with the violence increasing in Afghanistan. The SIV process can sometimes take up to two years, time that people in danger may not have. However, a quicker solution does exist for those in dire or extremely life-threatening situations.
"There is a new parole status that they have established, which is for people who have a direct threat, but do not have the SIV status," said Reefer.
In other drastic cases, many Afghan refugees are attempting to travel to countries where they can enroll in other relocation programs through the United Nations (UN).
"Thousands, if not millions, of people are fleeing at once, and they flee to certain countries around the area or around like the region where they lived originally. They connect with the UN, which starts the whole resettlement process for them," said Reefer. "Once that situation starts happening, if you are fleeing the country, you pretty much know exactly what you need to do."
Despite the hard work that comes from both parties, there are some out there that will flare up in anger at the idea of foreign people in need of aid finding sanctuary in their home country. According to Reefer, this kind of hate is not something that is common in Pittsburgh, but it is still something that the organization occasionally has to extinguish.
"Thankfully, in Pittsburgh, most people here are pretty welcoming, especially within the immediate city and where a lot of our refugees are living. So we've had really great experiences with people in Pittsburgh," said Reefer. "When we do run into some of those questions, concerns or misbeliefs about refugees, we really just try to educate people about the truth, about the vibrancy that having refugees and immigrants in our city brings to the city and about how Pittsburgh really is an immigrant city. It was made up of immigrants…European immigrants, but still immigrants from all over Europe…that really just made the steel industry thrive here when it was fair, and you know, ever since then, we've been welcoming."
The sense of community that Reefer highlights in Pittsburgh is always being sought for by organizations like JFCS, and in order to get through the struggles in Afghanistan, Reefer believes it will take a lot of support and continued love from the community.
"We obviously are getting [a] kind of slow trickle of families [from Afghanistan], and it has been so difficult on the other side of things, getting out of Afghanistan and doing all the legal processes and stuff like that," said Reefer. "We need landlords that are willing to work with us. We need pro bono attorneys that are willing to work with us to help the Afghans through either applying for their green cards if they have not started that process yet or through applying for their SIV statuses if they are eligible for the family reunification process. [We need] Pittsburghers in general who are willing to be part of welcoming these people who are coming in, not just right now, while this is like the big topic in the news, but also for the coming months, because, like I said, we anticipate it's going to be happening for a while."
To learn more about JFCS or to support them, click here.
About the Writer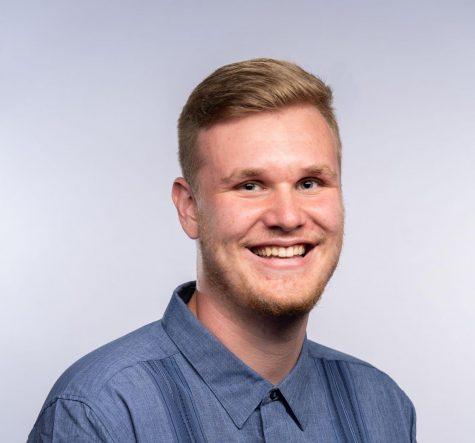 John Blinn, Head Arts & Entertainment Editor
John Blinn is a senior Communications major from Freedom. John can be found most of the time listening to the Foo Fighters. John is taking on two new roles...