Interim President Jamison is no rookie
Provost of Robert Morris University, Sr. Vice President for Academic Affairs, and current Interim President, David Jamison is ready for what this upcoming school year has to hold.
While currently holding three titles for Robert Morris, Jamison has his hands full moving the university forward. With 17 people reporting to him with his multiple jobs, he isn't alone in this journey.
"It is a bit of a juggling act, but fortunately I have assistance…," Jamison said. "I have the president's staff and my own secretary came up with me from the Provost office, so we have a lot of people managing a lot of schedules."
Jamison believed he made a smart decision when he decided to not teach a class this semester. Since he first arrived at RMU in 2002, he has taught a class in the doctoral program. With all of his responsibilities, he thought it best to focus in the other aspects of his current position.
"I am not teaching this fall, which does a little bit of the pressure off, but fortunately we have another great instructor who is covering that class," said Jamison.
Former President Gregory Dell'Omo and Jamison have worked closely together for many years. Back in 2008, Dell'Omo named Jamison as the provost of the university which allowed the two leaders to work "side by side" at RMU.
"Once he decided to take the position at Ryder University, we began talking a lot about things he wanted to make sure got carried forward," said Jamison. "… and some advice for how to manage expectations and how to deal with the situation."
In the ranks of leadership at Robert Morris, the provost reports to the president. Following that, the president reports to the Board of Trustees. With Jamison taking on both of those roles, it is now as if he almost skips a step to report straight to the board.
"That's different for me because I've always reported to the president. I have to manage that and (Dell'Omo) had some good advice about working with the Board of Trustees," said Jamison.
The Board of Trustees is around 30 members, 20 being alumni, that oversee how the university is run. Jamison spoke highly of the Robert Morris board saying the group is supportive of him and the university. The board is always there when the president needs advice.
"They appoint the president, but then they let us run the university," said Jamison. "Just this morning I was talking with the chair of the Board of Trustees and he had some good advice about some issues."
Since Jamison is not a candidate for the presidential position, he finds it hard to be in an interim position. Depending on the time frame of when the new president is announced, that is the time he has to figure out his own plans. He questioned how long he should wait for the new president, but he realizes there are certain things that he will continue to look over.
"There's some things we are going to be doing for certain. I think we're going to talk probably today about the event center. We need to make continued progress on planning for the event center," said Jamison.
Jamison is no rookie when it comes to higher education, but this role is still new to him. Being a part of the university since 2002, Jamison has had experience with RMU, but being the interim president is a new change to him.
"I've been in higher (education) for a long time so I know a little about the game, but it's a different role being a president," said Jamison.
About the Writer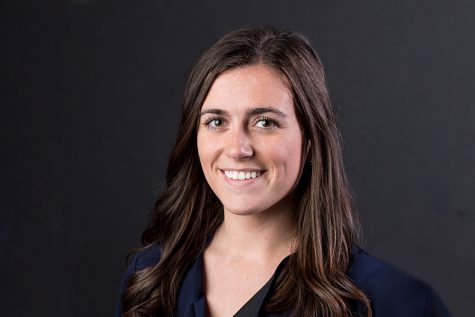 Delaney Hassell, Social Media Manager
A communication major with a concentration in journalism and a minor in psychology, Delaney is one of the Social Media Managers for RMU Sentry Media as...