The Moon Takedown Club and Moon Wrestling Team demonstrate "wrestler mindset" through the creation of a unique fundraiser
MOON TOWNSHIP– For the past year, the world has been in battle. Communities from all over the globe are on the mats, taking on an unexpected competitor. It may sometimes feel like we are alone in the dark during this fight against the pandemic that brought everyday life to an end.
In times like these, it is important to have good teammates to bring your team one step closer to victory, teammates who are willing to step in when they see things that need to be improved.
One teammate that is doing this by helping to bring communities closer to victory is the Moon Area High School wrestling team. Members of the team are helping improve lives, and their families are helping too, almost literally step by step.
Since Feb. 14, the Moon Tiger Takedown Club, an organization that supports the wrestling team, has been collecting shoe donations in an effort to raise funds and provide shoes for those who need them.
Due to the need to reduce contact, the Moon Takedown Club's traditional door-to-door approach of fundraising was no longer possible. The shoe drive became the solution.
Senior wrestler Dalton Dobyns believes that this solution could not be better for a method of sports fundraising.
"It's something that we can do to raise money but it's also providing a service to the community, which is what every team at every school wants to do," said Dobyns.
The Takedown Club's current goal is to collect 100 bags of shoes by April 14. Julie Zubryd, president of the Moon Takedown Club, acknowledges that not many places accept shoe donations, making the drive that much more sensible.
"Everybody has shoes in their closet that they don't need and they don't realize how many they actually have until they go through to look at them," said Zubryd. "The donation places like Goodwill and St. Vincent de Paul's, a lot of times they weren't accepting donations, so this was a way for us to go out and get those donations and make some room in people's closets."
The Moon Takedown Club partnered with Funds2Org, which is a company that repurposes and distributes shoes to developing nations, for this project
"The way that it works is you bring in shoes that are lightly used, brand new, whatever, shoes that you don't need or don't fit and then you give them to somebody from the Takedown Club or a wrestler," said Dobyns. "Once we have the shoes, we give them to a company [Funds2Org]."
If donated shoes are too worn out, the Funds2Org will break them down into material that can then be used to make shirts, among other things.
Any money made by Funds2Org throughout this project is given to the countries involved and the Moon Takedown Club.
"They give the money that they raised to the third-world countries to stimulate the economy and they give a portion of it to us," said Julie's son and sophomore wrestler Tyler Zubryd.
Donations do not just have to be given to wrestlers or members of the Moon Takedown Club. The project includes several shoe drop boxes throughout the township.
"It is a win-win," said Dobyns."We're earning some money for our program, we're helping out those who need things that we have and it's setting up a good role model for the rest of our sports programs that are actually going on inside the high school right now."
While the shoe drive acts as a creative alternative to the Moon Takedown Club and the Moon Area High School Wrestling Team's usual door-to-door and tournament-based fundraising, it also fuels the fire of a certain instinct to set things right that the wrestlers mention and seem to have.
"When you're in a wrestling match the only person that you can blame is yourself and I think that really adds to this idea of being involved in the community because when you see someone in the community that needs help and you see something that goes wrong, that wrestling mindset takes over, that mindset that only you can make a difference, you as an individual are able to do something," said Dobyns. "When you get a group of guys that all have that mindset like our team does, it really does wonders for you when you come together."
This "wrestler mindset" is supported by Tyler, who demonstrated this process of making a difference, even during a time of personal struggle. Tyler was recovering from a concussion and during that recovery period he ended up supporting some of the younger Tigers.
"To get cleared for a concussion there's like a five-step protocol. I already hit four of the steps and then I had to do one more practice and I wrestled with the middle schoolers," said Tyler. "While I was there I taught them some moves."
Tyler explained that sometimes the simple misguided hand on an elbow rather than a tricep could make all the difference in pulling off a successful move. This was something he made sure to guide the middle school wrestlers on during his time working with them.
"It is a minor difference but it can make a big difference when you're wrestling," said Tyler.
For Dobyns, the self-motivated drive to make a difference sparked from his career as a wrestler, which began in seventh grade, but splashed over into his time with the Moon football team.
"When I was coming into high school I had already been exposed to the wrestling culture in middle school," said Dobyns. "I see this football team and, the seniors, I love them to death but they didn't know what it was like to have a successful culture."
After seeing this, Dobyns's "wrestler mindset" kicked in and he promised himself that he would help create a winning culture for the football team.
With his goal in mind, Dobyns and a few other wrestlers in his class got to work. During his junior year, things started to pick up. He and his class eventually helped lead the team to their first winning season since 2006.
"The class of 2021 that I was involved in with the football team, we sort of took the reins and led them," said Dobyns. "I think we had three wrestlers in that class of football players."
While the pattern of the "wrestler mindset" is clearly on the field and mats, it can also be seen in the work done by the parents of these athletes.
"It's the parents too, all working together, wanting to help, wanting to volunteer," said Julie. "This year was really different, we got started late with the boosters and so we reached out for help and we got a lot of things accomplished in a very very short amount of time because of how much support there was."
Through the combined support of these parents and the selflessness of the athletes that the Moon Takedown club represents, the shoe drive was created. A unique example of fundraising, "wrestler mindset" and an effort to make a difference.
"Each one of us wants to make a difference, that's one of your goals as a wrestler," said Dobyns. "You want to make a difference in a match, for your teammates for the program. It is half pride, half selflessness."
About the Contributor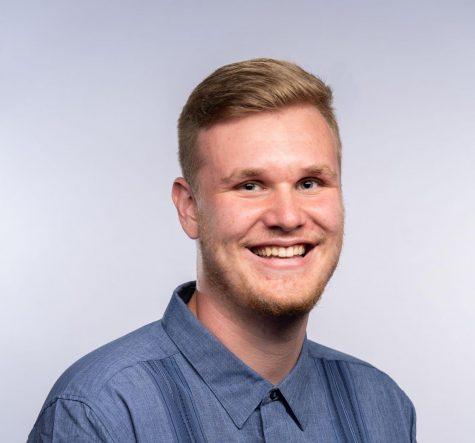 John Blinn, Head Arts & Entertainment Editor
John Blinn is a senior Communications major from Freedom. John can be found most of the time listening to the Foo Fighters. John is taking on two new roles...